Festival of Trees benefits Down Syndrome Organization
November 30, 2008 - 10:00 pm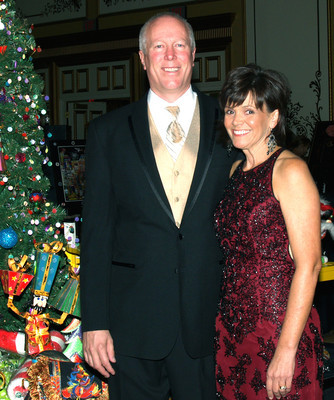 The Down Syndrome Organization of Southern Nevada had its 20th annual Festival of Trees & Lights Nov. 20 at Paris Las Vegas.
This event has become a Las Vegas holiday tradition, benefiting those with Down syndrome and their families by providing the resources needed to enlighten the public and to be a source of support, education and information for affected individuals and families.
Among the 460 guests were former U.S. Sen. Richard Bryan and Bonnie Bryan, Betsy Rhodes, Lewis Wolfbrandt with son Billy and daughter Christina, Glynda and John Rhodes, Susan and Stan Wasserkrug, Darlina and Scott Manthei, Vivienne and Tom Ross, Nancy and Gene Heberlee, Lois and Jim Zellers, Susan and Tom Warden, Buffie and Tom Kerestesi, Joann Payne, Irais and Robert Kolesar, Marrilu Kutcher and Kathy Silver.
Santa's helpers greeted guests as they entered the reception, titled "Illumination of Hope." Guests marveled at the scene of numerous decorated Christmas trees, which were surrounded with toys and accessories up for bid in the reception's silent auction.
There were holiday baskets, stockings and wreaths, plus jewelry and art that enticed bidders Jennifer and Steve Rhodes, Cynthia and Doug Hensley, Jacki Baskow, Susie and Ed Spoon, Lisa and Phil Thomas, Patricia and Richard Wright, Jeff Harris, Shirley and Art Goldstrom, Sandy and Wes Robertson, Nick Herda, Crystal McCallum, Ila and Bob Miller, Stacy Fisher, Steve Eisen, Beverly and Barry Eisen, Karla Perez, Lisa and Sandy Windom and Michael Boychuck.
Master of ceremonies KVBC-TV, Channel 3 meteorologist Kevin Janison introduced the gala's co-chairs, Shelley and John Rhodes.
Honorees were the Children's Heart Center Nevada and Eric Weisberg, director of catering and conference services for Paris and Bally's. Dinner entertainment was provided by vocalist Antonia Bennett, daughter of Tony Bennett.
Christian Kolberg conducted a live auction for the four packages under the decorated trees.
Harrah's Entertainment sponsored "Winter Wonderland," a tree representing what has made Las Vegas famous with gift certificates to restaurants, shows, golf and retail shopping.
"Trendsetters, Timepieces and Totes" offered top designer handbags and special edition watches.
Another tree, titled "A Cheerful Heart is Good Medicine," consisted of gifts that would make a heart happy, and the final package was a "Caesars Palace Beauty Experience."