Fighting battle of the bedbug at home
October 16, 2010 - 11:00 pm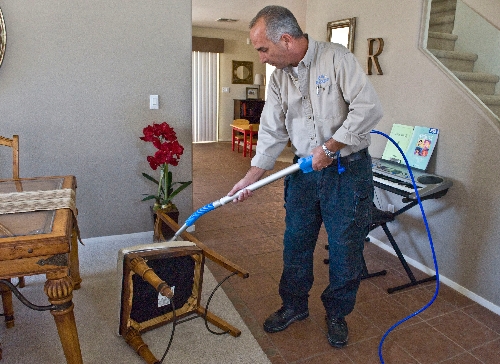 Getting rid of bedbugs turned out to be a time-consuming, exhausting process for Rachel Hammelrath and her son, Richard.
But the physical toll doesn't come close to matching the level of mental anguish that Hammelrath has endured for the past three months. Though her house has been bedbug free since July, that hasn't kept her from fearing that every tickly sensation on her skin was proof that they had returned. Or worse, that they had been there all along, hiding and waiting. Lurking in the shadows for the first opportunity to feed off of her and Richard.
"It does play a psychological game with your head," said Hammelrath, a single mother and lifelong valley resident. "You don't feel safe climbing into bed to sleep. Every little itch you wonder, is that a bedbug? You think they're there all the time."
While bedbug infestations have been steadily spreading across the country, the quarter-inch-long insects have moved into homes and businesses without prejudice, carrying with them an aura of invincibility, misinformation and stigma that is as equally important to exterminate as the bugs themselves, experts say.
"Most of my job is not removing the bedbugs," said Joe Restifo, whose pest control company, K9 Sweeps, specializes only in bedbugs. "It's removing the psychological effects after they're gone. And it's educating people about them."
Bedbugs were thought to be nearly eradicated in this country because of the use of strong pesticides such as DDT up until the mid-'60s, according to Nevada's state entomologist, Jeff Knight. If he saw one a year during his 30 years in the business, that was a big deal.
During the past 10 years, Nevada's bedbug problem has grown along with the nation's, thanks largely to the ease of worldwide travel and the increase in international visitors, experts say.
Some entomologists believe that more than 50 percent of households will be infested within the next few years, an estimate that Knight thinks is exaggerated. Still, there will be no magic bullet like DDT to kill them off this time, Restifo said, because bedbugs are showing resistance to many pesticides. The best way to treat them is through knowledge and early detection, he added.
Hammelrath didn't know much about bedbugs until she thought she had them in her house. She never imagined that she could get them, she said, because she keeps such a clean house.
That's a common misconception, experts say. Bedbug infestations have nothing to do with cleanliness, and their presence doesn't indicate a dirty person or environment. Rather, they're bugs of opportunity, moving from one place to another by hiding in suitcases, purses or on clothing. They're also nocturnal and tiny, which makes them hard to detect. They come out to feed off of a slumbering person, attracted by the carbon dioxide they exhale while sleeping.
Hammelrath's home became infested after her son took a trip to California. He stayed in a motel and, shortly after returning, started complaining of being bitten during the night.
"He'd say he would get bitten, turn on the light but see nothing," said Hammelrath, whose joking but motherly response was: "Clean your room!"
Finally, a friend told her it sounded like bedbugs, so Hammelrath did some research. And she freaked out. Then she called Restifo.
Often when people fear they have bedbugs, they overreact, said Christian Hardigree, a local attorney and nationally known bedbug litigation expert, and they spray for insects or set off a fogger. Neither is an effective way to eliminate bedbugs.
It takes a diligent inspection of the infested area, physical removal of the bugs and a tailored treatment, Restifo said. First, bedbugs must be confirmed. Restifo uses a bedbug-sniffing dog to help detect their presence.
"I get calls for red marks all the time," Restifo said, referring to the red bite marks that bedbugs may leave on a host. "I don't treat red marks. And people shouldn't have to pay to treat red marks."
People sometimes throw out their belongings, thinking a bedbug infestation ruins clothes, mattresses or other items. That's not always the case, experts say. Usually, clothing and bedding can be treated with heat, which is an effective killer of bedbugs. Mattresses and furniture can be treated and should be, even if a person wants to throw belongings out. Discarding infested items can spread the problem to other households if someone picks the item up and takes it home.
Once Restifo confirmed that Hammelrath had bedbugs, she wanted the whole house treated. But that wasn't necessary. Restifo studies bedbugs and their biology and, based on that, he said he can tell how old an infestation is and whether it's isolated to one room or in several. He guarantees his work, too.
The reason bedbugs are thought to be persistent is because people don't always treat an infestation successfully, Knight said.
Hammelrath's was isolated to her son's room, so clothing and bedding had to be bagged and heated to more than 120 degrees. Luckily, this happened in July and they were able to leave the bags in the sun for several days, she said. Furniture was dismantled and treated. CDs, DVDs and other items were cleaned with a special device. Restifo likes keeping his 100 percent success rate, he said, so he offers a 90-day guarantee on his services.
Hammelrath was overwhelmed by the physical labor required to treat the bedbugs. And it was costly, about $500. But it was worth it; three months and two checks by Restifo later, her house is bedbug free. It also was cheaper than replacing furniture and clothing, she added.
Each case is different, Restifo said, depending on how old the infestation is and a person's budget. Many pest control companies offer bedbug services, but people should do their homework before hiring someone, he said. You shouldn't have to pay for a company to tell you that you have bedbugs. The state's entomologist office can identify insects free for the public, Knight said, if you bring a sample into the local office.
If a pest control company confirms bedbugs, always make them show you proof, Restifo said, including a living or dead bedbug, where they're living or stains on your mattress. Bedbugs or their waste can usually be seen along the edges of a mattress, in the creases.
If you are careful about traveling, you probably can keep yourself bedbug free, experts say. But if you happen to be unlucky enough to get them, don't panic. Do some research and call an expert.
"If more people knew about infestations, they would see that it's OK," Restifo said. "It's unfortunate, but it's OK. I don't care who you use, so long as they know what they're doing. You'll be back to normal in a couple weeks."
Contact reporter Sonya Padgett at spadgett@ reviewjournal.com or 702-380-4564.