Former dropout excels at giving kids new outlook on school
January 11, 2015 - 1:39 pm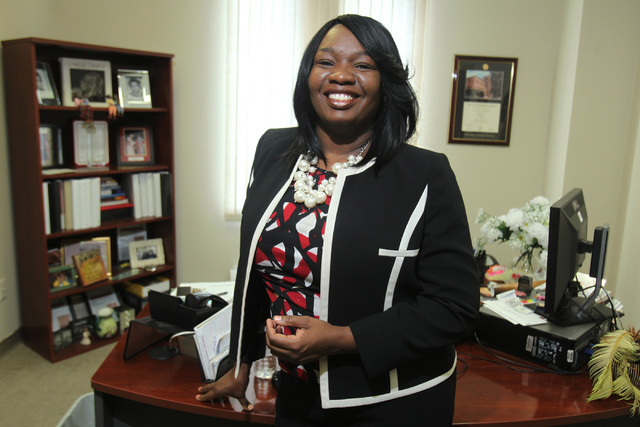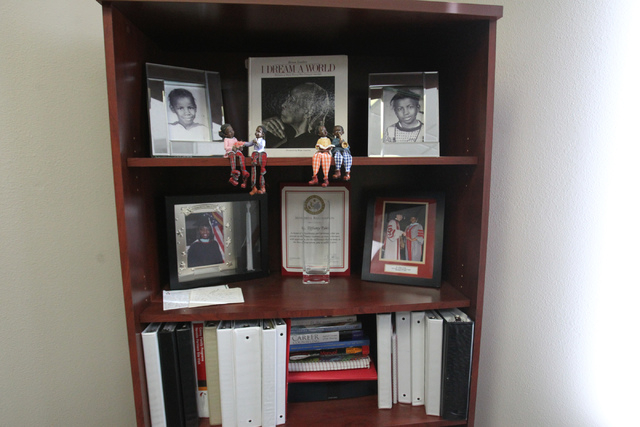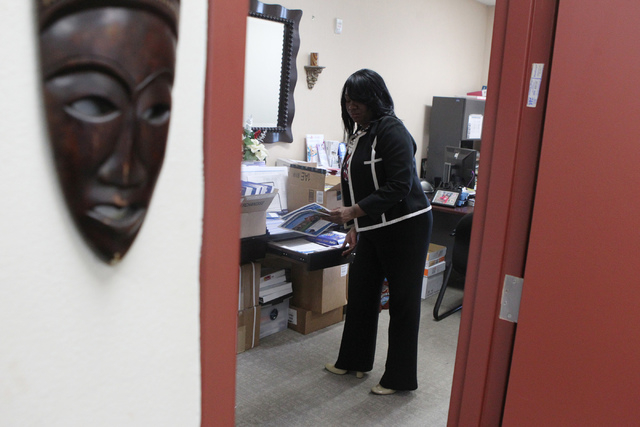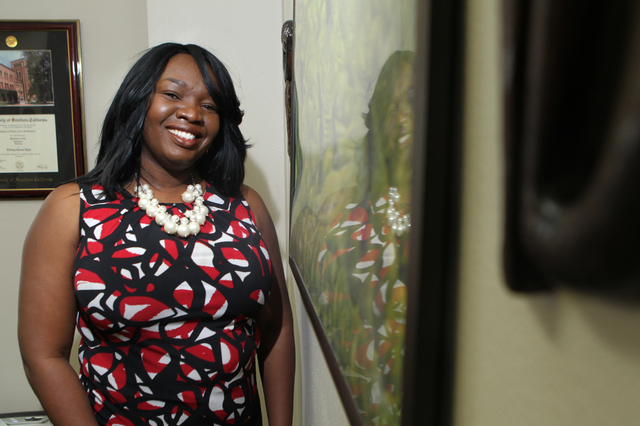 On a tall, black bookshelf in the corner of her office at Nevada Partners Inc., Tiffany Tyler displays mementos from her journey.
There are photos of great-grandparents, who were sharecroppers in the South during Reconstruction.
There are pictures from all of her college graduations.
Tyler even keeps the transcripts from when she finished her GED certificate during night classes.
"I keep it as a reminder of where I've been," she says. "Everything here is definitely an inspiration."
Although the items represent driving forces in Tyler's life, they can inspire people who might walk through the door thinking they can't overcome their own obstacles.
Tyler, 42, is the chief operating officer of Nevada Partners, a nonprofit group that has offered community support with employment, education and housing since 1992.
"I always believe if you support people and give them the resources they need, people can try to be their best selves," Tyler says.
Along with workforce development programs, which help people enhance talents and skills to become more employable, Nevada Partners works to help position local youths to succeed in school and jobs.
Tyler knows firsthand why it's important to have programming like this for young people.
Tyler, who was raised in California, says she grew up doing well in school. But her junior year of high school, she dropped out for personal reasons.
After getting married and having her first child when she was 20, Tyler realized she wanted to be a better influence for her son. She decided to get her GED certificate.
She was encouraged to pursue higher education but didn't consider it a viable option until after the birth of her second son.
"Someone told me I needed to invest in myself," she says. "I was told if I invested in myself, the world could be my playground."
Taking up the advice, Tyler started at community college and did well enough to transfer to the University of Southern California.
"I was surprised when I got accepted," she recalls. "I had a 3.9 GPA and didn't even realize how good that was. As a first-generation college student, I had no framework on what to expect."
Meanwhile, she and her husband separated. Tyler moved into her mother's place in California and began balancing work, school and motherhood.
When she was feeling overwhelmed, Tyler considered taking time away from school. But she knew finishing her degree could transform her life.
Tyler graduated in 2000. Her mother, who was inspired to go to college, too, finished the same year, just weeks apart.
Tyler, who earned degrees in sociology and psychology, started looking into a master's program in social work, but was offered a job at the university. Because the job involved working with doctoral students, she could move into the dorms.
"Which meant I was able to have free rent for three months," she says.
After the university job ended, Tyler was offered a job with the Santa Monica-Malibu Unified School District that would let her help with dropout prevention.
For the next four years, she worked to identify students as young as middle-school age who had poor attendance, bad grades or destructive behavior and try to support them through high school.
From Day One, it was heartbreaking work, Tyler recalls.
"I went to visit a young lady on my first day who hadn't been in school several weeks," Tyler says. "I come to the door and her father is clearly inebriated."
After looking at the student's environment, Tyler realized the situation went deeper than unfinished homework assignments.
"The only way to help children is to understand where they are coming from," she says. "That means you have to address every aspect of what is happening in their life not just asking about homework and attendance."
Although Tyler decided to forgo a master's degree in social work, she found a master's program in educational psychology with an emphasis in school counseling that included a unique angle.
"It focused on social justice, equity, collaboration and leadership," she says.
Her undergraduate degrees opened her eyes to institutionalized racism and the cross sections of race and poverty.
"It put a lot of things like crime statistics into context," she says.
With her master's in hand, Tyler worked to put that knowledge to use.
"It gave me a new way to look at the issues and the tools to do something," she adds. "I wrote my master's thesis on dropout prevention."
In 2004, at a conference, Tyler was approached and asked whether she was pursuing a doctorate.
"I was considering programs that focus on social justice," she says. "Then he told me there was one at UNLV. I don't think it is a coincidence. I think things are divinely ordered."
In 2005, with her sons in tow, Tyler moved to Las Vegas to begin her doctorate. Unbeknownst to her, Nevada had a high dropout rate.
"I was worried," she says. "Here I am the mother of two teenage boys moving to a place where some schools graduate less than 50 percent of black males."
But she realized that with her passion, knowledge and testimony, Las Vegas is where she's supposed to be.
She worked as a substitute teacher through her doctoral studies in educational psychology. She became a school counselor when she finished the program.
As a woman of faith and an active member of her church Mountaintop Faith Ministries, Tyler attributes what happened next to divine intervention.
She connected with Steven Horsford, a state senator at the time, who was a Nevada Partners director.
After Horsford heard Tyler's background, she was offered a job overseeing a Nevada Partners program helping at-risk youth — teens in foster care, pregnant girls and youngsters who were in the justice system but had their record adjudicated — get back on track with education.
"Here, I just wanted to be a school counselor," she says. "But God wanted more for me. I wanted to help a small group. I didn't know I was going to be able to help an entire community, that I'd get to oversee the most vulnerable children."
She soon expanded her knowledge to help with grant writing, program implementation and other Nevada Partners initiatives. Three years ago, she became the group's chief operating officer.
Tyler says mentors at Nevada Partners, including President Monica Ford, helped her develop into the person she is today.
"Monica is a guru of organizational development," Tyler says. "She helped me understand the nature of developing people and organizations."
She adds that Ford instilled a vision that building a movement should start within.
Ford says the mentorship is the other way around.
"She always says I've been a mentor to her," Ford says. "I think the relationship is mutually beneficial. You can't be around her and not learn. Anyone who has the chance to work near her will see that."
Ford has worked alongside Tyler for seven years and has watched her grow professionally and use her story to inspire change.
"She is transformative," Ford says. "I watch these young ladies come to her. She will use her story and past experience to challenge them to grow."
Ford adds that Tyler has high expectations, which is a good thing.
"Many of the people might think the standards are too high or feel they are unattainable," she says. "But she has a way to push people to be different and help them grow."
Together, they have worked to carry Nevada Partner's mission forward.
"In June, our workforce connection program was recognized by the White House as a model program," Tyler says. "That is such a great achievement for us."
Her work doesn't stop with Nevada Partners.
She serves on several boards such as K-20 Education Collaborative Advisory Board and the Juvenile Justice Services Citizens Advisory Committee. She's also helping to lead a local emphasis of President Barack Obama's My Brother's Keeper Initiative, launched in 2014 to give black and brown youths the tools to succeed in school and jobs.
Her journey was difficult, but Tyler believes the hardships she endured are being used for a higher purpose.
"My own journey prepared me for this," she says. "I dropped out, had kids and returned to get my degrees. Now I get to use my testimony each day to carry out our mission. What a blessing."
Contact reporter Michael Lyle at mlyle@reviewjournal.com or 702-387-5201. Follow @mjlyle on Twitter.