Headliners find Twitter an easy place to share their brand, views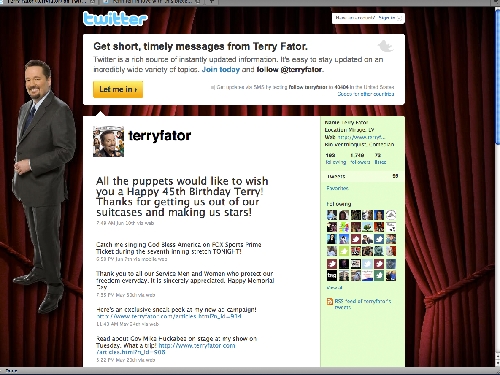 They use it to self-promote, of course. But some Las Vegas headliners also use Twitter to let fans behind the curtain. Their personal triumphs, their peeves, even their locations are splattered across the Internet-based social network, 140 characters at a time.
"We nailed it today," Penn Jillette (twitter.com/pennjillette) tweeted on May 4. "We have a trick where Teller vanishes from a giant trash bag full of helium. I worked on it, and it fooled me."
Even more interesting are Jillette's reflections on what didn't succeed — such as an April 17 Wall Street Journal article he was asked to write about Hummers: "I had nothing to say, so it was a challenge."
Meanwhile, at least on Twitter, the silent half of Penn & Teller (twitter.com/MrTeller) is anything but. Teller spews even more mischievousness than Jillette.
"I set the talking bear on a timer to startle my house sitters," Teller tweeted on June 1. "Fortunately they don't follow my tweets."
Twitter also is a humorous prop to Carrot Top (twitter.com/realcarrottop). He tweets as many as five times per day about random life events such as sharing a plane ride with Mitt Romney (April 27), sharing a New York City elevator with a truck (June 4) and sharing a rocking chair with Lily Tomlin (March 16). Usually, they're illustrated by a photo taken with his BlackBerry.
In contrast, the tweets of Terry Fator (twitter.com/TERRYFATOR) read like press releases, announcing tour dates and television appearances but offering no sense of who Fator is or what he does offstage.
"Here's an exclusive sneak peek at my new ad campaign!" Fator allegedly tweeted on May 24. (Although Twitter now verifies celebrity accounts with a tiny blue and white check mark, that doesn't imply that their friends or employees haven't authored some or all of the tweets with their names on them.)
Just as you'd expect, no sweeter Twitterer can be found (at least on the Strip) than Donny Osmond (twitter.com/donnyosmond). His followers get warm and fuzzy — though location-nonspecific — reports of his travels to and from the Flamingo showroom, the gym and his Utah home.
And who else would apologize — as Osmond did on May 11 — for a lack of tweeting the day before? ("I celebrated my anniversary with Deb. Thirty-two wonderful years and many more to come," Osmond explained.) Osmond also must get credit for following 65 other tweeters — more than any Strip headliner — although many are his close relatives.
Osmond's most famous close relative, of course, tweets at twitter.com/marieosmond. Marie Osmond is understandably more guarded about her personal life since TMZ began scrutinizing it, preferring to update instead about her jewelry and doll lines. And three of her five tweets are messages she forwards from fans. ("The Native American princess doll is stunning," wrote heavenlyx3, which Marie retweeted on April 26.)
But the fact that Marie tweets at all is remarkable, considering the year she's had. (Following her son's Feb. 26 suicide, Marie's first public posting came on April 19: "Hello to my Twitter fans. Your messages have been so sweet. Thank you so much. I'm grateful for all of you.")
Criss Angel's Twitter account (twitter.com/crissangel) shows more willingness than any other Vegas celeb to mingle with fans. Although its followers are besieged with exhortations to patronize Angel projects such as "Mindfreak's" sixth season — "my best season ever," Angel tweeted on June 8 — they're occasionally rewarded with nuggets such as this 2:02 a.m. May 9 post: "At Cathouse right now in Luxor." (Angel was in little danger of being mobbed by riffraff, however; the club has a VIP-only area he most likely kept to.)
Whether Angel is willing to slum it with fans, he appears to have no interest in what they have to say. The magician's account follows the fewest Twitterers of any Vegas celebrity: one. (And the one is UberTwiter, a Twitter application for the BlackBerry that automatically forces the user to follow it when installed.)
Louie Anderson (twitter.com/louieanderson) is the least active of all Vegas celebrity tweeters. The comedian has posted only 66 times this year — most often with carefully worded, day-after reflections on dinners, shows and other special events he has attended or hosted.
In contrast, Holly Madison (twitter.com/hollymadison123) tweets an average of five times daily off the top of her head. In fact, at 11:30 a.m. on May 16, Madison tweeted of "a serious mission to stop my compulsive texting habit." She vowed: "not going to contact anyone unless I have something meaningful to say."
The former Girl Next Door's tweets aren't exactly the kind of peepshow into her life that her reddest-blooded male fans might hope for. But if you're dying to know what Holly reads ("When the Mob Ran Vegas" by Steve Fischer) and what Holly does on Sunday mornings ("chuuuuurch"), look no further.
Fortunately for her die-hards, Madison's serious mission lasted until 11:02 p.m. the same day, when she b roke her silence with the following, apparently meaningful, tweet: "a mysterious gremlin keeps unplugging my air freshener."
Contact reporter Corey Levitan at clevitan@reviewjournal.com or 702-383-0456.