Amid holiday festivities, keep an eye on pets, tots
December 20, 2015 - 3:40 pm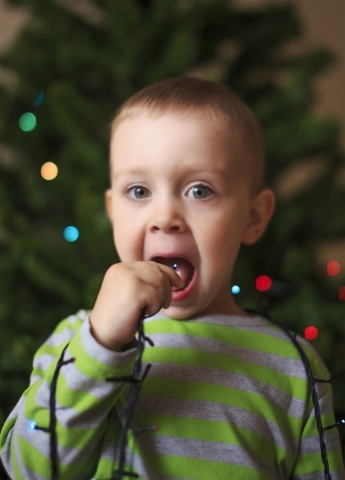 Decorating for the holidays brings joy and beauty to the home. But it can also pose dangers for pets and children if you're not careful. In addition to smart choices, vigilance is needed to ensure holiday distractions do not leave the most vulnerable members of the household at risk. Here are some tips to safely enjoy the holiday tradition.
• A survey by the Electrical Safety Foundation International found that more than 60 percent of decorated homes have at least one extension cord. The foundation recommends not overloading extension cords, not chaining extension cords together, and using indoor cords only inside.
• Many decorations in your house may not be baby or pet safe. The California Poison Control System warns that angel hair, tinsel, bubble lights, and foil gift wrap can be harmful when swallowed or nibbled on. Make sure that the ornaments on your trees are out of reach, because small parts can cause a baby to choke.
• Snow spray is a great way to bring winter to your home, but Poison Control notes how dangerous it is when inhaled. Follow the container's instructions, and keep the room well-ventilated. Once dry, it is nontoxic.
• According to the foundation, candles start more than half of the holiday fires. Try using battery operated candles to avoid accidents. If you are set on real candles, never leave them unattended and place them in a safe space away from decorations.
For more information, visit www.esfi.org/resource/holiday-decorating-safety-342