Brooks' troubles put mental health in spotlight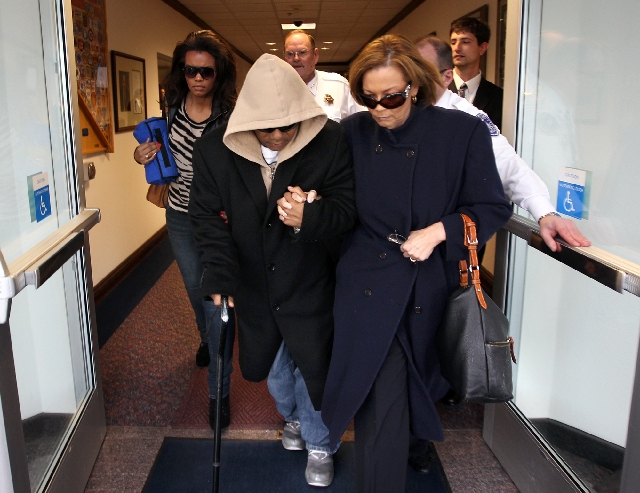 Mental health became a focus of the Nevada Legislature in a very personal way this session because of expelled Assemblyman Steven Brooks' public difficulties.
The North Las Vegas Democrat's first arrest was Jan. 19 when he was accused of making threats against Assembly Speaker Marilyn Kirkpatrick, D-North Las Vegas. North Las Vegas police said Brooks had a gun and ammunition in his car when he was arrested.
On Jan. 25, Brooks was hospitalized for a mental evaluation after Las Vegas police were called to his grandmother's house by Legislative Police because he was acting erratically and wielding a sword. He was released after five days, although he could have been involuntarily or voluntarily committed.
Brooks was sworn in at the Legislature on Feb. 4 and attended a few committee hearings the next day, but he refused Assembly leaders' offer to take a paid leave of absence to deal with his health problems.
On Feb. 10, Brooks was arrested at his estranged wife's home in Las Vegas after police accused him of throwing punches and grabbing for the gun of an officer who responded to a domestic dispute.
On Feb. 11, an Assembly Select Committee investigating Brooks banned him from the Legislative Building because of his questionable behavior and placed him on paid administrative leave from the part-time job.
On March 28, the Assembly voted with a two-thirds voice vote to expel Brooks from the legislative body.
The Select Committee led by Majority Leader William Horne, D-Las Vegas, had recommended expulsion.
In making his report to the full Assembly, Horne said he felt less secure at the end of the investigation than when Brooks' erratic behavior first began in January. Brooks did not cooperate with the probe.
"Ultimately the report from independent counsel painted a picture of a man who is volatile, prone to angry outbursts and potentially dangerous," Horne said. "In fact, since the odd events which led to these proceedings, Assemblyman Brooks has continued to engage in questionable and unpredictable behavior."
Horne said Brooks tried to buy a rifle with a scope, night-vision goggles and body armor. He said Brooks made no effort to get help and Legislative Building workers deserve to be safe.
Later that evening Brooks was arrested in California by police after a freeway chase. The charges were evading and resisting arrest, throwing objects from his vehicle and harming a police dog.
Brooks pleaded not guilty in California. His Nevada bail was revoked April 3.
Clark County District Attorney Steve Wolfson, who is handling the domestic violence case against Brooks in Las Vegas, said it was clear after the high-speed chase the lawmaker is a danger.
"He is clearly a threat to himself and to others," Wolfson said.
Brooks' expulsion was the first in Nevada history. He also lost his job with the city of Las Vegas.
Contact reporter Laura Myers at lmyers @reviewjournal.com or 702-387-2919. Follow @lmyerslvrj on Twitter.
Related Stories
• 'Broken' mental health system overwhelms Nevada
• For Las Vegas man, struggle against mental illness 'not all misery'
• Arrest often is first stop for violent, suicidal, mentally ill
• Kindness from Catholic Charities helps those on the street