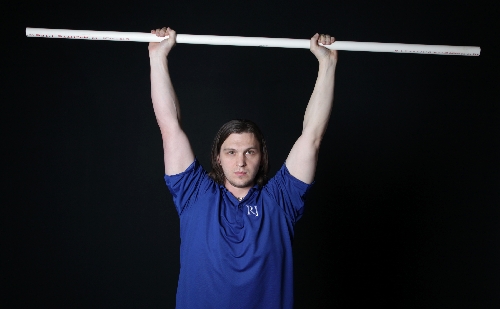 Old, but not forgotten. No, not you. I'm talking about today's exercises. They are classics for a reason. 
Way back when I attended Earl Elementary, once a year we would have a few weeks of physical education devoted to jumping rope. As a kid, jumping rope was easy. That's because, as a kid, I had tons more energy. We would jump rope for what seemed like forever. It was fun.
Now, I use this simple drill to teach some valuable lessons.
Jumping rope is a great neurological exercise. It teaches speed, coordination, agility and accuracy. All of these things require brainpower. Once the brain masters the simple movement, then improvement is around the corner. The body is very good at adapting itself to repetitive movements. 
Try eating your cereal with the opposite hand. I bet you eat a little slower and might spill some milk. For those of you who are proficient with chopsticks, try the same exercise and switch hands. If your hands are mirror images of each other, then why don't they work the same? The answer is practice. You have more than likely been eating with the same hand your whole life. That's one hand with a lifetime of experience. The other hand got away with being lazy.
Drills such as jumping rope are similar. They can be tricky at first but mastery just takes practice. Have you ever seen a prizefighter warm up by skipping rope? They make it look effortless. They cross the ropes and do double-unders just as easily as walking. 
You don't need to be a tough guy to learn to skip rope. Practice at home so all of those missed skips in the beginning don't chip away your pride. Jumping rope is a good home exercise. The equipment is cheap and you don't need much room. You also can jump rope while the kids play at the park or even bring your jump rope with you on business trips for when the treadmills at the hotel gym fill up. 
Jumping rope works the calves, so check out my column on foam rolling the calves to keep them loose. See lvrj.com/trainer.
The other exercise today is the barbell shoulder press. This exercise is for men and women. Women can use it to give them functional strength, while men tend to use it to develop muscle mass. 
The shoulder press today is demonstrated with a PVC pipe to illustrate the proper form. I also recommend starting with little to no weight to make sure you have learned the form correctly. If the bar travels any other way than straight up, then you need to work on it. Ask a trainer at your gym to watch your form. 
I demonstrate a standing shoulder press opposed to a seated one. This way I can teach core strength. In my CrossFit class, they taught that the core is central to this lift. If the butt and gut aren't tight then the hips move forward and the back is not in a good position. Rely on your core as a strong foundation and it won't let you down. Having people stand helps me teach their brain to keep the core tight under controllable duress.
The barbell press also can help develop shoulder stability. Work on stability before strength to keep your shoulders healthy. Your shoulder joint is surrounded by muscles and attachment sites for muscles. Simple lifts, such as this press, can help keep those muscles in good working order.
Are you looking for an exercise to help you improve your bench press? Work your shoulder stability and strength with this press. You'll never hit the 300- to 400-pound range with weak shoulders. 
Chris Huth is a Las Vegas trainer. He can be reached at 702trainer@gmail.com. Consult your physician before beginning any exercise program.