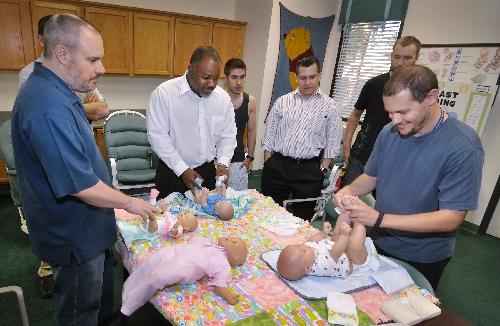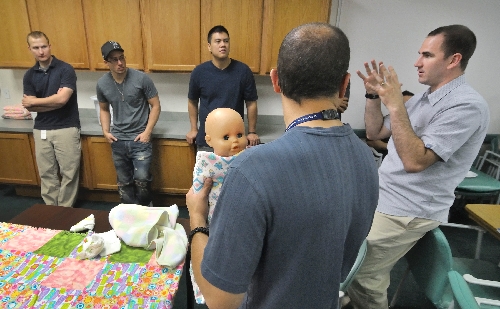 Just the thought of it made Bhupesh Marwah see how long he could hold his breath.
Given what the instructor at the University Medical Center Boot Camp for New Dads told his class the other night – David Nearhouse said the worst smell in the world is when an infant first unloads after switching from breast milk to formula – the 40-year-old Marwah has thought long and hard about what to do should that situation arise.
He can't hold his breath long enough, he now realizes, to change the diaper, throw it away, and spray air freshener.
"I've decided if that happens I won't change my baby in a small enclosed room, but in a big open room," said the 7-Eleven convenience store manager whose wife, Monica, is expecting their first child in September. "And I'll have a fan to blow the smell away from me and the baby. That smell isn't something I want to experience."
Marwah, bless his heart, couldn't have been more serious.
"It's good to know what you're going to face," he said after the recent class that saw him pay close attention to everything said by Nearhouse, Dr. Israel Temple, and fellow instructor Brandon Murphy, who brought his smiling 3-month-old son, Ronan, along to help demonstrate, among other things, the secrets of diaper changing and swaddling.
"This class had some very serious information," Marwah said. "When you're learning how to take care of your baby, you're not learning how to make a hot dog."
Indeed.
Fifteen men, one of whom gave support to his brother-in-law, came together the other night at UMC's Family Resource Center to learn about the mysteries of new fatherhood, and not one appeared to think fatherhood would be as simple as learning how to place, and then dress with mustard and relish, a frank on a bun.
The way Assemblyman James Ohrenschall – the Democrat represents Clark County District 12 – struggled with swaddling a doll, there appeared to be a chance that he'd still be practicing when the sun came up.
"Is this how you put the blanket?" the 39-year-old attorney asked Temple, who served up the politically correct answer of: "You'll get it with practice. … You know, they also have blankets with Velcro out now."
Robert Whitney, a clerk whose wife, Shannon, is expecting their child, didn't even try to swaddle.
"I was chicken," he said after class. "I'll have to wait until the baby's born and just go for it."
Ohrenschall, who successfully fought to get more treatment funding for autistic children in the 2011 legislative session, said he has told his expectant significant other, Rianna Durrett, that he now believes the reason he wasn't good at swaddling is because the blanket was too large for the doll.
Political swaddling or, rather, waffling aside, as Murphy, the son of Clark County Coroner Michael Murphy, changed his son – Ronan wiggled just a tad – he said to remember that when opening a baby boy's diaper, the air on his genitals may cause him to pee skyward.
"You may have to duck," Murphy said, adding that one technique for escaping a urine shot is to open, and then quickly close, the diaper before changing a baby boy. "There are little things that you'll learn."
Attorney Trevor Hayes, whose wife, Erin, is expecting their child next month, hoped so: "I'm afraid I'll put the diaper on backwards."
The free class, offered four times during the year, didn't bring just grins to the men's faces. It also made them think.
Temple, a 33-year-old pediatric resident at UMC, talked about how easy it is to cripple, or kill, a baby if he's shaken.
"We all get frustrated, particularly when a baby's crying," he said. "So if you feel that way, put the baby down gently and walk away and calm down for five to 10 minutes. You'll realize how silly it is to get angry with such a helpless baby."
Murphy pointed out how a huge mixed martial arts contestant who took the class learned to deal with his temper.
"He had a heavy bag outside his daughter's room that he went outside to hit to cool off," he said.
The discussion about shaken baby syndrome – which causes swelling of the brain and internal bleeding – rang true to Jason Frierson, an attorney who handles child abuse cases for the Clark County District Attorney's office.
"Too many babies get terribly hurt," he said.
Frierson, whose wife, Abbie, is expecting their child in July, said it's disheartening to see how parents can lose control.
"I think it's always good to have a reminder that everybody has to take a step back when they're frustrated," he said.
Murphy also noted that he had to get rid of a pet dog who acted aggressively toward his firstborn daughter.
"When I had to make a choice between my dog or my baby, I had to choose my baby," he said.
What you don't find in the Boot Camp for New Dads is advice from women.
Instructors Murphy and Nearhouse both agree that not allowing women in the class allows the men to ask questions that they might not otherwise ask if their wives were there.
"There is no question too dumb," Nearhouse said.
Some questions, however, aren't answered, including, "How long after the baby's birth can I have sex again with my wife?"
"I tell men who ask that to ask their doctors and wives," Nearhouse said.
Time and again the instructors pointed to how important it is to help take care of the new mother, including giving her some time alone.
A new father should keep in mind, the instructors said, that when he spends time alone with his child, he's not baby-sitting.
"You're the father now, the baby's yours," Murphy reminded.
Both Murphy and Nearhouse have day jobs. Murphy is an information technology specialist for UMC. Nearhouse is in supervision at the Sears in Meadows mall. They had taken the course years ago when first having children and thought so much of it they received training to become facilitators.
If there is any challenge that both instructors said those in class need to take head-on, it's learning how to help their wives calm a crying baby. They suggested that those in the class work through a checklist that includes checking to see if the baby has: a dirty diaper, clothes that chafe, or needs to be held or burped.
Though the class stressed repeatedly how men should help their wives, Nearhouse still seemed to be, well, a man, when he talked about who should change the diapers of a baby that's been switched from breast milk to formula.
"Oh, that smell is just so bad," he said. "Let her do it."
Contact reporter Paul Harasim at pharasim@reviewjournal.com or 702-387-2908.
CLASSES
To find more about UMC's free classes for new and expecting parents, go to UMC's Education & Events