Don't forget about setting mental and emotional health goals in 2017
January 2, 2017 - 9:43 am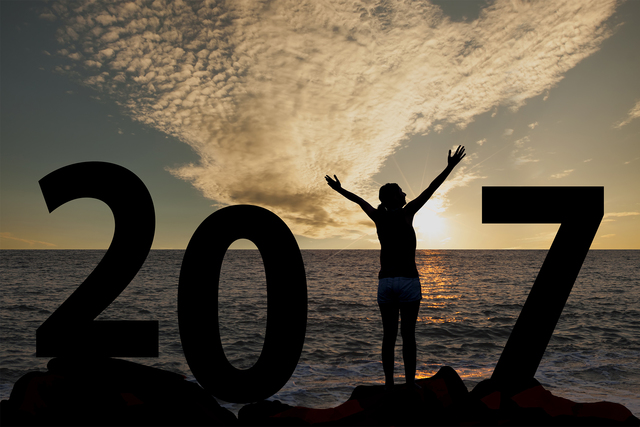 It's two days into 2017, and many Nevadans already know what they'd like to be in the new year — smarter, thinner and richer.
But experts say that amid mulling over career ambitions, fitness aims and financial aspirations, people often forget that setting and attaining mental health targets could better their quality of life and help them achieve other goals.
Guy Winch, a New York-based psychologist and author of "Emotional First Aid: Healing Rejection, Guilt, Failure and Other Everyday Hurts," argued that Americans don't do enough to maintain their emotional well-being.
"We don't prioritize it properly," he said. "We don't think about it as much as we should."
By setting New Year's resolutions centered on emotional health — like laughing more — people can learn to overcome failure, stick to their goals in the long term and be happier, Winch said.
Improving emotional health can also help people attain physical goals such as losing weight, eating healthier and becoming more active, said family medicine physician Dr. Daliah Wachs, an assistant professor at Touro University Nevada.
In order to be physically fit and stay that way, patients should try to improve their state of mind, she said.
Little things such as limiting the amount of time spent on the computer and socializing with friends can be effective New Year's resolutions to do just that, she added.
"You can't just treat the physical, you have to treat the emotional," Wachs said.
Francis Hoare, a coach at Real Results Fitness, which has two gyms in the valley, agreed that physical and emotional or mental fitness are intertwined.
"If they're not sleeping, if they're stressed, if they just don't believe in themselves, it'll slow it down," he said of his clients' fitness progress. "It'll get to a roadblock."
Hoare said he and other Real Results coaches keep that in mind and work to help clients see how their mental fitness affects progress toward their goals.
"Part of mental fitness is getting to better know yourself and better control yourself. Know your self-destructive habits," he said.
Making emotional health changes often runs counter to the idea many people carry that if they could just meet goals they've set for themselves, they'd finally be happy. Instead, things often work in reverse, according to the American Psychological Association.
"Happy people are more likely to work toward goals, find the resources they need and attract others with their energy and optimism — key building blocks of success," according to the association's website.
So working on your emotional health could put you on your way to the life you've envisioned.
But the keys to attaining success are to make emotional health goals workable, attainable and specific, Winch said.
"People make very, very common mistakes with setting every kind of New Year's resolution: They set too many. They won't be specific. Another very common mistake is they don't set a start date," Winch said. "People fail because they don't make them correctly."
Don't just say, "I want to be happier." Think about ways to make it happen, he suggests.
For instance, adults often find that as they get older, they have less time to be silly. But silliness can help lighten the emotional load during tough times and improve happiness, which is why a resolution to carve out "silly time" can be a good idea, Winch said.
Another suggested resolution from Winch is to be nicer to yourself in response to rejection.
"Our natural response is to go and list all of our shortcomings to punch (ourselves) again in the stomach. Avoid becoming self critical," he said.
Just like with other New Year's resolutions, emotional ones require effort, so it's a good idea to carefully select a buddy for the journey to stay motivated.
Try setting just one or a few resolutions at a time, and be willing to forgive yourself when you screw up over the long term.
"You're not trying to do it for the month of January," Winch said. "You're trying to do it period."
Contact Pashtana Usufzy at pusufzy@reviewjournal.com or 702-380-4563. Follow @pashtana_u on Twitter.