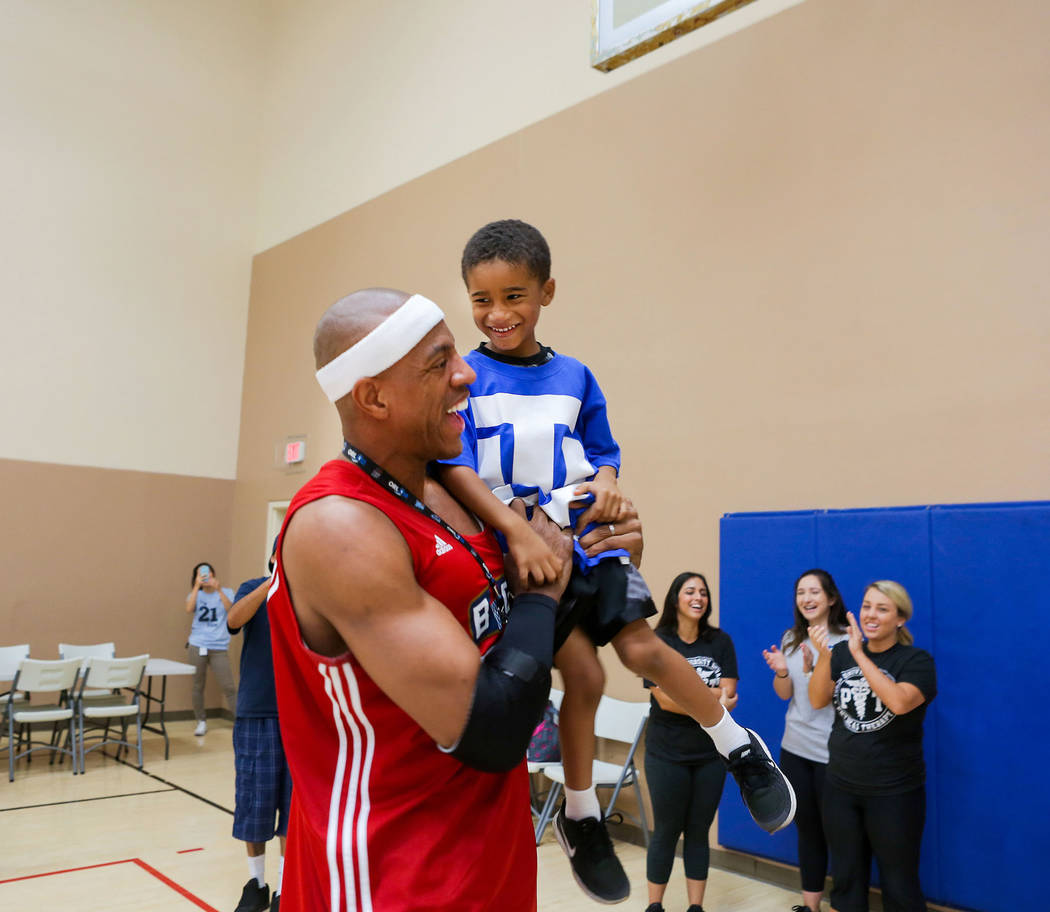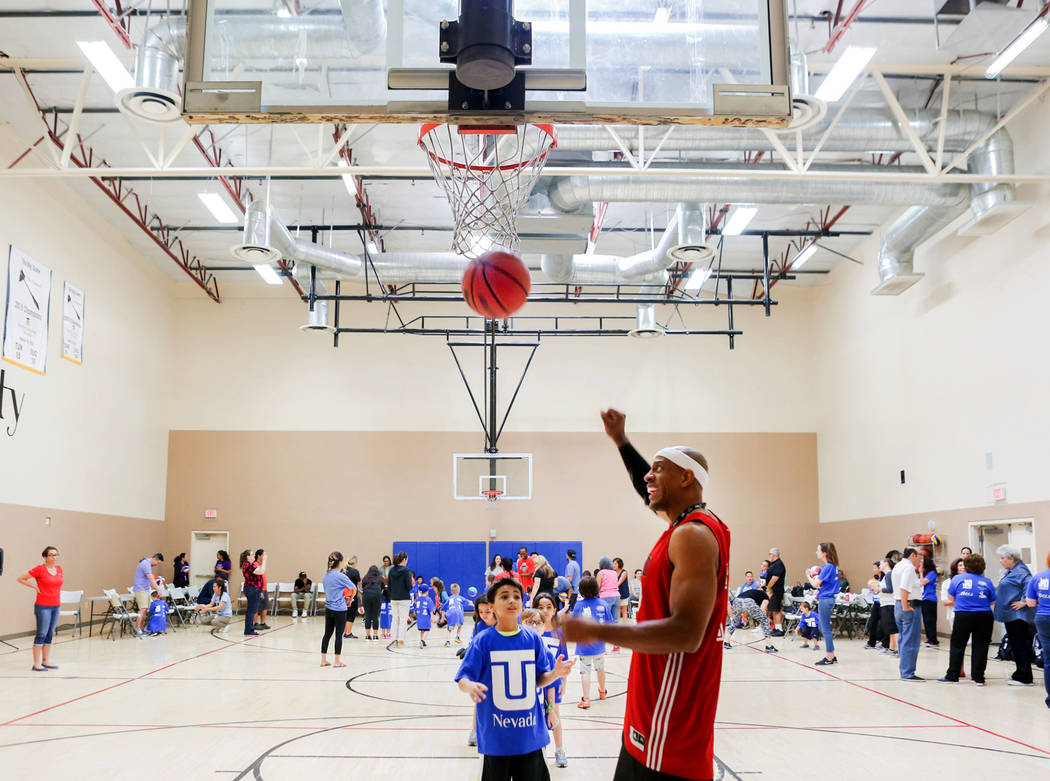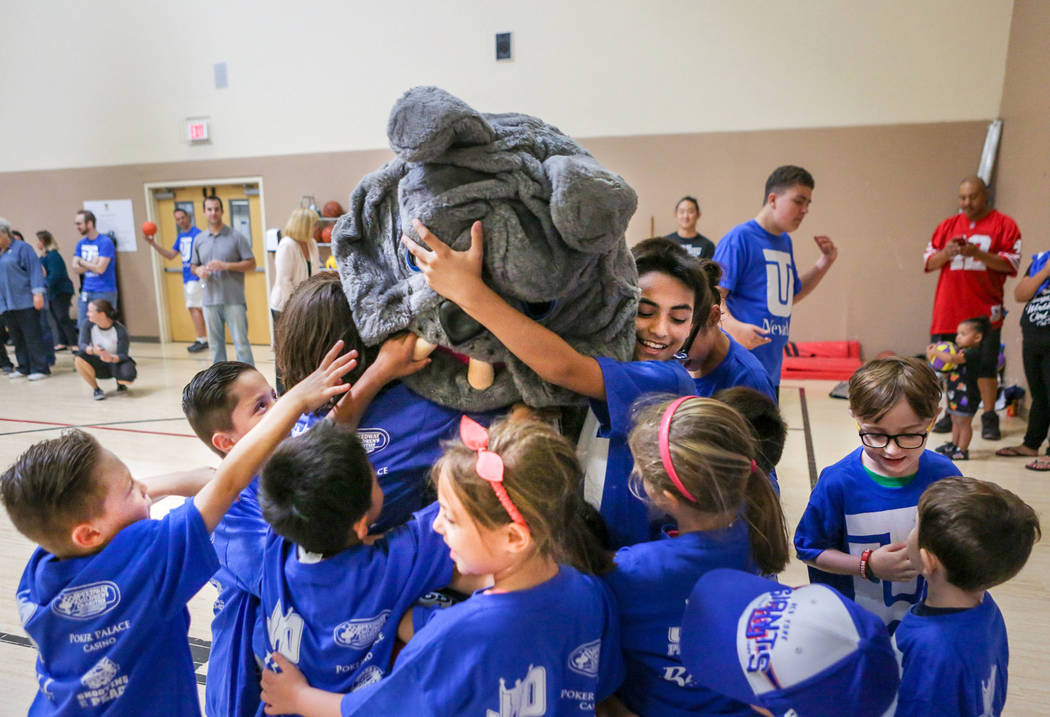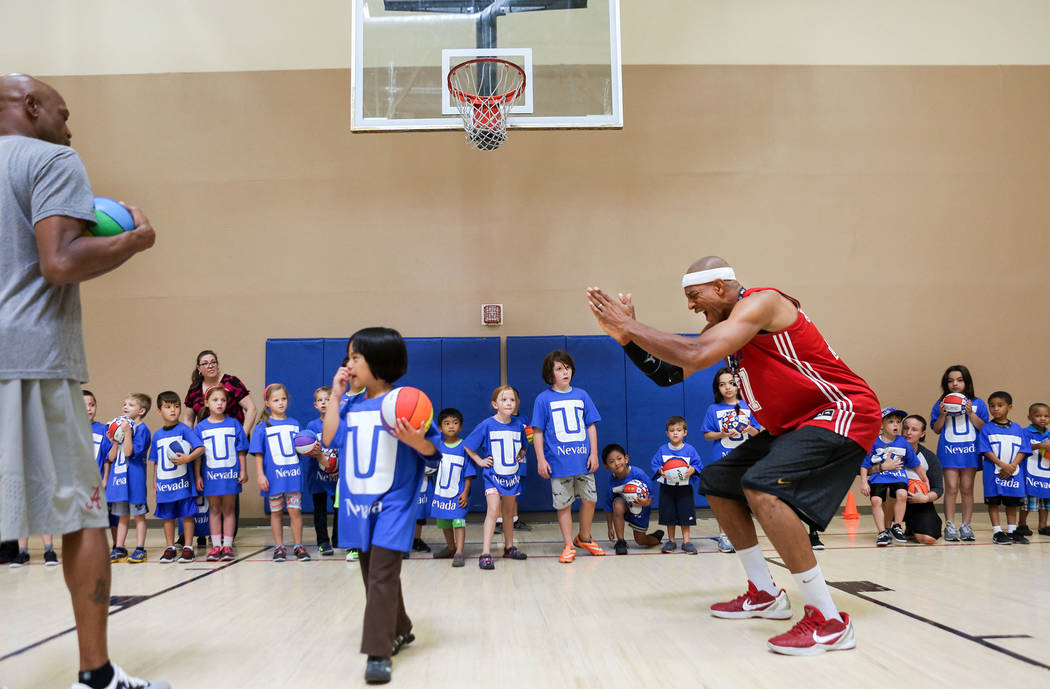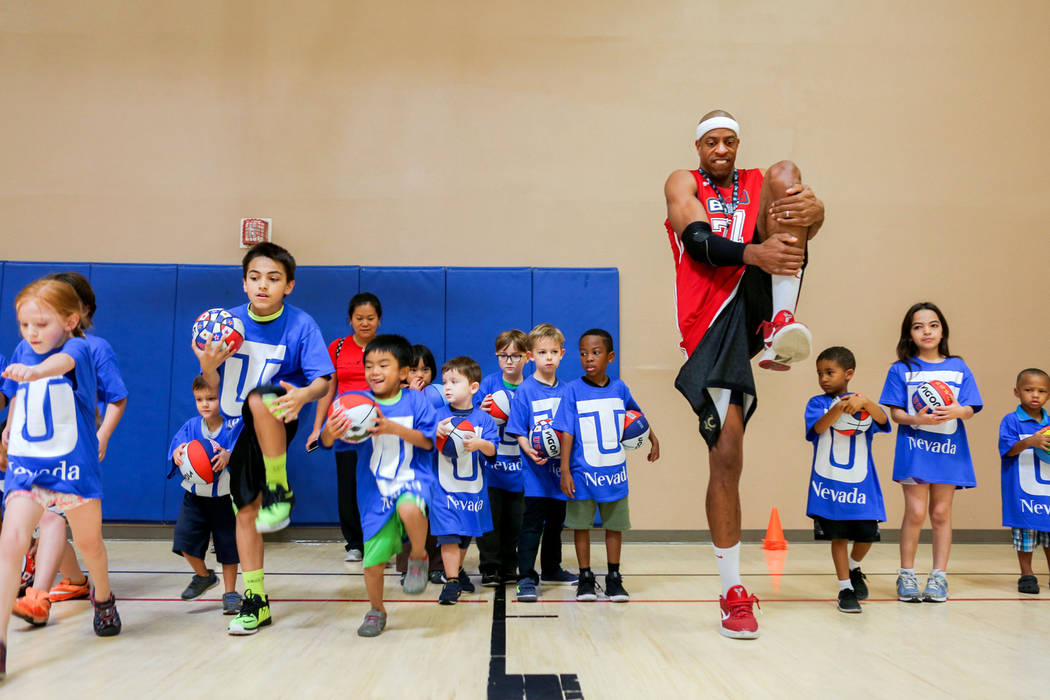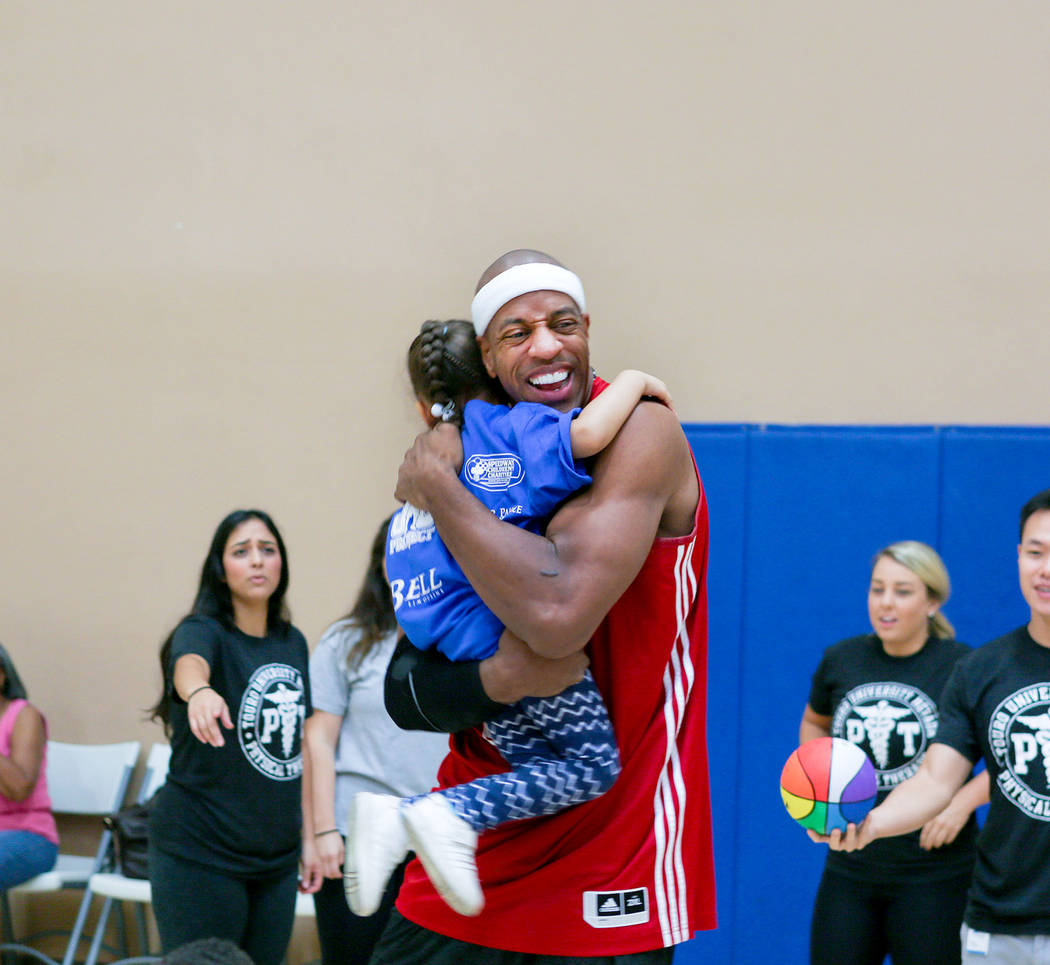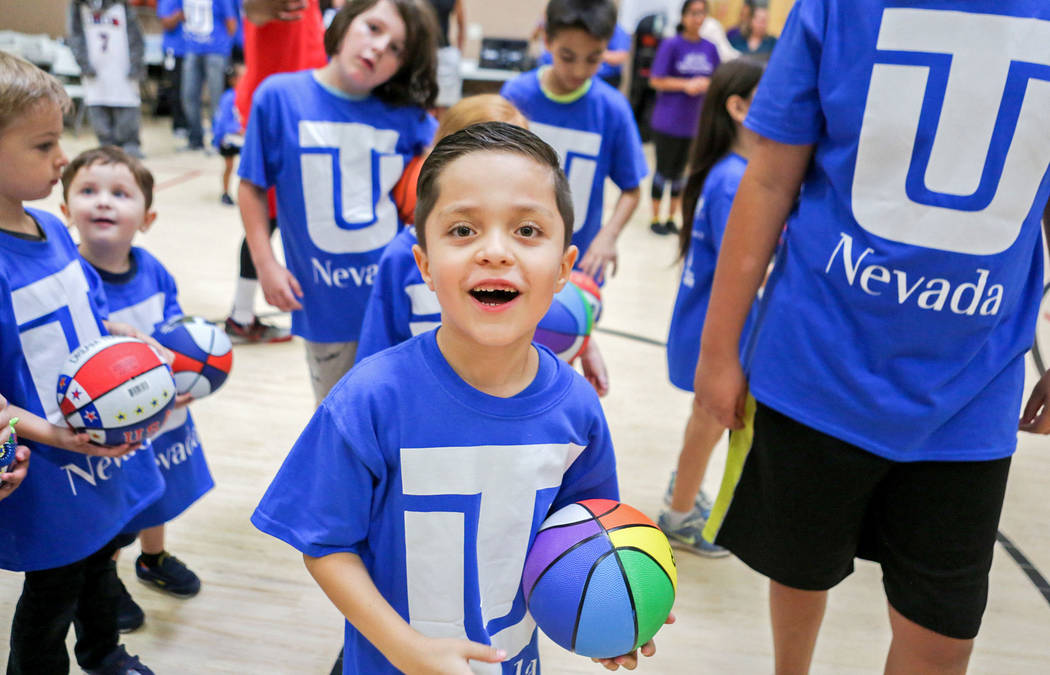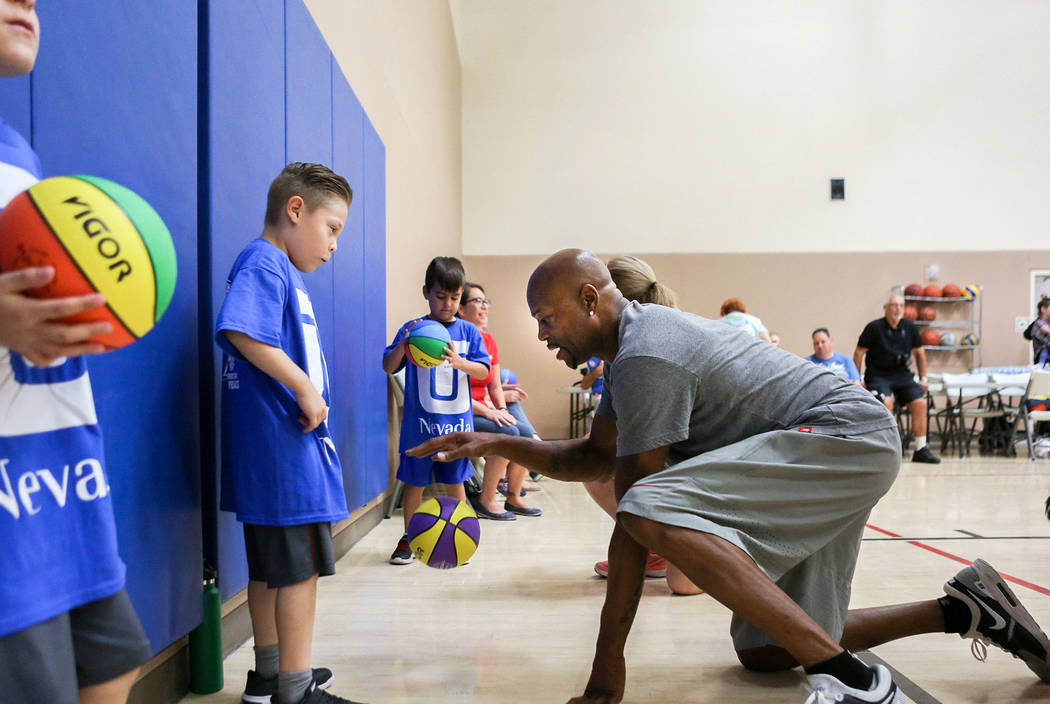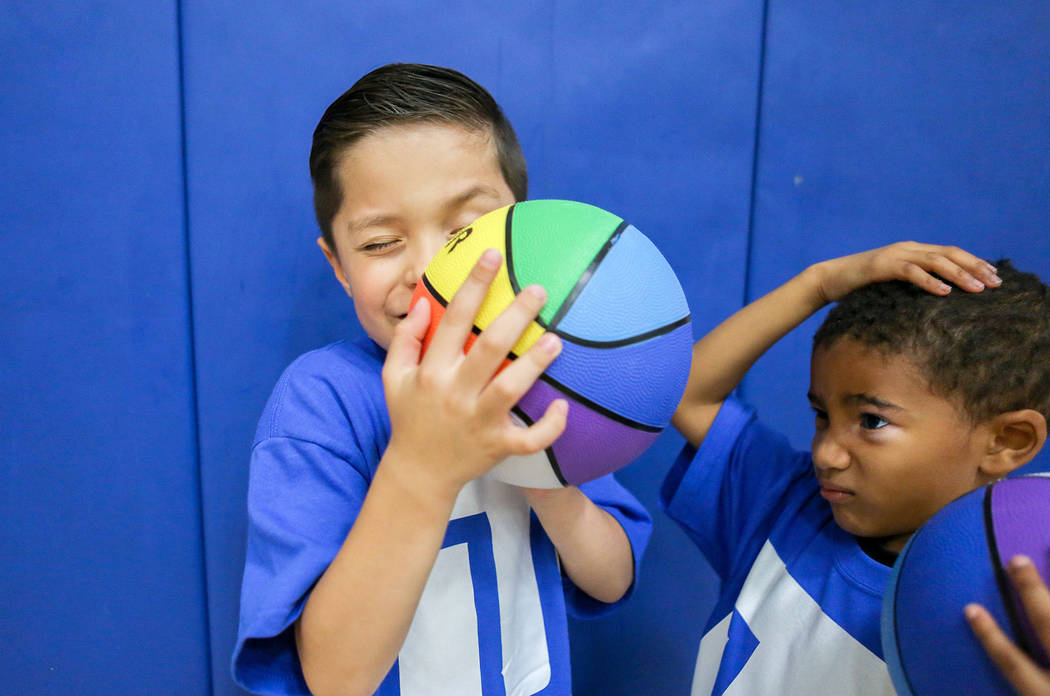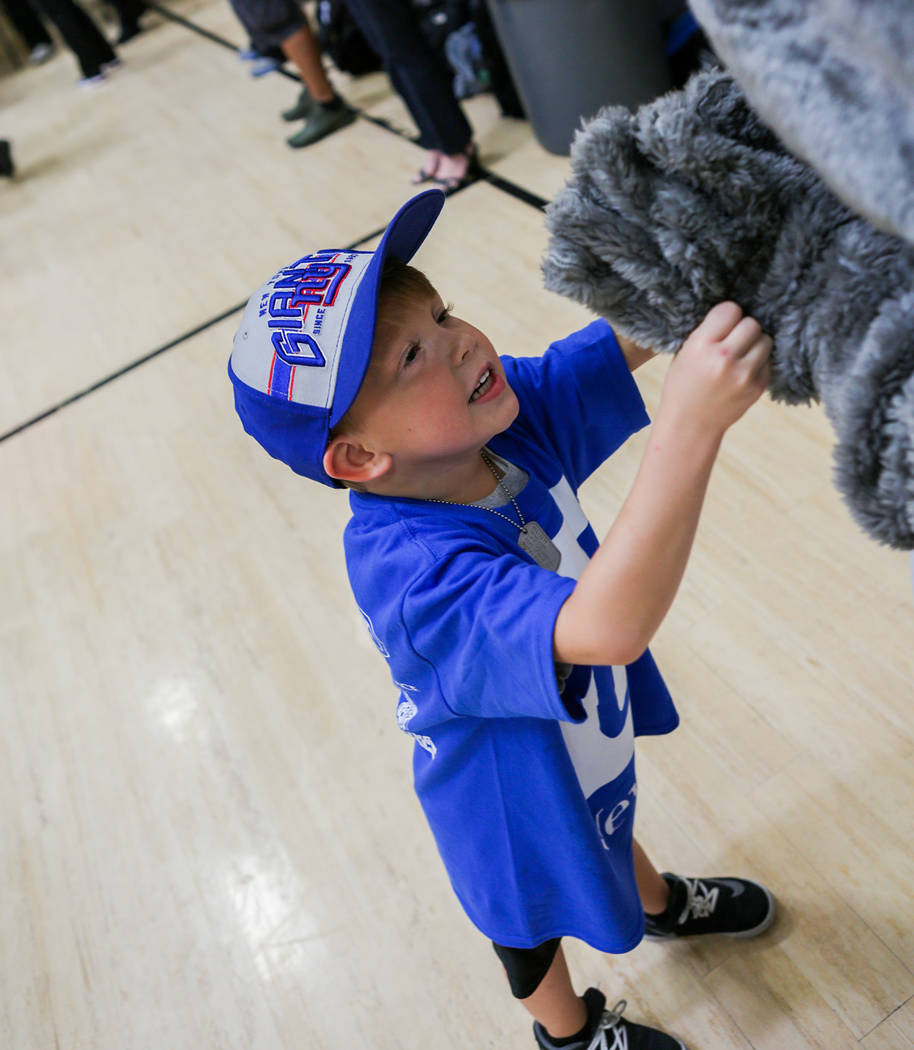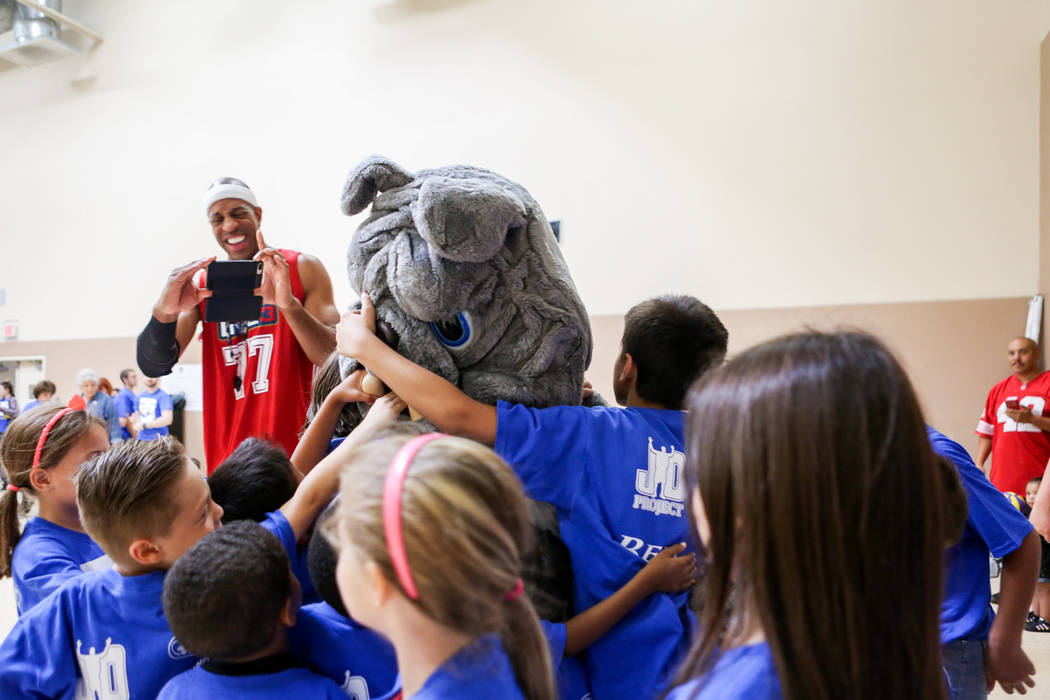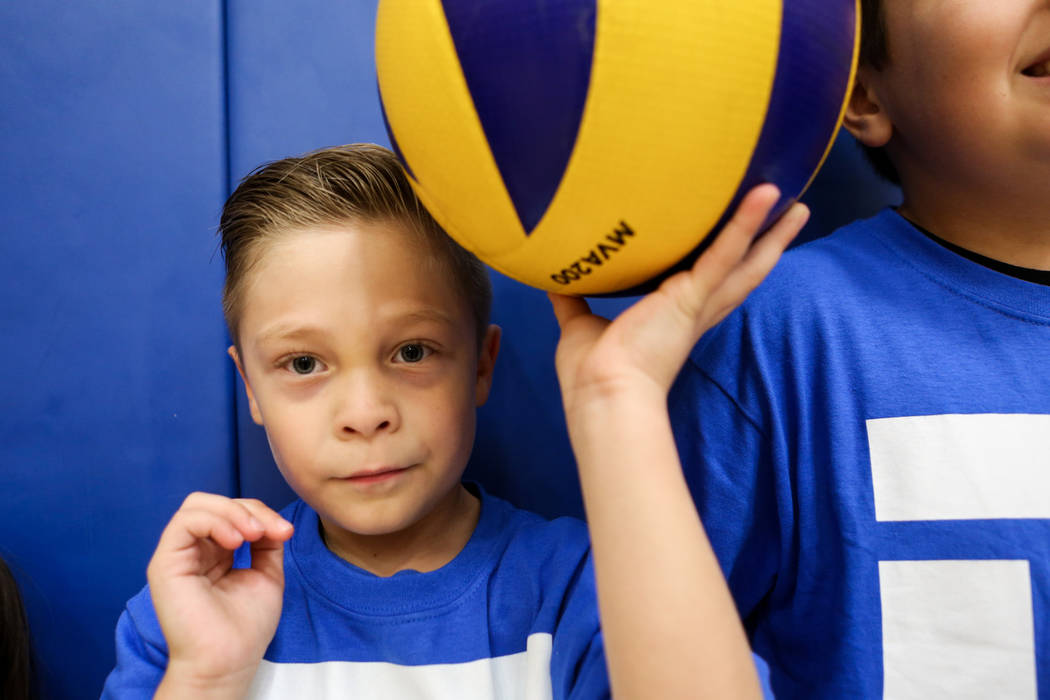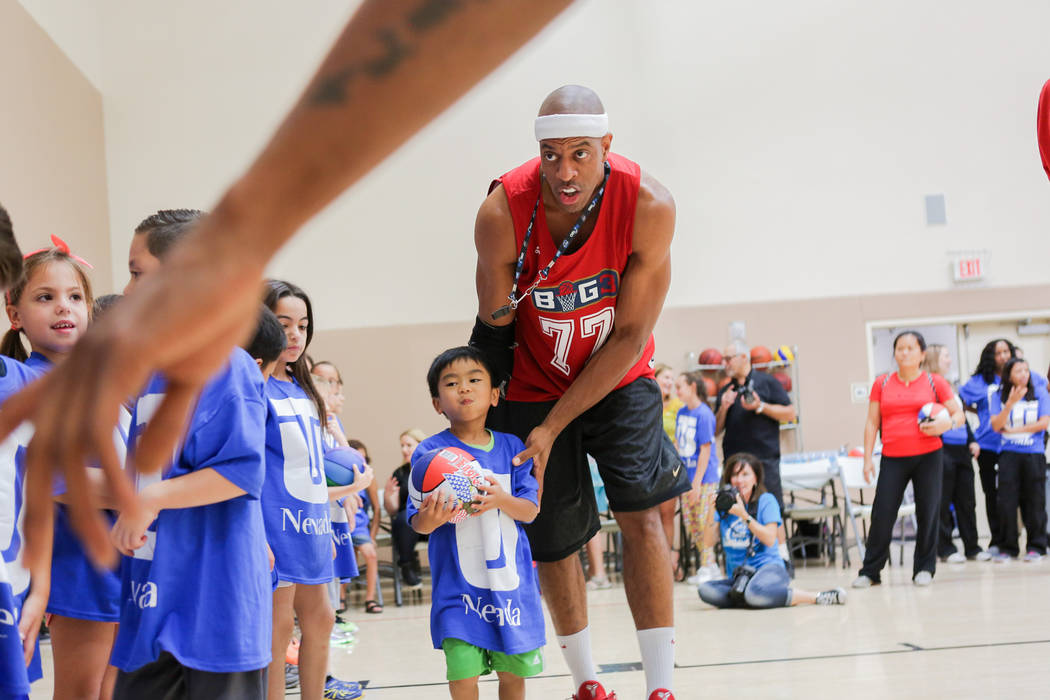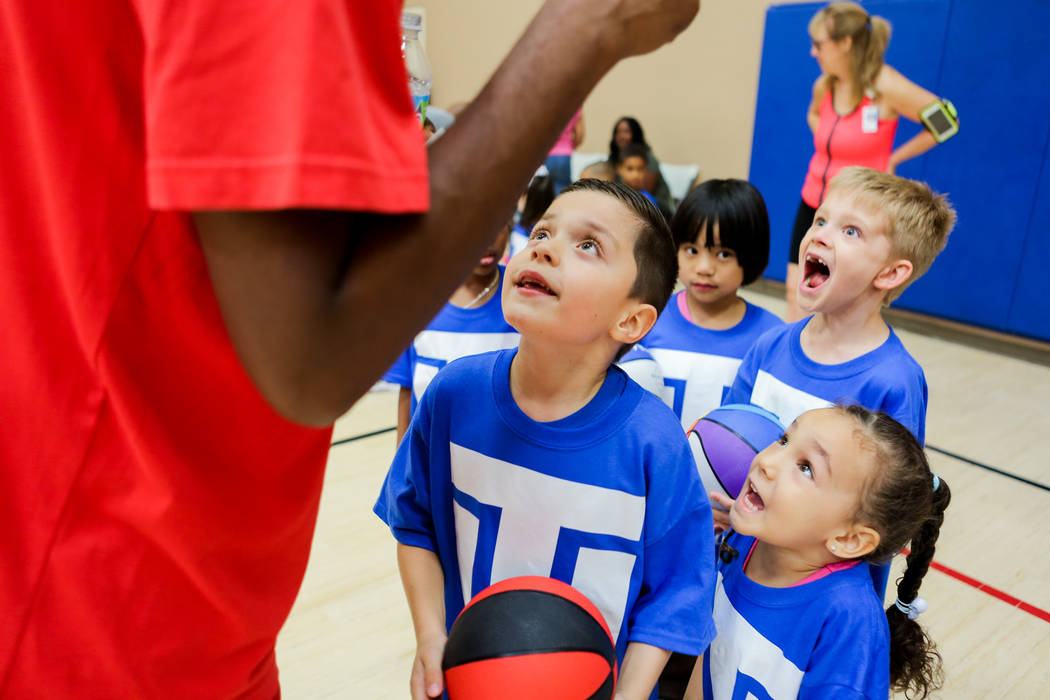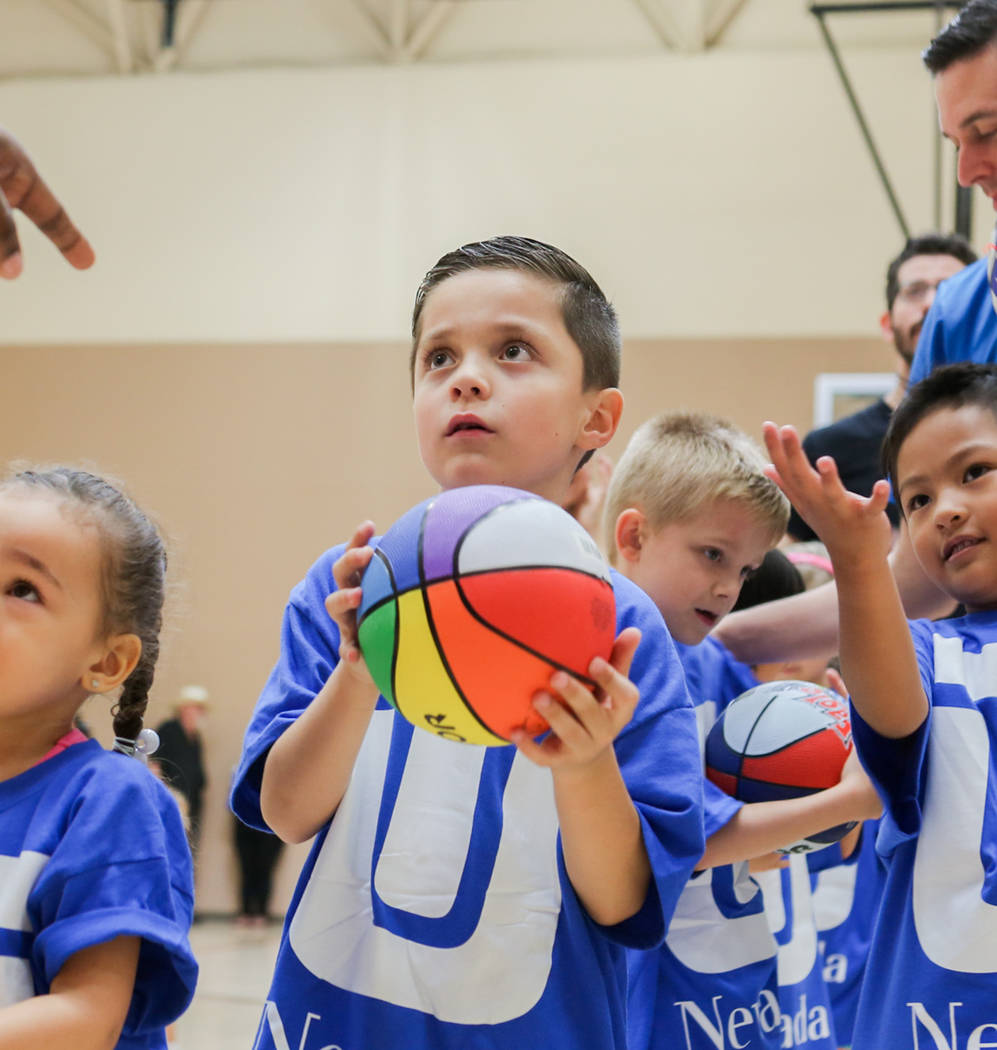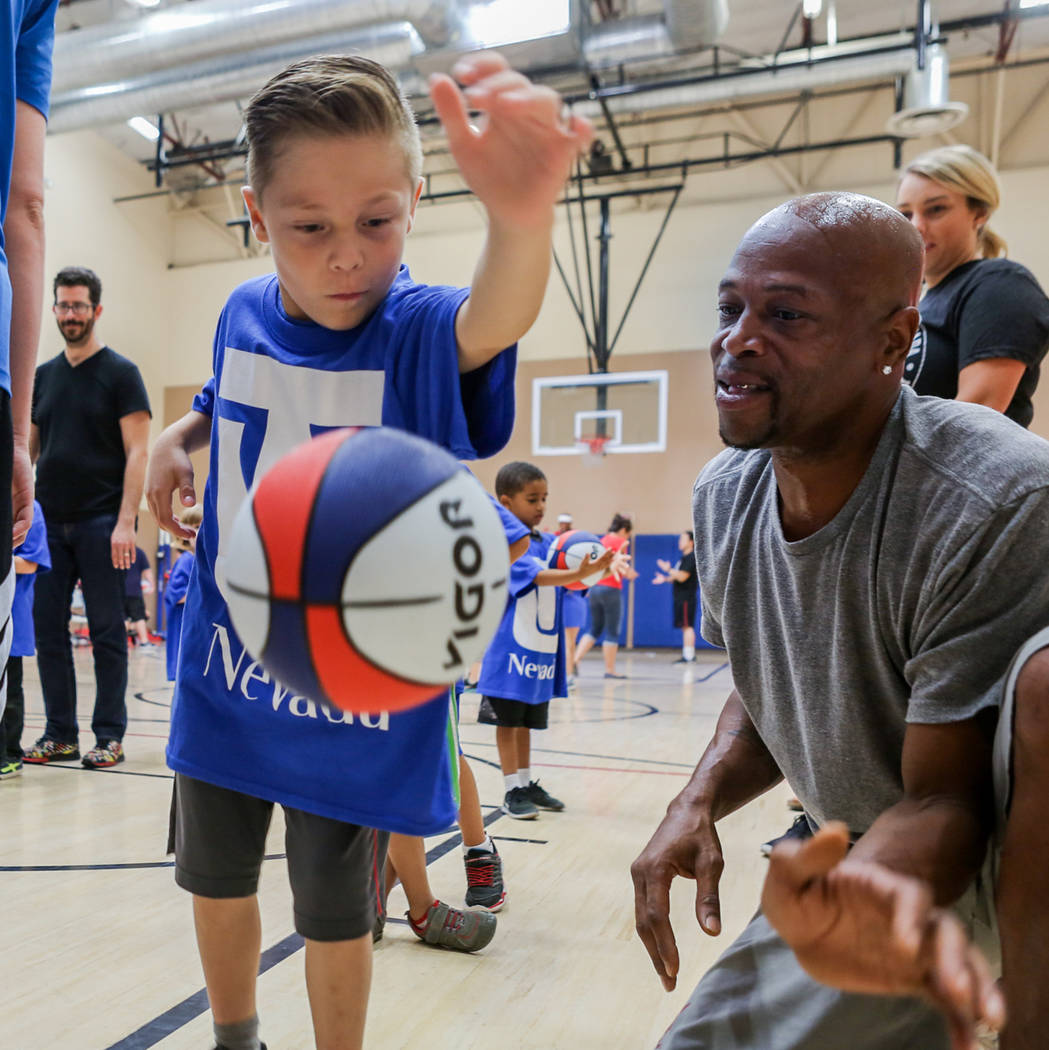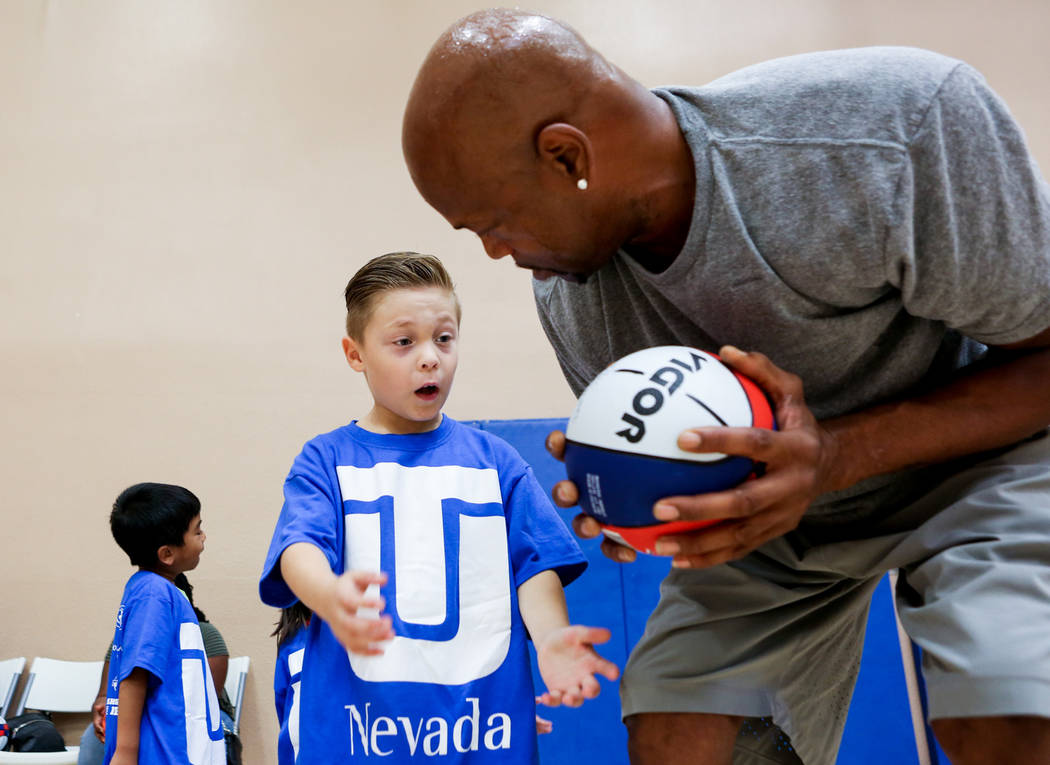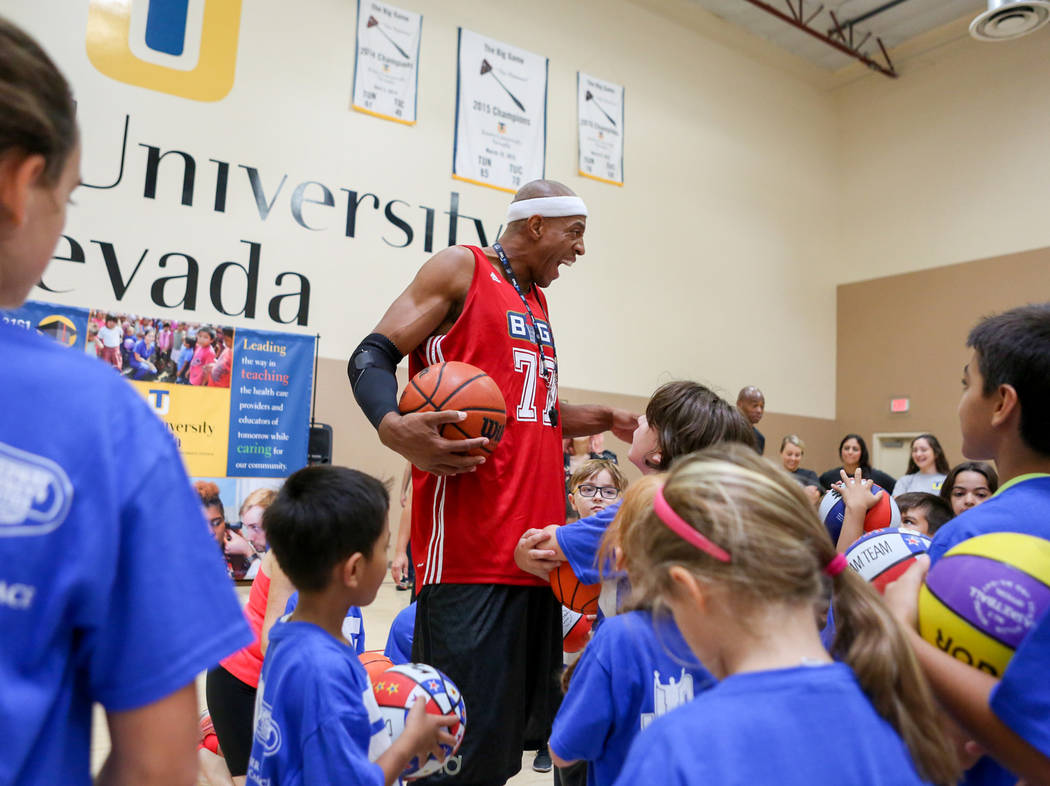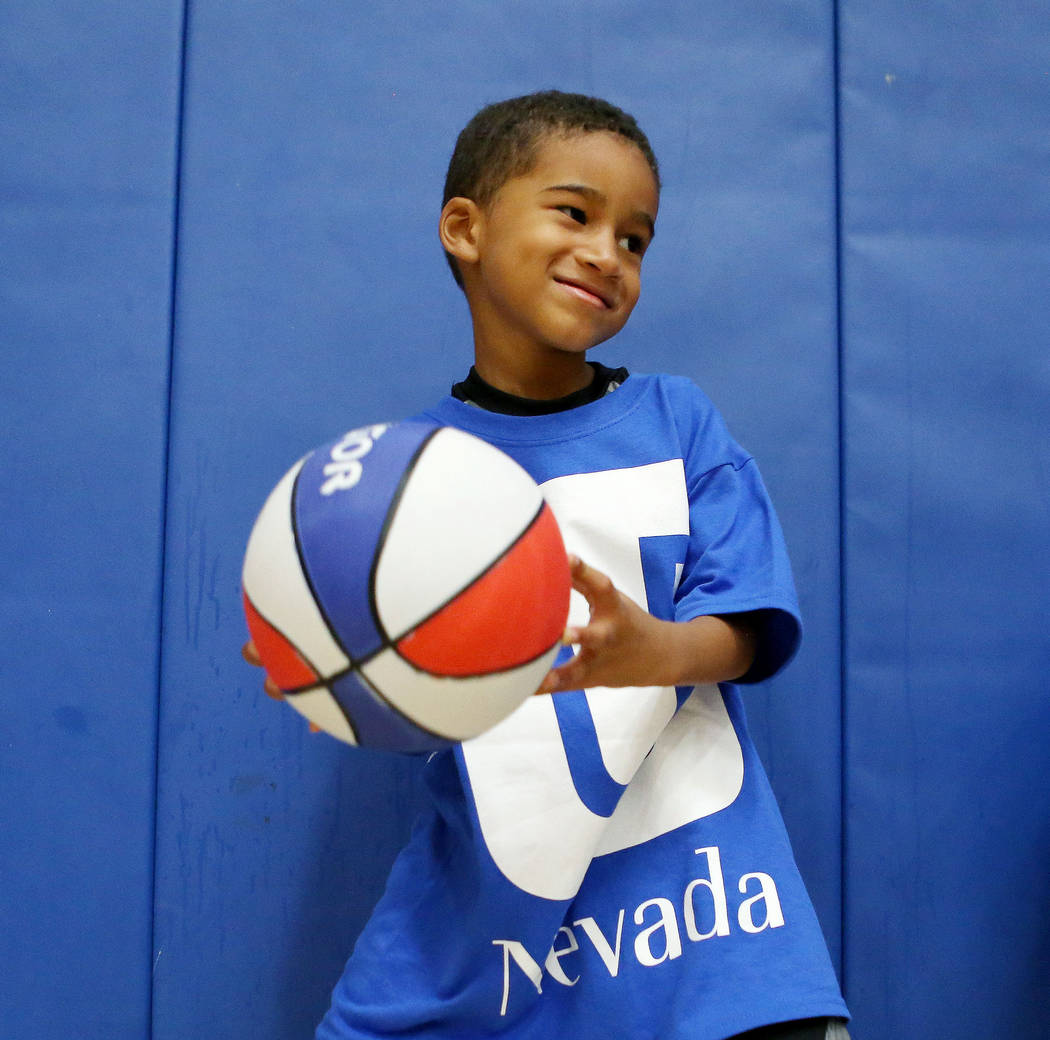 Five-year-old Zollin Ellis, a little big man in a blue Touro University T-shirt that nearly touches the floor, dribbles a small basketball. When children come up to him to ask if he wants to play with them, it's as though he doesn't see them.
He just dribbles. First one hand, then the other.
A drill headed by former NBA player Jerome "Junkyard Dog" Williams and his group of former professionals at the Touro University Nevada gym in Henderson grabs the attention of most of the children. It's the annual basketball clinic for autistic children, sponsored by Touro's Center for Autism and Developmental Disabilities.
But Zollin, bless his heart, just dribbles in the back of the gym as other children run by.
His mom, Alma Johnson, draws her son into the action every so often.
Then Williams hoists Zollin into the air so he can dunk one of the miniature balls, and the youngster beams.
"He'll just tune everybody out and do what he wants over and over again," Zollin's mother explains. … He doesn't engage with other children very well, doesn't get into conversations or follow directions well. I've been on a waiting list for two years to get him the therapy he needs."
Multifaceted disability
Autism, or autism spectrum disorder, is a bio-neurological disability that affects development of the brain in the areas of social interaction, communication skills and cognitive function. The Centers for Disease Control and Prevention estimates that 1 in 68 children in the U.S. has been identified with the condition.
The term "spectrum" reflects the wide variety of challenges possessed by each person with autism. Many autistic children are very bright, for example, yet can be socially impaired, with enormous problems in forming relationships or managing in certain environments because of sensory sensitivities or high levels of anxiety.
Before the recent Sunday session began, Williams, a former Toronto Raptors star and current Southern Nevada resident, knew that the kind of scene involving Zollin could play out. He's held these clinics for six years.
"Some autistic kids get distracted, or just can't follow directions — you just have to have patience," he said. "That's why most of them never get on teams and why I always to do this — so they might have some fun with other kids. I'm convinced if they get the right help in life, many will be OK. You can't give up on them."
A promising treatment
As Williams talked, I recalled a day in 2011 when I watched then 17-year-old Meg Crandy participate in a chorus rehearsal for a Desert Pines High School theater production. Her mother, Jan Crandy, who would become chairwoman of the Governor's Commission on Autism Spectrum Disorders, told me that when Meg was diagnosed with autism at age 3 she worried she'd have to be institutionalized.
Crandy told me that as a toddler, Meg only screamed and gestured wildly to communicate. And she carried a big spoon so she could stare at her reflection. The youngster would never make eye contact with others. She'd often fall to the floor and shriek when strangers came around, agitated to the point of vomiting or banging her head on the ground.
"We could never go out in public with her," Jan Crandy said.
Then Meg's parents got her enrolled in intensive, one-on-one Applied Behavior Analysis, or ABA, where a specialist essentially retrains the brain. It is the kind of therapy Alma Johnson prays Zollin can one day receive.
ABA worked. Big time. Meg socialized, got As and Bs in school. And today she's working in customer service for a casino.
Success stories such as Meg's are the reason the parents on hand for the basketball clinic remain optimistic. Many take their school-age children, most often enrolled in special education classes, to Touro's autism center for after-school ABA and speech therapy. Pre-school kids generally are at Touro for the therapy earlier in the day.
Bethany Sanchez, the chief deputy city attorney for the city of North Las Vegas, has seen a huge change in her 6-year-old son Alejandro — his twin brother, Mateo, is not autistic — since he started attending the center at Touro. "ABA has really helped him," she said.
His registered behavior technician, Tanisha Porter, notes that Alejandro, "now can hold a conversation, asks questions and likes playing with kids, not just himself. … I'm very proud of him. He wants to interact now."
Improvements in care
Dr. Mara Hover, the new medical director of the autism center, said treatment is constantly getting better.
"We're seeing significant improvement in children when it comes to their social skills and adaptability," she said.
Hover said Las Vegas lags in available treatment for autistic children, meaning those such as Zollin Ellis must be on waiting lists.
Events such as the basketball clinic give families something to smile about. Celina Burns said she loved watching her daughter, 10-year-old Josephine Solins, participate.
"She was so happy. Normally she just likes to be by herself, but this was so high energy it gave her a feeling of importance," Burns said. "Touro's really helping her. She actually hugged people at the end and normally she doesn't like to be touched. That was a big thing for her. I'm really thinking maybe her life is going to get better."
About the disorder
Because autism is a spectrum disorder, it can range from mild to severe. It occurs in all ethnic, socioeconomic and age groups. Males are four times more likely to have autism than females.
A person with ASD might:
■ Not respond to their name (the child may appear deaf)
■ Not point at objects or things of interest, or demonstrate interest
■ Not play "pretend" games
■ Avoid eye contact
■ Want to be alone
■ Have difficulty understanding, or showing understanding, of other people's feelings or their own
■ Have no speech or delayed speech
■ Repeat words or phrases over and over (echolalia)
■ Give unrelated answers to questions
■ Get upset by minor changes
■ Have obsessive interests
■ Flap their hands, rock their body, or spin in circles
■ Have unusual reactions (over or under-sensitivity) to the way things sound, smell, taste, look or feel
■ Have low to no social skills
■ Avoid or resist physical contact
■ Demonstrate little safety or danger awareness
■ Reverse pronouns (e.g., says "you" instead of "I")
Source: National Autism Association
Challenges of autism in adulthood
A 2015 report by Drexel University's A.J. Drexel Autism Institute found that more than a third of those with autism didn't work or continue education in their early 20s, compared with less than 8 percent of young people with other disabilities.
Just a third of young adults with autism had ever lived apart from their parents, and roughly 1 in 4 were socially isolated, having received no invitations for social activities within the past year, the report found.
About 58 percent of those on the spectrum had worked for pay by their early 20s and their jobs were typically part-time and low paying, the report said.
About a third engaged in postsecondary education.
About Touro center
■ What: Center for Autism and Development Disabilities at Touro University Nevada
■ Where: 874 American Pacific Drive, Henderson
■ Contact: 702-777-4808
■ Hours: 8 a.m. to 5 p.m. Children 18 months to 13 years can go for treatment before or after school. Parents must have a referral for treatment from a pediatrician, neurologist or neuropsychologist.
Treatment includes Applied Behavior Analysis, speech and physical therapy.
Medicaid, private insurance and cash accepted.
Source: Lisa Kunz, director of center
Paul Harasim's column runs Mondays in Health. Contact him at pharasim@reviewjournal.com or 702-387-5273.