Frank Marino and Lou Ruvo Center team up for head trauma study
November 29, 2016 - 8:52 pm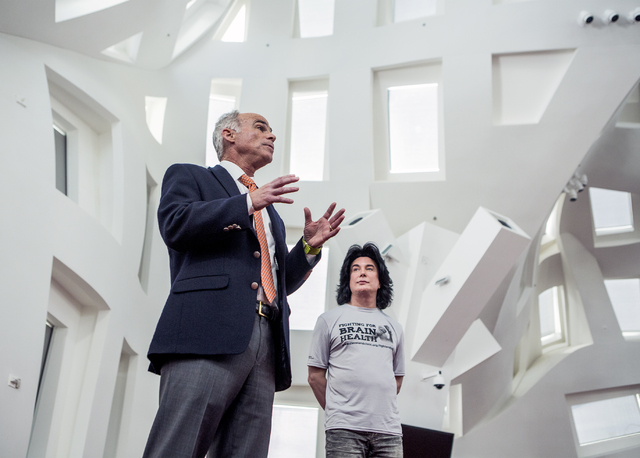 A longtime Las Vegas stage performer stood before an audience of media and staffers of the Cleveland Clinic Lou Ruvo Center for Brain Health, wobbling as he raised one foot with his hands on his hips.
It wasn't a funny act or sketch, and it certainly wasn't the graceful performance people might expect when they hear Strip entertainer Frank Marino is putting on a show.
But Marino — star of drag revue "Frank Marino's Divas Las Vegas" at The Linq — laughed it off. His performance was meant to draw attention, not applause.
"I thought I'd be able to breeze through them and they were very difficult," he said of some of the coordination tests he performed for spectators.
Marino last week became one of about 65 control participants in the Ruvo Center's Professional Fighters Brain Health Study, an initiative examining the long-term implications of repeated head trauma.
Now in its fifth year, the study has grown to more than 700 participants, including more than 500 active fighters and about 70 retired fighters, but it's suffered from the same plight that afflicts many research efforts: a lack of sufficient control participants.
Organizers say they're hoping to attract another 50 volunteers like Marino who will visit the center once a year and undergo a series of scans and physical and mental exams.
The testing, which normally lasts about three hours, allows researchers to contrast the results of active and retired fighters in the study with average people who didn't play sports beyond the high school level, said Dr. Charles Bernick, associate medical director at the Ruvo Center.
"We need to have normal individuals participate in studies as a comparison group," Bernick said. "If you just study people who are impaired, it's hard to know what's normal and what's not."
Through fliers, contacting large local employers and having celebrities like Marino promote the cause, the center has been recruiting adults with and without conditions including repeated head trauma or illnesses such as Alzheimer's disease to volunteer for its numerous open studies and clinical trials.
And without healthy individuals offering to act as control participants, many research efforts simply can't move forward, Bernick said.
"Everybody wants to get drugs approved faster, get results faster, but if we want to do that, we have to overcome the biggest hurdle, which is getting people to participate in studies," he said.
He added that while research on fighters' possible brain trauma may seem narrowly focused, the outcomes could have a widespread effect, especially if the study continues to grow and track participants over many years, assessing how brains change with and without the effects of repeated trauma.
So far, the study's results suggest that brain changes in fighters are consistent with changes in their testing performance.
The center is also attempting to use PET (positron emission tomography) scans to detect the protein tau in living individuals. The protein, which researchers believe is involved in the development of chronic traumatic encephalopathy, or CTE, so far can be detected only after death.
Mixed martial artist Rudy "Ruthless" Morales, who's been a fighter for 10 years and has been training in the martial arts for more than 20 years, said participating in the study has given him tools to help assess himself after fights. He encourages fighters and nonfighters to participate.
"It's not a waste of time," he said. "You're talking about people's lives."
Marino, whose grandmother suffered from Parkinson's disease for about 50 years and was able to control the effects with medication, said he knows firsthand how powerful the effects of clinical trials and studies can be.
"Whoever did studies before helped my family," he said, "so hopefully I can help another."
And though he says it partially in jest, Marino finds himself wondering about his own health.
Like many people as they get older, he says he's begun forgetting small things, which he's always laughed off.
But the possibility of having experts examine his brain function as he volunteers for a cause close to his heart is a bonus, he said.
"Maybe it is just 'Haha, you've got so much going on,' but in case there is something, if I'm doing this study and they find something, why not be able to treat it earlier rather than later?"
People interested in participating in Ruvo Center studies can email brainhealth@ccf.org for more information.
Contact Pashtana Usufzy at pusufzy@reviewjournal.com or 702-380-4563. Follow @pashtana_u on Twitter.