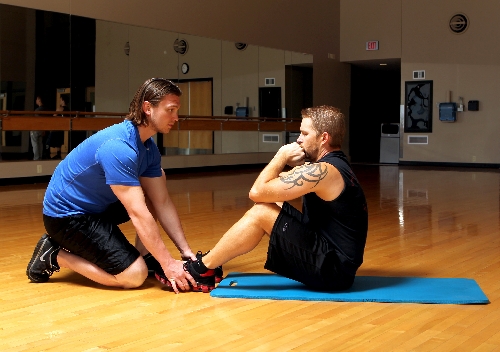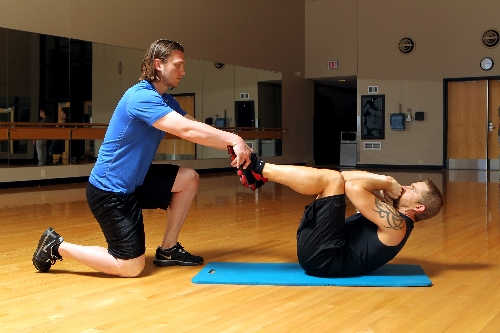 You need to be aware of a few dangers in the gym. One is getting stuck under heavy weights you can't lift. Another is using sloppy form in an exercise and then getting hurt. The most harmful is sloughing off during your workout.
These dangers can be avoided by having a workout partner with you in the gym. Friends save you from being crushed, hurt and lazy.
Workout partners help motivate each other.
When I'm struggling to get the last few reps of a set, I can count on my brother saying, "If you don't do it, I will." Playing on that he's younger than me, he knows that I'll try harder if he's threatening to lift the same weight more times than I did.
Find a workout partner who motivates you and be a good gym-friend by motivating your partner as well. Having a workout buddy will also keep you accountable. You're less likely to skip days if someone is counting on you to be at the gym.
Watching each other's form is key. If your friend lifts or exercises poorly, you share the blame. You're there to help make them better and they do the same for you. Don't take it personally when your partner criticizes your form. Welcome your friend's observations and suggestions.
The exercises I have chosen today require two people.
Medicine ball lunges condition many muscles besides the legs. Throwing the ball will force your core to stabilize, while working the chest and arms. After a few volleys of lunges, you will see that balance can be an issue as well. When muscles get tired, balance is often the first thing to go.
As a tribute to trainers who teach me their favorite exercises, I name the exercises after them. Ab-rockers have been around for ages, but I first learned them from Crystal Harvey. You may remember her as the exercise subject in photos that accompanied a few columns in November and December.
Crystal-abs will make you shake and sweat without having to move. Your workout partner appears to do all the actual work. You just have to stay still, but you'll see just how tough that can be. One of the best things about Crystal-abs is you have to take turns pushing each other. Be a good friend and don't hold back.
Chris Huth is a Las Vegas trainer. You can contact him at 702trainer@gmail.com. Before beginning any exercise program, consult your physician.