Health-conscious trends emerge at nightclub and bar convention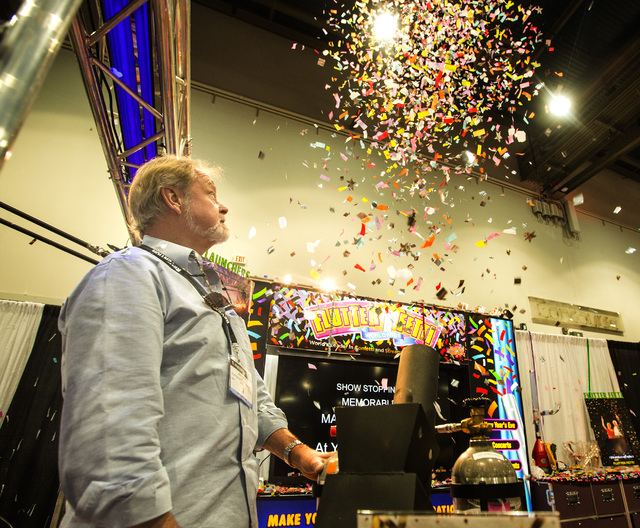 The nightclub and bar industry might be an unlikely place to find entrepreneurs catering to health-conscious consumers — but when any opportunity knocks, someone usually tries to capitalize.
Amid the ocean of alcohol at last week's Nightclub and Bar Convention and Trade Show, a handful of merchandisers promoted their products as being, perhaps not what the doctor ordered, but at least not as likely to cause a hangover as the traditional shot and a beer.
Of course, a trade show such as this one that is considered the biggest event in the industry, where new brands, cocktail recipes and technologies have been unveiled each year since 1986, is no place to announce advances in medicine. The words organic, wellness and holistic weren't easy to spot amid the din of karaoke hucksters, vaporizer vendors and social media marketers. This year featured the unveiling of Jevo, the world's first fully automated jello shot maker.
"The healthiest part of this show is the end," said Brian Franzen of Handle This Cup, a Greeley, Colo.-based company that makes a product with absolutely no health benefit but precisely the type of commodity of interest to nightlife promoters.
Franzen offers a solution to an alcohol-consumption-related problem: How to carry multiple beers at a time. The handles stack together so drinkers can manipulate as many cups of beer as they have the strength to hold. After a tailgating party, fans facing a long line to get into a stadium for a concert or game could stack several Handle This Cups together to avoid the buzzkill of the queue.
They're of no use to UNLV football fans or at the DMV, but Handle This Cup could come in handy at Life is Beautiful in September, Electric Daisy Carnival in June or next month's Rock in Rio Las Vegas, music festivals featuring acts on several stages.
The likes of Deadhead Rum, Dirty Tequila and Purple Haze Liqueur continued to dominate the nightclub and bar show, but every 10th booth or so featured a product such as Vitamin Vodka, infused to "refresh and revitalize." The Australian distillery uses organic products and promises "to revolutionize the alcohol industry (Arriving soon, Vitamin Gin)."
WORLD'S FIRST SHIMMERY LIQUEUR
For every Alaska Crystal Glacier Water containing calcium, iron, zinc and other minerals, there was Tarantula Tequila, Captain Morgan and The Morganettes, and Viniq, the world's first shimmery liqueur.
Every sector of the economy markets to health-conscious consumers. The promotion of fitness wearables at the Consumer Electronics Show has grown from an aisle to a quarter of the 2.2 million square feet of exhibit space at the four-day trade show drawing more than 3,600 companies at venues across the city.
At MGM Resorts International's properties on the Strip, the Monte Carlo offers Yoga on the Plaza at 8 a.m. Saturdays, organic cold-pressed juices at Bellagio and the Stay Well room collection at MGM Grand. The hotel's 14th floor, 171 rooms and suites, includes more than "20 evidence-based health and wellness features" that let guests maintain their lifestyle practices on the road.
Spas up and down the Strip offer hydrotherapy, aromatherapy, even salt therapy where walls of salt and salt lamps allow patrons to breathe in misty salty vapors in the hopes of clearing their lungs and purifying their skin.
To cater to club owners trying to meet such clients' needs, Seth Benhaim, CEO of the Las Vegas company Infuse Vodka, and his team looked at the popularity of Fireball Cinnamon Whisky and created a cinnamon apple vodka with 85 percent less sugar and 35 percent fewer calories.
"When people are looking for a lower sugar count in their alcohol, our vodka at 40 grams of sugar per bottle is less than some cans of soda," Benhaim said. "We have three vodkas with zero grams of sugar."
The company bottles its spirits at its facility near the intersection of Cheyenne Avenue and Martin Luther King Boulevard without added sugars, dyes, syrups or artificial ingredients. Mixtures of fruits from California and spices from India and Thailand are added to white corn distilled in Kansas to produce their vodkas, including lemon, Thai chili pepper and orange clove varieties.
"We bottle and infuse everything right here in Las Vegas," Benhaim said. "We have 64 calories per ounce for a full-flavored, tasty vodka. Even your Grey Gooses are going to have more calories than that because they're adding flavorings, which have sugars, and other artificial ingredients that we don't add."
EMPHASIZING THE EXPERIENCE
At the Las Vegas Distillery, the emphasis is on the experience, not lifestyle. Representatives from the company were at the convention inviting people to visit their facility in the Henderson Booze District to smell the fermenting mash and see how the moonshine, rum and gin are distilled in small batches.
Dr. Larrian Gillespie lectured on pharmacology, not about medications, but about manipulating mood through flavor. Gillespie, a urologic surgeon by specialty and self-described flavor addict, helps bar and restaurant operators understand cocktail flavor profiles and spirit pairings.
Gillespie, the CEO of Culinary Science Investigations, has certifications from the French Pastry School in Chicago and is a member of the American Cheese Society and the American Institute of Wine and Food. She applies her medical background to the world of mixology, exploring the science behind what makes a cocktail addictive and delicious.
She explained to her audience that 60 percent of what people perceive as flavor comes from the sense of smell. Taste buds perceive bitter, salty, sweet and sour, but odor molecules from food give people most of their taste sensation.
"When an emotion is tied to a smell, we excite a primitive portion of the brain called the limbic system," she told the three dozen people attending. "And when that happens, the brain has a sort of flashbulb memory and says, 'Hey, I want to remember this.' "
Gillespie talks about how tastes and smells are delivered by neurotransmitters and processed by the brain to result in what makes food and drink craveable.
"Flavor pairing allows the mixologist the ability to intensify the taste experience by the consumer by echoing flavors without exhausting our sense of smell or taste," she said. "You're amplifying the flavor.
"Flavor pairing increases your sales because it gives you the precision to create aroma synergy without having to experiment with 10, 20, 30 combinations. Flavor pairing is really a culinary art blended with science."
Contact Steven Moore at smoore@reviewjournal.com or 702-380-4563.