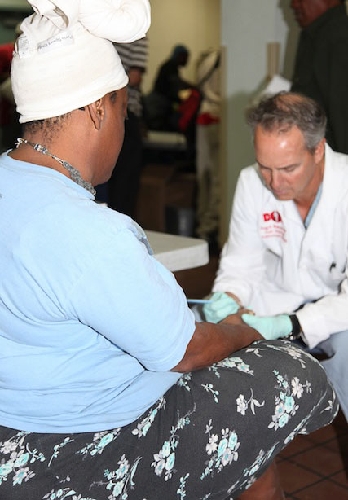 Winter in Las Vegas can be harsh for homeless people in general, let alone for their feet.
Henderson-based orthopedic surgeon Dr. Troy Watson has seen the effects from frostbite to infections.
"People can cut their feet, which can easily lead to an infection if they don't have proper footwear," Watson said.
Watson and doctors around the country have taken into account these problems and have offered their services through a free outreach and screening event at 9 a.m. Nov. 24 at the Salvation Army's Owens Campus, 39 W. Owens Ave.
"Everyone walks away with a pair of shoes," Watson said.
Our Hearts To Your Soles, the organization that is sponsoring the event, came about in 2006 by Watson's friend and colleague Matthew Conti.
Since then, Our Hearts To Your Soles has partnered with another charity, Soles4Souls, to put on the event in more than 35 cities nationwide. The first event provided shoes to 40 homeless men at Light of Life Ministries in Pittsburgh.
Norma Estes, who works at the Salvation Army's Owens Campus, said the organization opened its doors about four years ago to host the event in Las Vegas.
"We were happy to partner with them," Estes said. "We are very grateful."
With the changing of the season, Estes said socks and shoes, along with blankets and coats, are necessities.
"We post a notice to let the homeless population know when the event is taking place," Estes said. "These are items they need to help them get through the year."
Patients come in for examinations. If there are no serious problems, they are fitted for their shoes, which were donated. If anything seems problematic, Watson and a physician's assistant further examine the feet.
Watson has seen diabetic patients who have foot problems to more serious issues that require amputation. He said most patients are men.
"Most of the shoe donations we get are versatile," Watson said.
It isn't just homeless people who benefit from the event. Watson added that some people are seeking employment and might need something that can be professional and functional.
"I've seen people who are homeless or just getting on their feet that maybe just found a job and don't have a lot of money," Watson said.
At the first event in Las Vegas in 2008, Watson saw about 100 people. During the next few years, the event grew to about 200 to 300 people.
"With the down economy, we were only getting so many shoes," Watson said.
Watson said that last year, he wasn't sure if an event would happen until a few weeks before because of the lack of donations. Zappos donated 200 to 300 pairs and made the event possible.
Watson said donations should be new or gently used. He encourages new shoes because of how much the wearers will use them and because of the condition of their feet. Socks also will be accepted.
"It is OK if it something they only wore once," he said. "This is something that has to last them."
People can drop off donations at Watson's Henderson office, 2930 W. Horizon Ridge Parkway, Suite 100. He also is accepting donations at his other offices, 8402 W. Centennial Parkway, North Las Vegas; and 2800 E. Desert Inn Road, Suite 100, Las Vegas.
Watson said he would love to expand the event beyond the once a year giveaway. However, it depends on donations.
"We just never know how many donations we can get," Watson said.
For more information, visit feetmd.com.
Contact Henderson/Anthem View reporter Michael Lyle at mlyle@viewnews.com or 702-387-5201.