Las Vegas siblings visit DC in diabetes research funding quest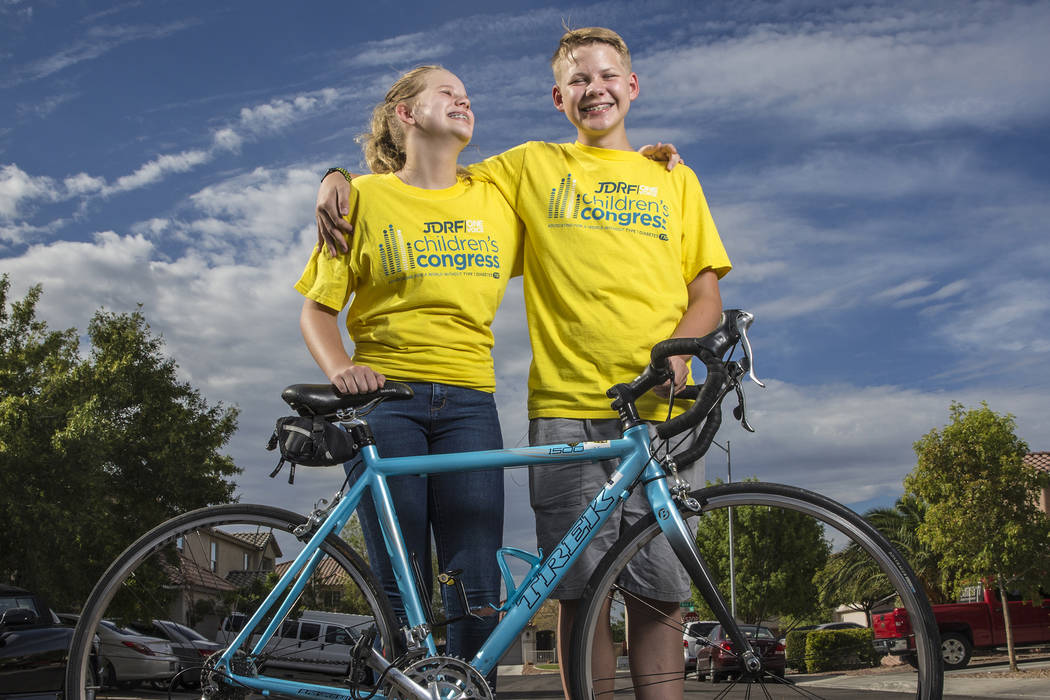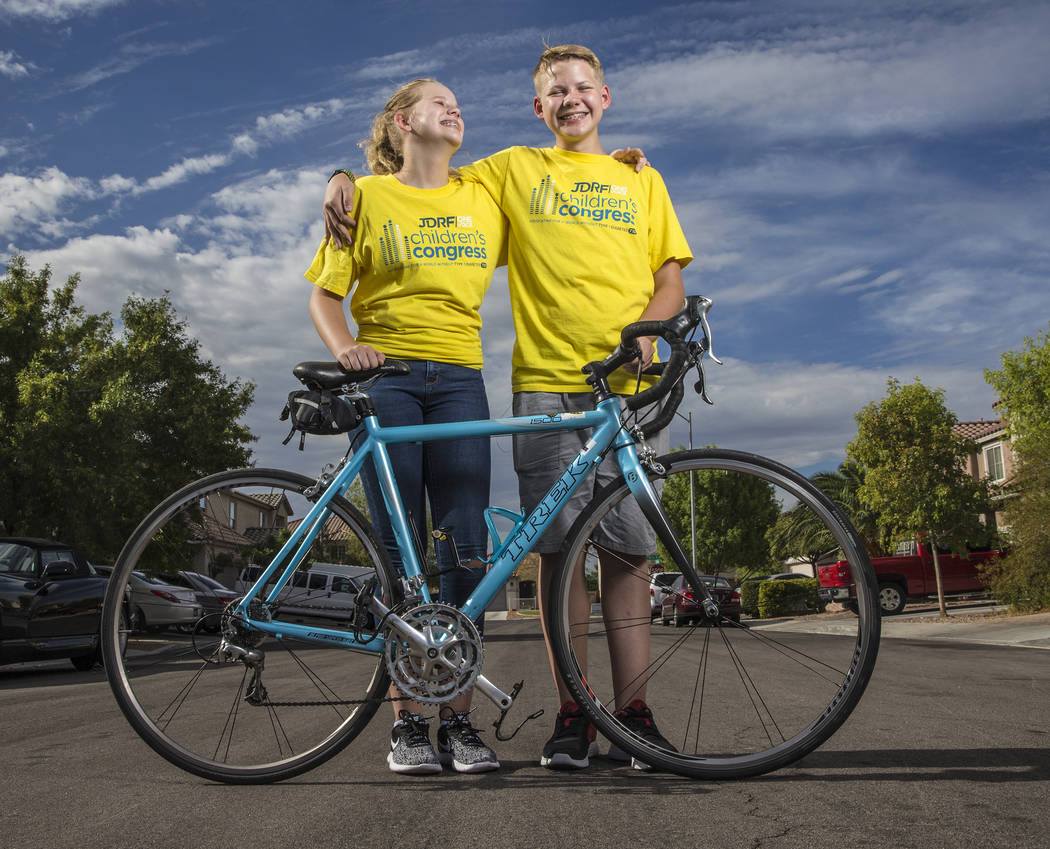 Two Las Vegas siblings are in the nation's capital to lobby for federal funding for research on Type 1 diabetes.
Oaklie and Erick Leavitt were chosen by the national Juvenile Diabetes Research Foundation and Nevada congressional representatives to take part in JDRF's 2017 Children's Congress, which runs Monday through Wednesday of this week in Washington, D.C.
"It was pretty surprising," said Erick, 15. "I was really excited, but at the same time you feel bad for the other kids who didn't get in."
The Leavitts will join more than 160 youths from around the world to help lobby for renewal of the Special Diabetes Program, which provides $150 million annually for Type 1 diabetes research at the National Institutes of Health.
The 50 states along with Australia, Canada, Denmark, Israel, the Netherlands and the United Kingdom will be represented at the 10th Children's Congress. Young people ages 4 to 17 will share personal testimonies about living with Type 1 diabetes in a congressional committee hearing.
The first Children's Congress was in 1999 and has convened every other year since . Before then, JDRF adult volunteers would go to D.C. to speak to Congress about funding, but the organization thought it could be more effective if children with Type 1 diabetes told their stories .
Oaklie and Erick, who have Type 1 diabetes, are JDRF youth ambassadors They were chosen for Children's Congress from a pool of applicants who are youth ambassadors as well as from the wider Type 1 community.
Though sightseeing will be part of their visit to D.C., the Leavitt siblings plan to meet with Nevada congressional leaders including Sen. Catherine Cortez Masto and Rep. Jacky Rosen.
They have prepared testimonies to give to the Nevada congressional representatives and senators they meet with, which detail what life is like with Type 1 diabetes and why renewing the funding could make a difference in that community.
Of particular importance, however, is for the Leavitt siblings to get a meeting with Nevada Sen. Dean Heller, said Latoschka Nether, outreach manager for JDRF.
"Dean Heller is the only person from Nevada who has not signed off on the Special Diabetes Program, and he holds a significant vote" on health care legislation, Nether said.
Erick and Oaklie were diagnosed in 2011 and 2014, respectively. They remain positive — Oaklie said they still have a normal childhood but they have to be more mindful of their bodies and what they eat.
"It's kind of like other kid's lives, but you have to do a little bit more," said Oaklie, 12. "Before you eat, you have to test and give yourself insulin — also before you go to bed and when you wake up."
Their mother, Michelle Leavitt, said the family has adjusted to a life with two children with diabetes. However, it wasn't always easy.
On Erick's dad's birthday, his mom took him to the doctor after noticing his excessive urination — at least five times in two hours. She thought he might have a bladder infection.
"When Erick was first diagnosed, my world just shattered," his mom said. "Everything changed. Everything I knew of the simplest things — from going on vacation to making their lunches for school — I had to learn a whole new way of getting them to eat and calculate carbs."
Six months after his diagnosis, Michelle had a breakdown. As a mom, she wanted to be able to fix her son and it upset her that she couldn't.
By the time Oaklie was diagnosed, Michelle had figured out the day-to-day tasks of taking care of a Type 1 diabetic. Now when she wakes Erick up overnight to make sure he uses his insulin pump, she crosses the hall to Oaklie's room and does the same thing.
Mara Hover, associate dean for clinical education at Touro University, says strides have been made in diabetes treatment. Instead of pricking a finger every day, people can opt for insulin pumps and even cellphone apps to help manage the disease.
Current research is being done to determine the role genetic makeup plays in Type 1 diabetes.
"Our children don't look different from anyone else, but every minute of their day there is that thing in the back of their head that requires them to think about what's happening with their diabetes," Nether said. "Fortunately, because of things like insulin pumps and (continuous glucose monitors), that takes a little bit of the pressure off."
Contact Katelyn Umholtz at 702-383-0279 or kumholtz@reviewjournal.com. Follow @kumh0ltz on Twitter.
Type 1 diabetes
■ Affects over 1.25 million Americans, including 200,000 Americans under 20.
■ In the U.S., 40,000 people are diagnosed annually with the disease.
■ From 2001 to 2009, there was a 21 percent increase in Type 1 diabetes among Americans younger than age 20.
■ Symptoms include extreme thirst, drowsiness, increased hunger and frequent urination.
■ Those with the disease have an estimated 13 years shorter life expectancy.
Source: Juvenile Diabetes Research Foundation
Types of diabetes
Diabetes is a disease in which the body cannot produce or respond to insulin, which causes elevated blood-glucose levels.
Type 1 diabetes:The body cannot make insulin. This affects five to 10 out of 100 diabetics.
Type 2 diabetes:The body has become resistant to the effects of insulin. This affects the vast majority of those with diabetes.
Source: WebMD, Juvenile Diabetes Research Foundation