Major decision confronts state's health insurance exchange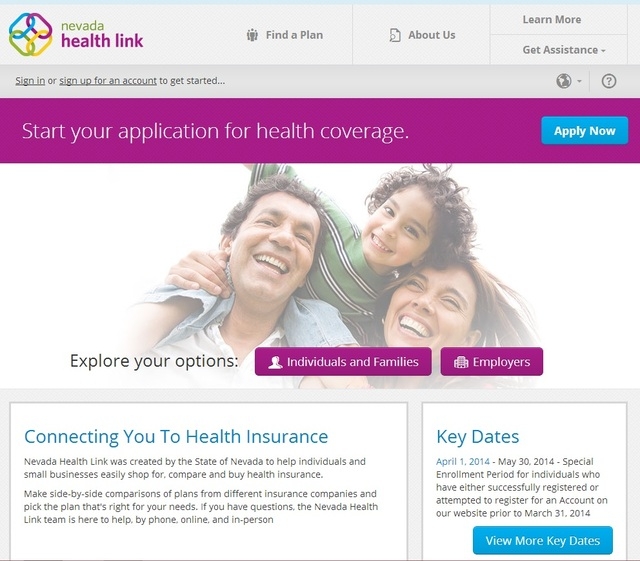 The state's insurance exchange has a big decision to make this week, and observers are split on how they want to see the choices play out.
Members of the Silver State Health Insurance Exchange are scheduled to meet by Friday to decide the fate of the exchange's Nevada Health Link website, which has been riddled with technical troubles since its Oct. 1 launch.
The board is weighing several options to fix Nevada Health Link. It could keep the current system and its contractor, Xerox; it could keep Xerox but hire another vendor to ride herd on the contractor; it could adopt an exchange software platform from another state with a working system; or it could abandon the state-run concept altogether and move into the federal Healthcare.gov exchange.
What should happen depends on who you ask.
Navigator firms seem to favor sticking with Xerox. Insurers express a lot of frustration with the contractor but offer mixed views on what should happen to the company. As for insurance brokers — let's just say Xerox should hope they never write a tell-all book.
Start with navigator companies, which hire enrollment counselors to help consumers apply and pay for coverage. The state's two largest firms made impassioned statements at the exchange board's May 8 meeting urging the directors to keep Xerox.
Ted DeCorte, chief operating officer of Consumer Assistance &Resource Enterprise, said the state has already spent extensive time and money — including about $12 million of a $72 million contract — with Xerox, and it would be a big mistake to start from scratch with the next open enrollment session just around the corner in November. There's no way a new system would be as far along in the process by the fall as Xerox's system will be.
"We believe a reconciliation is needed, a rapprochement with all partners — carriers, the exchange board, the exchange staff, navigators and Xerox — so we can proceed and move forward," DeCorte said. "This is not to make light of the laundry list of problems with Xerox, but we know Xerox, and we have gone a long way in terms of remedying and fortifying customer service and the exchange. We believe moving forward with Xerox is the best option."
Andres Ramirez of the Ramirez Group agreed.
"I don't think we've been very focused on how to move the system forward, and that has complicated efforts for Xerox," Ramirez told the board. "For navigators, it kind of seems to be a fractured sense of what to focus on as opposed to resolving the situation as fast as possible."
Ramirez added that navigators already are trained to work with Xerox's system.
Insurers, on the other hand, have had increasingly harsh words for Xerox.
Saint Mary's Health Plans executive Art Rempp told the board May 8 that Xerox essentially is ruining its reputation. Consumers blame insurers for website snafus that cause coverage problems.
"We feel helpless as a carrier because we are so dependent upon the Xerox process to deliver accurate information," Rempp said. "The member services department is getting calls from members with issues who report that the exchange call center says the health plan has the information, and if there's an error, the health plan has to fix it. But the majority of the time, issue resolution requires intervention from Xerox."
Rempp stopped short of calling for Xerox's ouster, but he did say the company needed to find solutions "immediately, as we cannot tolerate the lack of resolution and the lack of urgency any longer."
Executives with Nevada Health CO-OP seemed just as chagrined.
"Everybody is exhausted, frankly, with the whole process. We're all different degrees of fed up," CEO Tom Zumtobel said. "But Xerox is working hard at it. That's the frustrating thing. We see them working. The resolutions just come so slowly. If you get resolutions, you start to feel better. But there are just not enough victories to feel we're turning the corner."
Still, Zumtobel said he had a hard time admitting it, but at this stage, he didn't see a practical option besides letting Xerox continue its work ahead of the next open enrollment kickoff Nov. 15. Almost all other states have had issues launching their exchanges, so there's no guarantee of fewer problems with another platform, he said.
"Assuming there's a better option out there is risky," he said.
But ask insurance brokers for their opinion, and the only thing they disagree on is whether Xerox should have been out yesterday or the day before.
Most brokers have signed up a fraction of the clients they had hoped to enroll through Nevada Health Link, and finishing a single application can take three or four times longer than filling out paperwork for a plan off of the exchange. Dealing with a nonstop parade of payment and application hitches also has taken time away from focusing on developing new business, brokers say.
Lou Cila, a broker with Best Nevada Insurance Agency, said in a May 8 statement that Xerox has had more than enough time to fix Nevada Health Link's issues.
"I have listened to (Xerox Vice President) Greg Vitiello quote statistics and remedies of these ongoing issues but they still seem to linger," Cila wrote. "The board has a responsibility to the citizens of Nevada to get this system working correctly."
That must mean getting a new contractor altogether, Cila said.
So, readers, what do you think? You have a few days to let the exchange board know your opinion. To weigh in, visit exchange.nv.gov/Contact/Feedback/.