Medical students celebrate Match Day at Las Vegas ceremony
March 20, 2016 - 11:17 pm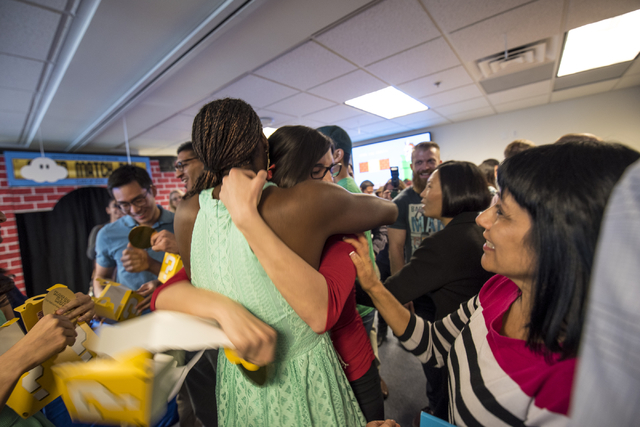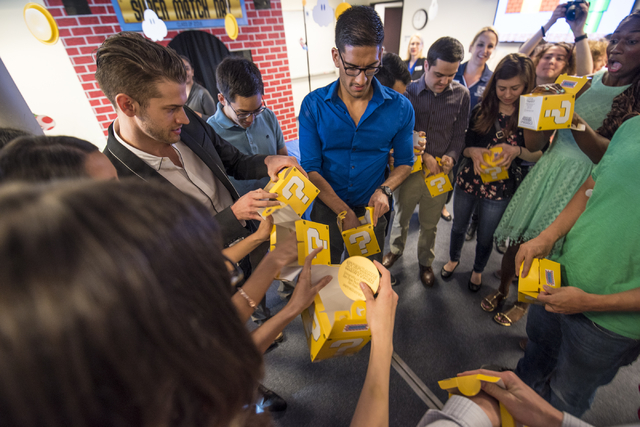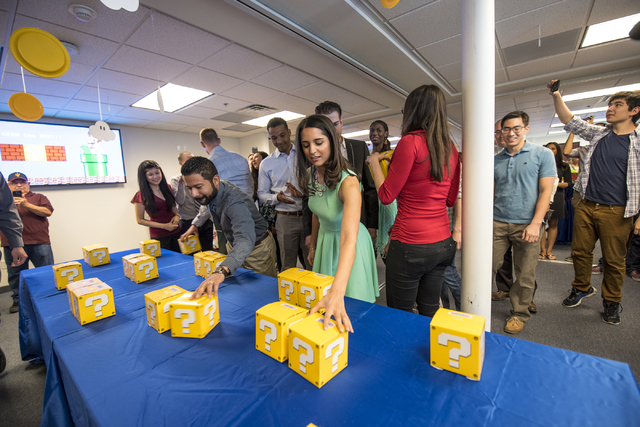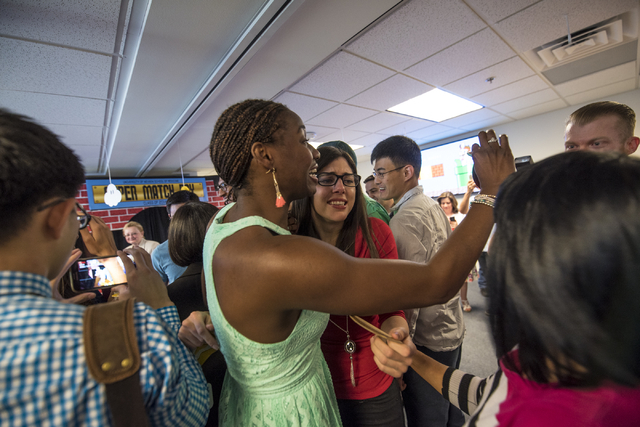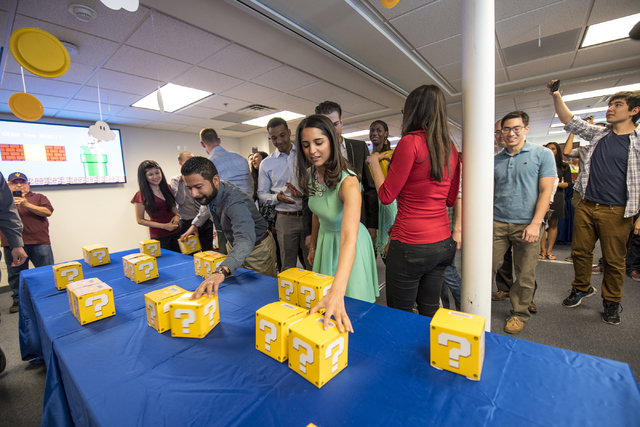 When University of Nevada School of Medicine student Shavon Moore found out she'd been accepted into a psychiatry residency program, she was excited.
When she realized her friend and fellow senior Stephanie Martinez was accepted into the same program at the University of California, San Diego, she grew ecstatic.
"We opened the boxes and flung them and screamed and ran toward each other," Moore said.
The friends were just two of more than 60 soon-to-graduate students at the school who participated in Friday's Match Day, when medical students discover where they'll go to complete their residency programs.
All students in MD-granting schools in the United States are matched with residency openings through the National Resident Matching Program, according to program President and CEO Mona M. Signer. Some students from doctor of osteopathy-granting institutions also choose to participate in the program.
Students rank their top programs, and the programs rank the students. An algorithm then matches the students to a program based on both groups' preferences, and students are alerted on Match Day to which programs they'll be attending.
When the time came at the medical school's Las Vegas administrative campus, students rushed toward a table at the front of the room to grab their boxes, inside of which were the names of their future residency programs.
"There's no more uncertainty. I know where I'm going to be working," Moore said with a smile.
According to the most recently available data, 1,318 physicians now practicing in the United States completed their medical degrees in Nevada. Of those, about 38 percent are practicing in the Silver State, said John Packham, director of health policy research at the University of Nevada School of Medicine.
Of the 1,026 practicing physicians in the U.S. who completed their graduate medical education in Nevada, about 56 percent are practicing here. When physicians completed both programs in Nevada, the state's retention rate reached about 79 percent.
About 20 percent of the University of Nevada School of Medicine's graduating class is staying in Nevada for residencies, about twice the share that stayed last year, Packham said.
"Some of our students who are top students will choose to go out of state because they want a residency we just don't offer," senior associate dean Melissa Piasecki said. "Other students would like to stay in Nevada, but the Nevada residency doesn't have enough spots or doesn't offer specific opportunities that they're looking for such as fellowship training."
Piasecki and other medical school officials agree: The No. 1 thing Nevada can do to keep future doctors in the state is to build larger residency programs in a variety of fields.
Touro University Nevada's College of Osteopathic Medicine Dean John J. Dougherty said there are roughly 140 first-year residency positions available statewide, and nearly 200 students graduating this spring.
Touro University Western Division CEO and former Congresswoman Shelley Berkley said those numbers force students to look for training elsewhere.
As the UNLV School of Medicine and Roseman University ready to welcome their first classes in 2017, the focus on Nevada's residency slots is increasing.
"The challenge will be that unless we address the shortage, we're just going to be increasing the number of students we send out of state," Berkley said.
Local hospitals say they're trying to create more slots.
MountainView Hospital will welcome its first class of 20 internal medicine residents this year. UMC has created an orthopedic residency, which will admit four students per year.
At a Las Vegas Metro Chamber of Commerce luncheon Thursday, UNLV School of Medicine Dean Barbara Atkinson said Dignity Health and possibly Sunrise Hospital and Medical Center are looking into making room for residents.
During last year's State of the State address, Gov. Brian Sandoval supported $10 million in additional funding for graduate medical education programs.
Touro student Kevin Riutzel, who received his undergraduate degree at the University of California, San Diego and a master's degree in nutrition from Columbia University, was matched Friday with the family medicine program at the University of California, Irvine.
He expressed interest in California, Cleveland and Connecticut residency programs.
Riutzel said Las Vegas doesn't have his ideal residency program, but if it did, he might have considered staying.
"I'd be really torn," he said, "because obviously I have friends and family here in Vegas."
Contact Pashtana Usufzy at pusufzy@reviewjournal.com or 702-380-4563. Find her on Twitter: @pashtana_u