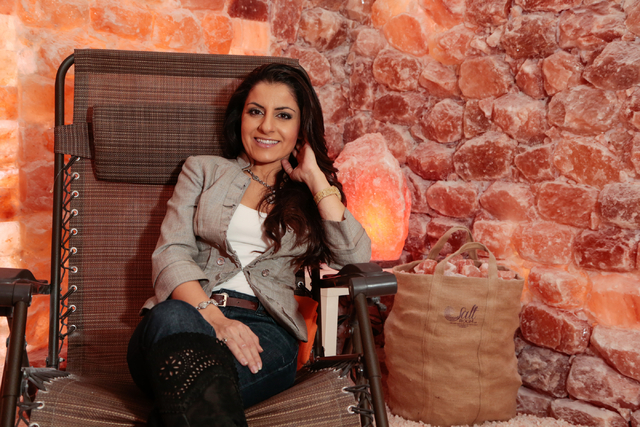 Halotherapy, which uses naturally formed salt, can usually be found at high-end resorts. Now, Summerlin has its own version at the Salt Room LV.
Located in the Trails Village Center at 1958 Village Center Circle, Suite 7, the Salt Room LV is a 2,300-square-foot space filled with blocks of pink and white variegated salt from the Himalayas.
"We treat upper- and lower-respiratory conditions in an all-natural way, using salt therapy," said Salt Room LV founder/operator Ava Mucikyan.
The center offers health classes including meditation and yoga. There is also an aesthetician area for services such as facials, body wraps, eyebrow shaping and lip waxing.
Step inside and breathe the difference. The salt releases negative ions into the air, according to Mucikyan.
"Like when you're at the ocean, you soak in the negative ions," she said. "You feel better; you breathe better; your skin feels better. The dry salt penetrates much better into your body. It goes from the upper sinuses all the way to the lower (lungs) and clears out the mucus, reduces inflammation in your nose, opens airways if you have asthma."
Greek physician Hippocrates made frequent use of salt-based remedies, and Cleopatra reportedly believed in the therapeutic and rejuvenating benefits of salt. Today, salt therapy is widely used in Europe and Russia for a number of health issues, including allergies, bronchitis, cystic fibrosis, emphysema, psoriasis, hay fever, sinus infections, sleep apnea and rhinitis.
The Salt Room LV includes a 400-square-foot room outfitted with recliner seats and subdued lighting, where soft music is played for 45-minute sessions of breathing in salt-infused air. On the floor are crushed particles of salt. No shoes are allowed. The inner sanctum is referred to as The Cave. It's so peaceful, Mucikyan said, that clients have fallen asleep in there.
"Another person told me, 'I brought a book, but I never got around to opening it,' " she said.
Lisa Jones of North Las Vegas stopped in recently to take a tour.
"Oh, that feels so good on my feet," she said as she stepped onto the salt particles in The Cave. "… It feels good. I want to come and do this room."
Bill Worden, owner of W&W Custom Builders of Henderson, spent three weeks building the room and said he experienced a number of benefits from the exposure to the salt.
"I have to use saline solution all the time," he said. "When I was in there (The Cave), my breathing was wonderful. And it made my skin soft. My wife said, 'I don't know what you're doing, but your hands are really soft.' Ava had said, 'Something's going to happen,' and I was like, 'Yeah, right.' But, absolutely, I started noticing things."
Dr. Yoojin Lee-Sedera, a naturopathic physician at the Red Rock Natural Medicine clinic at Summerlin Hospital, said the health benefits of rock salt have not been studied, but rather the benefits have been reported in more of a "folklore" manner. She said she has not used it to promote better breathing in her patients.
"It probably wouldn't work for an acute attack of asthma, but in the case of mild asthma, if one of my patients wanted to try it, I'd say, 'Go ahead,' " she said. "It's one of those things where it's hard to say, scientifically, if it would work or not."
The Salt Room LV also sells items such as salt candles, salt lamps and salt shot glasses in the gift shop section. The lamps are lit with special bulbs that heat the rock, causing it to release negative ions to cleanse and purify the air and kill bacteria.
Brick-sized blocks of Himalayan salt also are available for purchase and can be used for preparing steak or for serving fruits and cheeses.
Mucikyan suffered from eczema all of her life. Her husband, Raffi, always had allergies. Her son, Ethan, 2, is a mouth breather at night. Finding salt therapy proved to be a game changer, she said. They went to salt therapy sessions in La Jolla, Calif., and it made the difference for each of them. Mucikyan said her eczema cleared up with the salt therapy and that it also works for those with acne.
A 45-minute salt therapy session is $35 for adults and $25 for children. Packages of multiple sessions are available.
For more information about the Salt Room LV, including a schedule of classes, visit saltroomlv.com or call 702-228-7258.
Contact Summerlin Area View reporter Jan Hogan at jhogan@viewnews.com or 702-387-2949.