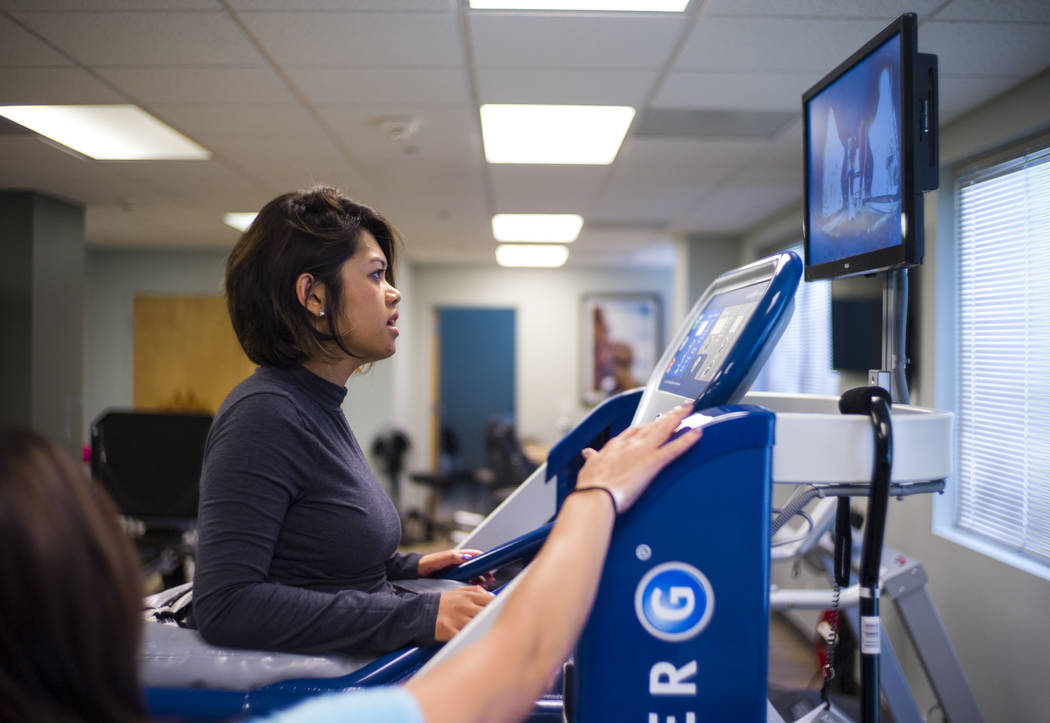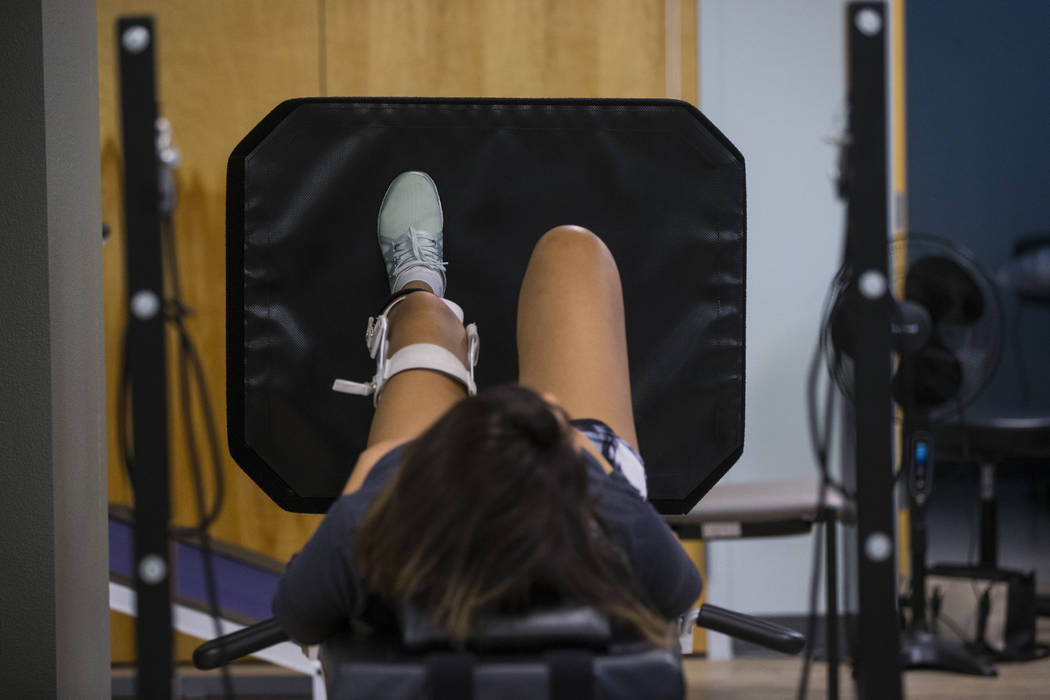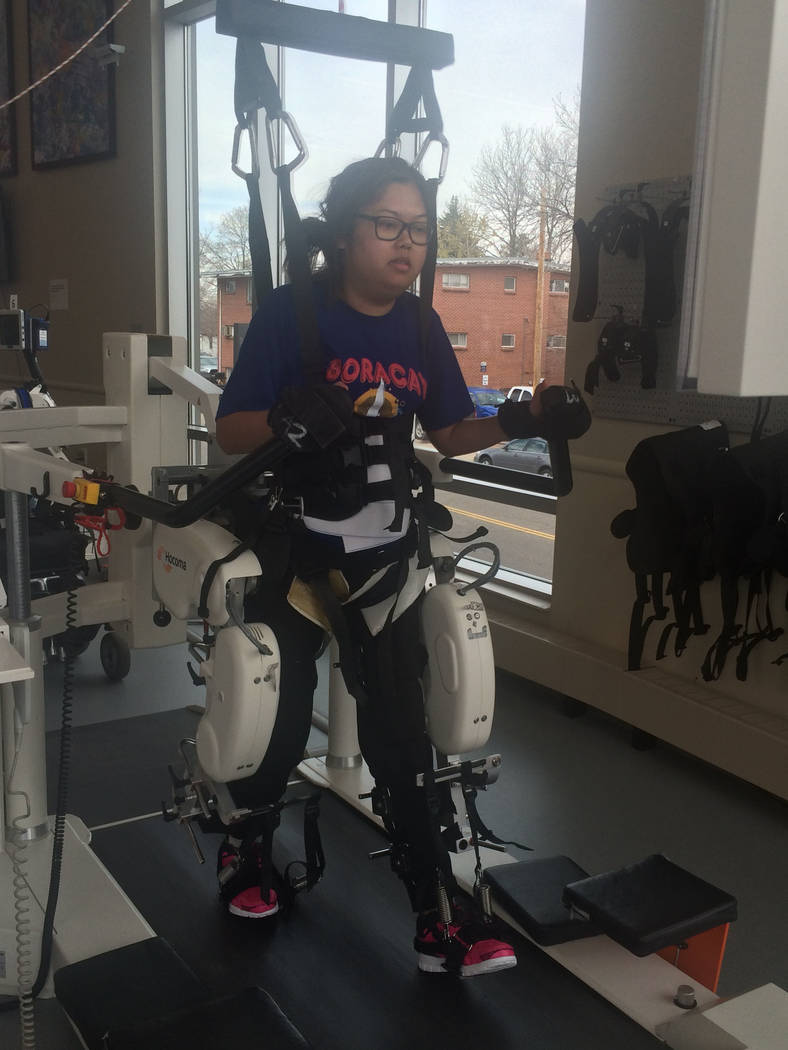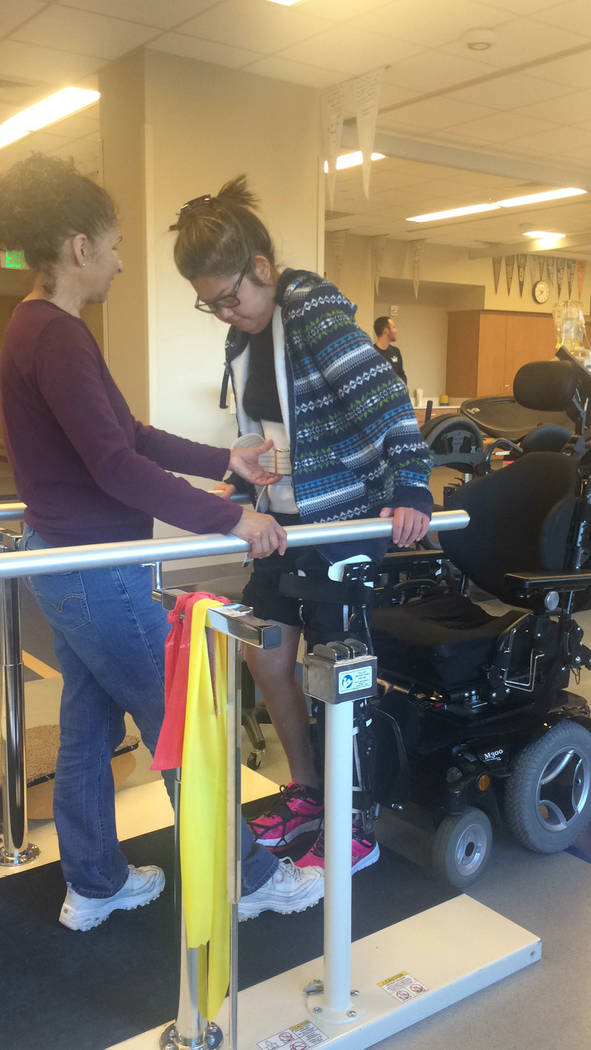 When 27-year-old Jasmine Paule walks into a physical therapy center today wearing a skirt and blouse, knee brace and a broad smile, she looks as if she could be a not too seriously injured point guard for a women's basketball team.
"Hey, everybody, how's it going?" she says, giving therapists an upbeat wave before heading quickly to a restroom at Spring Valley Hospital to change into workout clothes.
Just 15 months ago, Paule was anything but upbeat. A spinal cord injury kept her from moving, or feeling anything, beneath her shoulders. She couldn't get out of bed. Living the rest of her life in a wheelchair, paralyzed, was a real possibility.
A seemingly unremarkable fall from a snowboard had turned out to be anything but.
The first nine months of my injury, there wasn't a day when I didn't wish I'd die from it.
"The first nine months of my injury, there wasn't a day when I didn't wish I'd die from it," she says.
How her incredible transformation has come about is yet another affirmation of the power of the human spirit.
The fall
Paule's fall at Brian Head Ski Resort in Utah on Feb. 20, 2016, was so unexceptional she kept on snowboarding. "It was a gorgeous sunny day, " she recalls. "When I fell backward, it didn't even really hurt. I just hit snow."
The three-hour drive back to Las Vegas with friends Raquel Castillo and John Torres was uneventful. "We were just joking around and having a good time," Castillo remembers.
Three days after her fall, Paule felt what she thought were strained muscles in her back. As she took a bath to loosen up, her hands started tingling and feeling numb. Pain shot through both arms.
She thought she might have a pinched nerve so she asked friends to take her to an urgent care. The numbness got so bad she had to be placed in a wheelchair. Soon, she was wheeled into the nearby Spring Valley Hospital emergency room.
"She couldn't feel anything from the chest down," says Danny Sanchez, a friend who was with her. "It was terrifying."
Paule understood the seriousness of her condition when she had no control of her bladder and no pain when a patient in a wheelchair ran over her foot.
"Before I thought they'd just treat my pinched nerve," she says.
The injury
Las Vegas neurosurgeon Dr. Bradley Marcus describes Paule's injury as a contusion or bruise of the spinal cord in an area associated with the midsection of the cervical spine. Over a period of days, her spinal cord began to swell from effects of the fall. Such an injury can bring paralysis in hands, torso and legs and also cause problems with bladder and bowel function.
"She has no gross mechanical damage of the spinal cord, so she has a much better chance of recovery," Marcus notes. "It's not your typical injury, so she can have continued progress if she keeps working hard."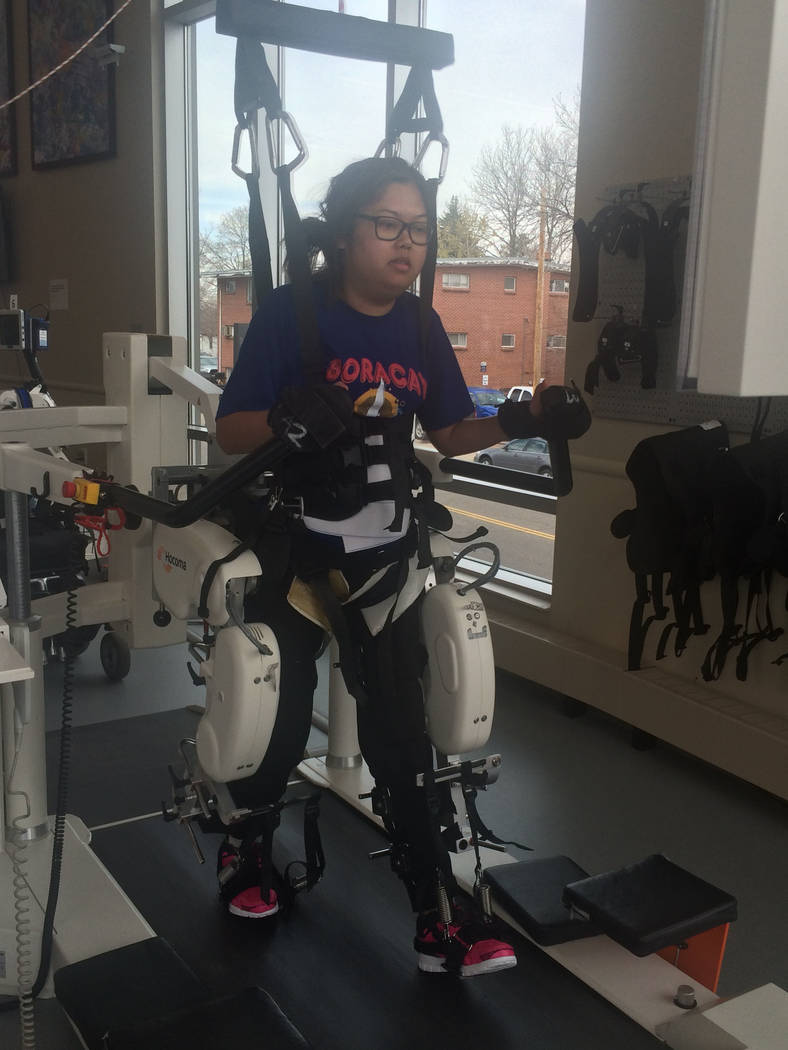 For about a month Paule stayed at Spring Valley, doing three hours of physical therapy every day to make her strong enough to at least get around in a wheelchair.
"She had a great attitude, so positive," recalls physical therapy assistant Lotty Caro, who worked to have Paule sent to Craig Hospital in Englewood, Colorado, which specializes in spinal cord injuries.
Paule, whose left side remains weaker than her right and who still can't grip anything with her left hand, admits her attitude wasn't as good as it appeared.
"I wasn't showing how I really felt," she says. "I had so many experiences where I couldn't make it to the restroom. It was so dehumanizing. There wasn't a day I didn't dream of being my old self again."
Paule's mother, Elvie, came from the Philippines to be with her daughter both in Las Vegas and Colorado.
I probably wouldn't have made it without her.
"I probably wouldn't have made it without her. She was there every minute of every day. She was so positive about me getting better. She bathed me, cooked for me, dressed me, helped me use the restroom. I essentially was a baby again."
Paule's message to her mom for Mother's Day reflects just how important she was in her struggle to walk again.
Thank you for stopping your life to take care of mine. For being positive and strong when I was at my lowest and weakest. Even though watching me struggle, I'm sure, was more hurtful for you than I.
How God decided I was worthy to be your daughter, I'll never know… I love you, Mom.
Elvie Paule made a visual history of her daughter's treatment so the family could one day see how hard she worked to get well again. Jasmine never let her mother see her break down.
"I thought that would hurt her too much. I only did that with Danny. We'd cry together. I'd go into the restroom so my mother wouldn't see me cry. "
Recovery continues
At Craig Hospital for nearly four months, Paule participated in grueling therapy for eight hours a day. Electrical stimulation, pool therapy and exercise programs were all designed to help restore routine functions such as dressing herself, combing her hair, cooking, walking and using the restroom.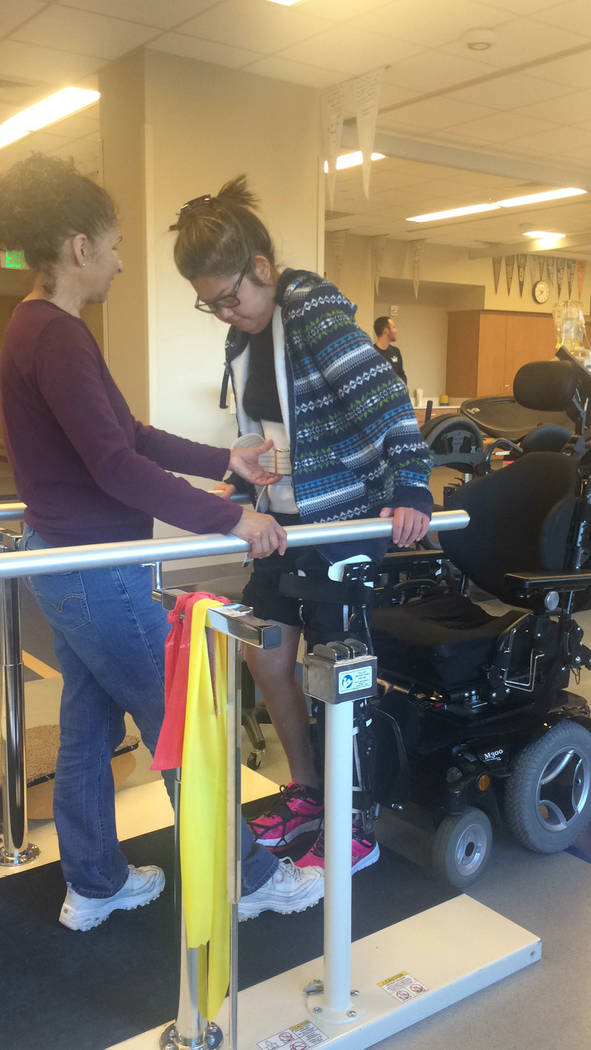 "She worked hard to meet goals," Craig occupational therapist Rachel Unick says.
By the time she left Colorado almost a year ago, she said her positive attitude was positively real. She realized the friends who spent time with her truly loved her. Caesars Entertainment welcomed her back — she's in marketing. Therapists from both Nevada and Colorado call her to stay in touch.
Though she needed a cane and often a wheelchair after being discharged from Craig, the tough exercise regimen she's been on since then has made it possible for her to get around on foot. Even though she has a continual burning sensation on the left side of her body, she's no longer on pain pills, just bladder medication.
To give her use of her left hand, Dr. Marcus has made it possible for her to soon get a tendon transplant in San Diego. No longer on Paule's insurance plan, he paid his own way to take her to a consultation.
"Doctors can't tell me definitively how far I will come back," Paule says after completing a workout. "I truly believe anything's possible now if I work at it. Before I couldn't even get up from bed. I truly believe I'll dance and run again."
Jasmine Paule, who is partially paralyzed, works on alternating limb lifts with the help of Kyle Vaughn, doctor of physical therapy. Chase Stevens Las Vegas Review-Journal
Inspiration to fight
Jasmine Paule says she heard "Fight Song" by Rachel Platten during a therapy session at Craig Hospital in Englewood, Colorado. The lyrics helped her decide to devote every bit of her energy to her rehabilitation.
"This is my fight song
Take back my life song
Prove I'm alright song
My power's turned on
Starting right now I'll be strong
I'll play my fight song …"
Contact Paul Harasim at pharasim@reviewjournal.com or 702-387-5273. Follow @paulharasim on Twitter.