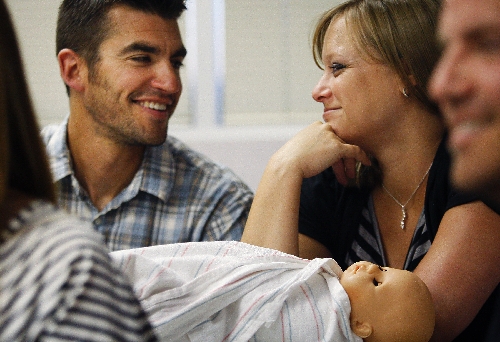 You have to admire the timing — or, maybe, just the luck — of Kristi and Eric Delynko.
They're expecting a baby. Their first.
Today.
On Mother's Day.
Of course, Kristi and Eric realize that babies and Ma Nature don't always follow schedules. "We'll see if this little one decides to make it by then," Kristi said last week. "But even if he doesn't, I'm still celebrating."
Either way, the arrival of Baby Boy or Baby Girl Delynko — they're opting to be surprised — will allow the Delynkos to share in a realization they, and pretty much every woman facing impending motherhood, may not have completely grasped before today: From now on, Mother's Day will never be the same.
Kristi said she didn't realize the significance of her due date until a few weeks after her ultrasound.
"That's when I went in to talk to HR (human resources) at work and set up everything for leave. We looked at the calendar and she said, 'That's Mother's Day.' "
So, Kristi is fairly certain how she'll be celebrating Mother's Day if Keaton Mason or Autumn Charlotte arrives today.
"I'm going to be pretty busy," she predicted.
Kristi and Eric were among several parents-to-be who attended a recent Baby Basics class at the Barbara Greenspun WomensCare Centers of Excellence in Henderson. There, with the aid of swaddled-in-blankets dolls and liberal doses of humor, instructor Shirley Brandt — who's also a registered nurse and a great-grandmother — ran the moms- and dads-to-be through the practical and philosophical basics of childbirth and child-rearing.
Before class, Arlene Bordinhao recalled that her husband, Victor, suggested recently that they celebrate Mother's Day by going out to dinner. Arlene wasn't sure because, she told Victor, "I'm not a mom yet."
Victor pointed out that, even though their first child isn't due until July 14, Arlene already has been mothering her baby by getting enough sleep, abstaining from alcoholic drinks, watching what she eats, and even giving up her beloved sushi.
"You are taking care of him by taking care of yourself," Victor said.
Arlene found her husband's line of reasoning "very sweet" and suspects that they probably will be going out for Mother's Day dinner today.
Still, Arlene admitted, "I'm going to be the mom. That'll take some getting used to, I'm sure."
Mother's Day is a reminder that her due date is growing ever closer. It "really puts everything into perspective," Arlene added. "It's really sinking in. Well, it really sunk in before, when I noticed I couldn't see my toes. But it's really sinking in now."
Victor and Arlene haven't decided on a name for their child, but Arlene said "Sebastian," in honor of Victor's great-great-grandfather, is one possibility. Arlene's only concern is that it's "such a long name. I'm, like, OK, the kid's going to take forever during his spelling tests in second grade. Everyone will finish with their spelling tests and he'll still be spelling his name."
Jill and Tyler Freear are expecting their first child on July 13. Jill said celebrating Mother's Day today will be "a reminder of the gift we are going to be getting so soon. I think that's what makes it special."
Family members, meanwhile, are eager to add another mom to their list of Mother's Day honorees. The couple's son will be the first grandchild for Tyler's parents and the third grandchild, and first grandson, for Jill's.
Their baby will be named Austin, but there's no particular significance to the name. "We were at Disneyland and looking at the little (personalized sheriff's) badges, looking for names, and we came across Austin," Jill explained.
If nothing else, she added, "we know we can go to Disneyland and buy something with his name on it."
Tyler noted that Jill's baby shower was scheduled for this weekend. So, he said, "this year was like, 'It's not going to be just our moms. This year, it's going to be your Mother's Day.' "
By the way, it isn't just mothers-to-be whose lives will change between this Mother's Day and the next one. New dads — and the soon-to-be-dads if they're thinking ahead this year — will be the ones to present their wives with Mother's Day gifts on behalf of their infant sons and daughters.
Tyler admitted that he hadn't given much thought to acquiring a proxy Mother's Day gift, although "I do photography, so I might try to include something like that — some sort of portrait or photo book or something creative that's different than a card with the baby's handprints."
Nor had he given much thought to what he and Jill might be doing today to celebrate their first, and at least quasi-official, Mother's Day. "I guess I'd better get started on it," he said.
Jill likes the idea. Mother's Day will "be another gift opportunity," she said with a laugh. "Sweet."
Contact reporter John Przybys at jprzybys@ reviewjournal.com or 702-383-0280.