New clinic enriches cancer care
September 12, 2010 - 11:00 pm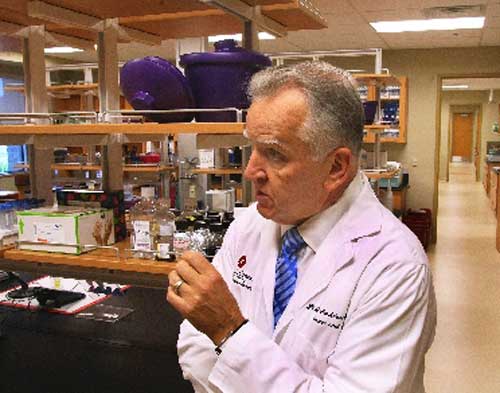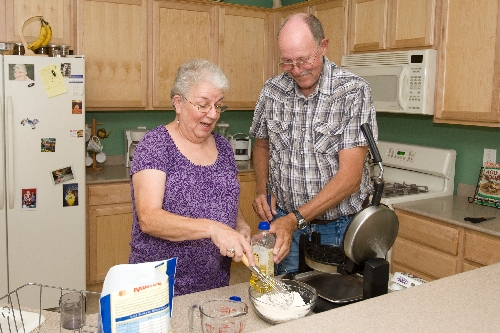 Dr. John Ruckdeschel was preparing to leave Michigan last year to become head of the Nevada Cancer Institute when a national TV news magazine aired a segment on the closing of the outpatient oncology clinic at cash-strapped University Medical Center, an action some patients referred to as a death sentence.
That the patients, whose stories were so heart-rending that they had moved beyond local news outlets to CBS's "60 Minutes," were being turned away, both saddened and angered the 63-year-old physician, who had been brought in to run Nevada's official cancer institute largely because of his business acumen at other cancer centers across the country.
In a Thursday interview, Ruckdeschel remembered thinking at the time of the TV piece: "This is ridiculous. This is easily fixable."
"I had already done it in Tampa," said Ruckdeschel, who had helped transform a small, financially struggling University of South Florida hospital into a leading cancer center. "And I knew we could turn this around in Las Vegas. That TV story cast the entire city of Las Vegas in a bad light, but I was sure we could fix it."
Last spring, the UMC board of trustees, which consists of members of the Clark County Commission, finalized an agreement between the hospital and the cancer institute to create a 13,000-square-foot outpatient oncology clinic that Ruckdeschel then called "a true collaborative effort between public and private entities committed to improving cancer care in Southern Nevada."
Tuesday is the grand opening of the clinic, which affords patients the latest in cancer care, including trials of the newest drugs.
In the complex world of medical economics, Ruckdeschel said he and UMC CEO Kathy Silver had found a way to structure financing that utilizes grants, nonprofit status, and federal and insurance reimbursements to best help patients while keeping the cancer unit financially solvent.
Silver has repeatedly said that Ruckdeschel's leadership, in recognizing how the institute's mission and nonprofit status could benefit the city's only public hospital, made the new clinic possible.
"I don't think it would have been possible for us to do this on our own," she said.
Last week, workers still were making last-minute fixes to the new space that was made possible by a $3 million grant from the Lincy Foundation to the institute.
As he toured the new clinic at UMC, located in what had been the admissions department, Brian Brannman, the hospital's chief operating officer, was upbeat.
"This brings us closer to becoming a true academic medical center," he said. "We now have oncology fellowships for young physicians, and the good news is that most fellows stay where they have had their fellowships."
The clinic, which becomes a satellite location of the Summerlin-based Nevada Cancer Institute, will offer a full complement of cancer services, including medical oncology, malignant hematology services, cancer consultations, support groups, and case management.
Shortly after the first of the year, radiation oncology services also will be available at UMC.
Doctors affiliated with the institute, including Ruckdeschel, one of the world's leading lung cancer researchers, will see patients.
"I think we've gone from being an embarrassment on the national scene to coming up with one of the best solutions for a public entity in troubled times," Ruckdeschel said. "It was just a question of getting things structured right. And remember, this isn't a place just for poor people or the uninsured. This is for people with insurance, who may work in the casinos, who have insurance through the Culinary (union) who may find it more convenient. It is the same treatment we offer in Summerlin."
No one seems happier that the new clinic is opening than 68-year-old cancer survivor Rita Bergeron.
Treated with surgery and radiation for cancer of the lining of the uterus just last year, she signed up to be a volunteer at the new clinic in June.
"We need a place for people that's central to the area," said Bergeron, who expects to help nurses deliver chemotherapy. "When you have cancer and you have to drive a long way, it's as though the person driving you is hitting every bump in the road. The faster you can get to treatment, the better."
A former nurse's assistant at a nursing home, Bergeron hopes what she learned from her own cancer experience, coupled with the care she gave her mother who died of colon cancer, will prove valuable to cancer patients.
"Sometimes you want to talk to people other than your spouse or relatives," Bergeron said. "You don't want to burden them with your fears, but you want to talk. You're scared and you have questions, and maybe I can help answer them."
There is a catch in Bergeron's throat as she talks while sitting next to her husband, Harvey, in her North Las Vegas home.
"I hope what we can do at this clinic is offer people hope," she said. "We want people to know that a diagnosis of cancer is not the end of their life. Yes, they'll be scared, but they will get better. I want to make sure that through the darkness they're going through, they know that the sun will shine again."
Contact reporter Paul Harasim at pharasim@reviewjournal.com or 702-387-2908.
Health