New prostate biopsy procedure aids diagnosis
November 2, 2014 - 6:41 pm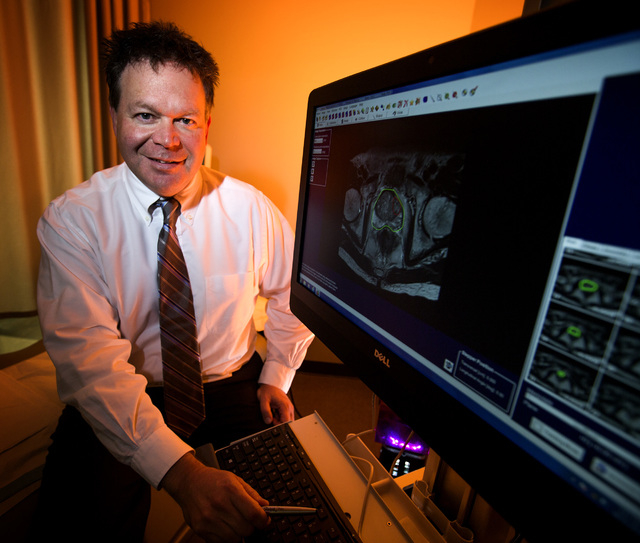 When John Willis received a high prostate-specific antigen test result a few months ago, he might have feared the worst. If an ultrasound revealed cancerous tumors, he might be in for major surgery — a prostatectomy.
But thanks to a new approach to better target prostate cancer, he'll be spared anything so drastic.
The 67-year-old Willis (whose name was changed for confidentiality), a University of Nevada, Las Vegas academic administrator and valley resident since the 1970s, experienced what is becoming the new gold standard in prostate biopsy technology while under the care of Dr. Mark Leo at Urology Specialists of Nevada.
For decades, the next step for people with an elevated prostate-specific antigen, or PSA, test has been a transrectal ultrasound biopsy. Under this method, a urologist uses two-dimensional ultrasound technology to sample about a dozen areas of the prostate to see whether tumors are present.
But instead of proceeding with the ultrasound test, Leo first sent Willis to Desert Radiology for an MRI. There, radiologist Dr. Alan Weissman used detailed 3-tesla, or 3-T, imaging technology to get a clearer view of Willis' prostate. (A tesla, named for electrical engineer Nikola Tesla, is a measure of magnetic-field strength.)
Weissman collected his findings, burned the images onto a CD, and sent them back to Leo, who "fused" the MRI images with his ultrasound images of Willis' prostate.
By using Analogic's BioJet Fusion software to merge the images, Leo had a clearer view of a prostate's potential problem areas. He could forgo a random-sample approach and better target red-flag areas Weissman highlighted.
As a result, Willis learned his tumors were less severe than initially thought. And instead of having a prostatectomy, or prostate removal surgery, he'll have targeted radiation treatments that target only affected areas.
"It makes me feel a whole lot better to know that I don't need surgery," Willis says.
Leo says there will probably be plenty more stories like Willis' soon, as valley residents learn of fusion biopsy technology. Urology Specialists of Nevada is the first to bring the fusion approach to Southern Nevada.
"Within the past five years, fusion technology has taken off," Leo says. "This brings accuracy we've never seen before. … If you have a test that can tell you which areas are significant and which are not, that's the money right there. And that will save a whole lot of money going forward."
A BETTER WAY
This year, about 230,000 men will be diagnosed with prostate cancer and nearly 30,000 are expected to die from the disease, the American Cancer Society estimates.
Prostate removal surgery has been the standard treatment for decades in cases in which transrectal ultrasound biopsies revealed cancer after an elevated PSA count was found.
Urologists and radiologists (those who perform MRIs) had for years considered using MRIs for prostate biopsies, but the MRI technology wasn't advanced enough.
Weissman, the Nevada Cancer Institute's former radiology chief, has been reading prostate MRIs for the past two decades. MRIs were often conducted at only 1 or 1.5-T levels, revealing little more than the ultrasound technology urologists used.
"In the past, it (MRI technology) just wasn't effective," he added.
Now, the 3-T MRI technology brings what is referred to as a multiparametric approach for radiologists.
It uses:
■ Anatomic imaging, which measures pathological changes within the prostate.
■ Metabolic imaging, which measures metabolite concentrations in the body.
■ Diffusion weighted imaging, which measures prostate cancer's presence and aggressiveness by evaluating the motion of water molecules.
■ Dynamic contrast enhanced MRI, which involves injecting a contrasting fluid into the patient and measuring its uptake and washout.
"The accuracy in detecting cancers has gone from 50 (percent) to 70 percent to 90 percent," Weissman says.
Dr. Leonard Marks, a UCLA urologist and researcher who has used fusion technology since 2009, says it's important for urologists to work exclusively with radiologists who use multiparametric technology.
"My nemesis is someone who comes in with an MRI done at an outside clinic. 'Here it is, fuse it,' they'll say," Marks says. "It's not that simple."
RADIOLOGIST'S ROLE
Technology can only do so much. Marks and Leo stress the radiologist's importance in the new fusion biopsy procedure; an experienced prostate MRI reader is essential.
"A prostate MRI is not for the faint of heart," Marks says. "It's not like reading a chest X-ray or a CT scan with a lot of functional data in those images. … A lot depends on the setting of the machine, the quality and strength of the magnet and the experience of the reader."
Weissman has studied MRIs' role in prostate cancer detection for years and has more than 25 continuing medical education hours in prostate MRI reading under his belt. About four years ago, he started attending Las Vegas Urological Society meetings and talking to doctors about fusion technologies.
"I've been one of the leading proponents of this in town," Weissman says. "I've been talking to national experts and working with Dr. Leo for several years. … We believe this is really going to change the standard of care going forward."
There are several fusion technology software companies vying for market share, including Artemis, which Marks uses, and Invivo's UroNav software. Fusion technology is expensive. It can range from between $250,000 to $500,000 for the equipment alone, posing a barrier to entry for some urologists.
Leo hopes the more accurate biopsies will reduce the number of prostatectomy surgeries, as nonclinically significant cases can be monitored or treated with a more targeted approach, as in Willis' case. Even the more aggressive cancers may also not require a prostatectomy, Leo says.
"Because we are able to identify these places in the prostate with such accuracy, it really opens up the possibility for focal therapy," he says.
At UCLA, Marks also initiated a program he refers to as "active surveillance," in which patients whose tumors are not clinically significant are monitored and followed.
"Technology got very good for us to do surgery. Most men will remain potent and urinary incontinence is not an issue anymore," he says. "But this ultimately comes down to, 'Do we really need to be doing these?' That's the question."
MORE TO COME
Many urologists agree about the new fusion approach's effectiveness, and Marks says fusion software will continue to improve.
"This is kind of like 1975 in the personal computing industry. … Ten years from now, none of this will look the same. … The concept is solid, but it will evolve," he says.
And as MRI imaging improves, Leo says, the number of biopsies necessary will likely drop, too.
"Before, it was an elevated PSA then biopsy. Now it's elevated PSA, then MRI, then possibly biopsy. … In Europe, the algorithm is that everybody gets an MRI," he says.