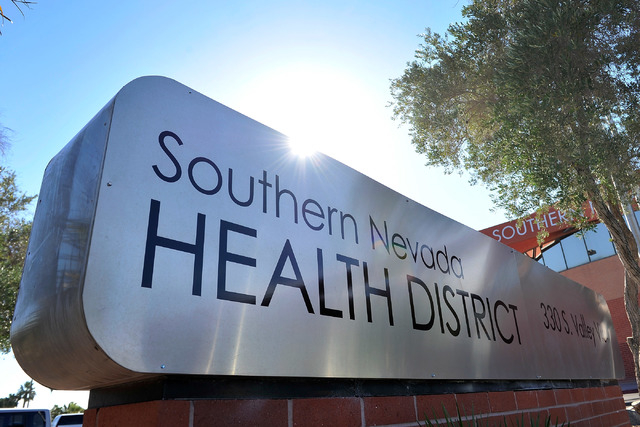 The Southern Nevada Health District's public health center in North Las Vegas is closed, the district announced on Friday.
The center on West Craig Road opened in October 2012.
The center closed its doors late last week because it saw too few clients, according to health district spokeswoman Stephanie Bethel.
The North Las Vegas nursing clinic saw between 12 and 15 people per day, Bethel said. The clinic administered an average of 370 immunizations per month between July and December 2014. By comparison, the East Las Vegas center administered an average of 1,208 immunizations per month in the same time frame.
"Services are still conveniently located at the East Las Vegas public health center, 560 N. Nellis Blvd., Ste. R-12," a news release said.
The east valley location, 10 miles from the now-closed North Las Vegas center, is open Monday through Friday, 9 a.m. to 4:30 p.m.
The East Las Vegas center offers the same services as the North Las Vegas center, including nursing and clinic services and food handler safety training cards, Bethel said. Staff from the North Las Vegas center have been relocated to other public health centers.
There are five remaining public health centers in Southern Nevada, including one in Mesquite, open Tuesdays and Thursdays, and another in Laughlin that operates Monday through Thursday, Bethel said.
The main Las Vegas location, 330 S. Valley View Blvd., is open Monday through Friday, 8 a.m. to 4:30 p.m. The Henderson center, 520 E. Lake Mead Parkway, is open Monday through Friday, 9 a.m. to 4:30 p.m.
All health centers offer nursing services such as immunizations, immunization records and children's health exams and food handler safety training cards.
The east Las Vegas and Henderson locations also offer family planning services including birth control, emergency contraception and pregnancy testing.
Contact Kimber Laux at klaux@reviewjournal.com or 702-383-0381. Follow @lauxkimber on Twitter.