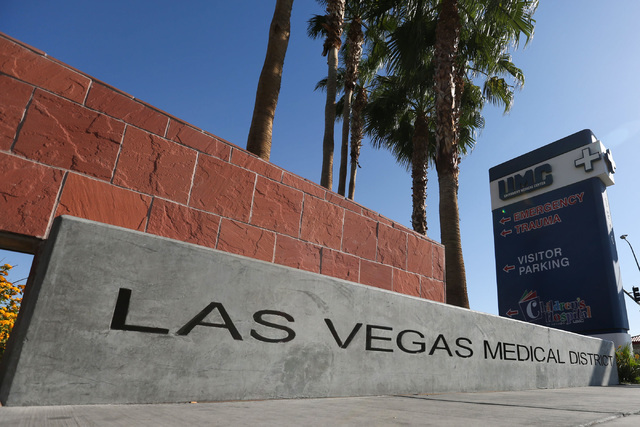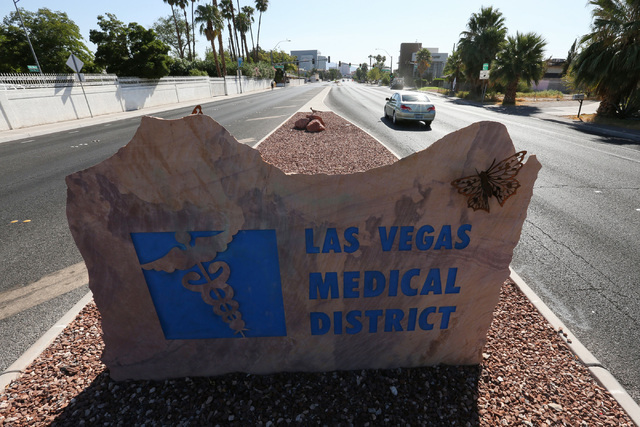 A slow but steady journey with occasional spurts of impressive growth — that's how Las Vegas Deputy City Manager Scott Adams sees the future of the Las Vegas Medical District now that the UNLV School of Medicine is becoming a reality.
The district was created by the city in 1997 with the intention of creating a "premier general medical education, research and clinical care center" in an area that already had a concentration of medical development, including University Medical Center. The boundaries of the district now have been expanded to 684 acres, but its heart is a 214-acre area between Charleston Boulevard and Alta Drive, extending from Rancho Drive to Martin Luther King Boulevard.
The city hasn't yet made much progress in its bid to build a comprehensive "one-stop" medical hub similar to medical districts that have taken root in Houston, Boston and elsewhere. But Adams, who has chaired the medical district's advisory council since 2014, said momentum is building with UNLV's new School of Medicine, tentatively scheduled to welcome its first students in fall 2017.
The school will have a temporary headquarters at UNLV's dental school building in the medical district, but officials plan to build its own campus on a plot of land near Valley Hospital.
Adams calls the district, which already is anchored by facilities such as University Medical Center, the Cleveland Clinic Lou Ruvo Center for Brain Health and the UNLV School of Dental Medicine, a "hidden gem" that could help diversify Las Vegas' economy if it can realize its promise.
"We've been a one-horse town in terms of focusing on gaming and entertainment, and this puts another leg under the stool," he said.
A master plan for the district approved late last year lays out a blueprint for developing the district into a powerhouse of clinical care, research and education by 2030. A study by consultant Tripp Umbach indicated that the medical district and school by then would generate an annual economic impact of $3.6 billion and create more than 24,000 permanent jobs.
The city has made small changes to spruce up the area, including rebuilding and widening streets and branding the district with prominent signage.
Planned funding sources for future medical district improvements — like road and landscaping — include bonds and money from the Regional Transportation Commission of Southern Nevada.
In the meantime, the successful campaign to land the UNLV School of Medicine campus for the district is a game-changer, Adams said.
Medical School Dean Barbara Atkinson agreed, saying she sees the partnership between the medical district and UNLV as integral to the growth of both institutions.
The medical district is also working with the Nevada Department of Transportation to ensure that Project Neon, the freeway widening and improvement project for Interstate 15 from Sahara Avenue to the Spaghetti Bowl, doesn't hinder easy access to the medical district for emergency vehicles and visitors and to improve public transit to the area.
Meanwhile, UMC CEO Mason VanHouweling said his hospital is planning to grow as the neighborhood around it develops. The hospital is planning to modernize the existing facility and is exploring adding programs such as inpatient rehabilitation to its menu of services.
Though it won't happen overnight, VanHouweling said, the development of the medical district is moving along, with new players getting involved.
"We're all sitting at the table together," he said.
One of those newcomers is radiologist David Steinberg, managing partner of Steinberg Diagnostic Medical Imaging Centers. He said his business bought land in the area about two years ago to build a new imaging center that can serve nearby medical professionals and members of the public.
Steinberg said land is becoming harder to acquire in the area, which he sees as a signal that a phase of more active development is beginning.
Adams, the city's point man on the project, agrees with that assessment.
"You're going to do it one project at a time over a long period of time, and then you'll look back and say, 'Wow, we've got a lot done,'" Adams said.
Contact Pashtana Usufzy at pusufzy@reviewjournal.com or 702-380-4563. Find her on Twitter: @pashtana_u