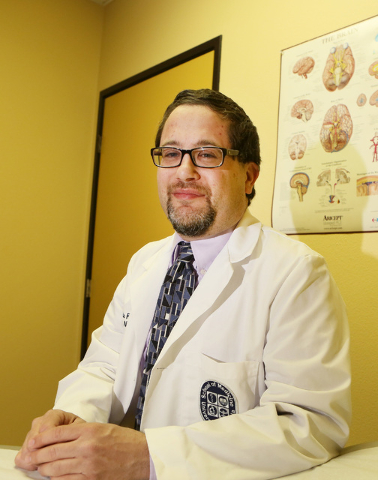 Before her diagnosis, Cidney Donahoo had an image in her head of what Parkinson's disease looked like: actor Michael J. Fox.
"I knew that Michael J. Fox had it, and I knew that it involved a tremor and that's literally all I knew," she said, remembering seeing the actor shake vigorously.
When she was diagnosed six years ago with Parkinson's, the now 53-year-old Donahoo had already figured out she and Fox had something in common.
"I kind of knew what was going on, so it wasn't a big shock when I was diagnosed," she said.
Her initial symptom — a finger twitch that made it difficult to write and type — was the first of several. Donahoo said she now suffers from tremors, fatigue, stiffness and an overall slowness of movement.
The National Institute of Neurological Disorders and Stroke said Parkinson's disease results from the loss of dopamine-producing brain cells. In Southern Nevada, 15,000 to 18,000 people are believed to suffer from Parkinson's, a progressive movement disorder, University of Nevada School of Medicine associate professor of neurology Dr. Eric Farbman said.
Farbman said tremors are just one symptom of Parkinson's. People with the disease may also suffer slowness, stiffness, depression, constipation, sleep disorders and loss of smell. They can fall often and experience balance problems, Farbman said.
Farbman, director of the medical school's movement disorders center, is interested in Parkinson's research and is spearheading the school's involvement in two clinical trials.
The first trial, for people with more advanced forms of Parkinson's, involves inhalation of levodopa, an already popular Parkinson's drug.
Levodopa is often given to Parkinson's patients orally, allowing their nerve cells to make dopamine. When patients run out of medication or the drugs' effects wear off, Parkinson's sufferers can experience "off" times, during which they may experience involuntary stiffness.
The trial aims to provide Parkinson's sufferers with inhaled levodopa and to reduce or eliminate the negative impact of off periods.
Farbman is also involved in a second trial that aims to use isradipine to slow the progression of Parkinson's in more recently diagnosed people with mild cases. Isradipine is a Food and Drug Administration-approved medication for high blood pressure.
That trial is not enrolling now, he said.
Jamillah Ali-Rahman, executive director of local nonprofit Friends of Parkinson's, described Farbman as a "dear, encouraging person" who keeps in touch with the local Parkinson's community and advocacy groups.
She added that she encourages those with Parkinson's to take a leap of faith and join clinical trials.
"What clinical trials will do is help us find the solution," she said.
New methods of receiving levodopa have been approved in the past few years, and research in Parkinson's is an extremely active field, Farbman said.
On Tuesday, a panel of FDA advisers who make nonbinding recommendations to the FDA considered approval of pimavanserin to treat psychotic problems associated with Parkinson's, according to The Associated Press. Many panelists argued the drug's modest benefits outweighed its link to serious adverse health effects.
Donahoo said her husband, who doesn't have Parkinson's, is enrolled in a separate clinical trial that seeks to investigate potential Parkinson's biomarkers.
She compared the disease to a terrible buffet where no one gets to pick their array of symptoms. She said it can feel as though she's simply waiting for the next bit of medication to feel better.
"The only way the research is going to move forward is if people participate," she said.
Contact Pashtana Usufzy at pusufzy@reviewjournal.com or 702-380-4563. Find @pashtana_u on Twitter.