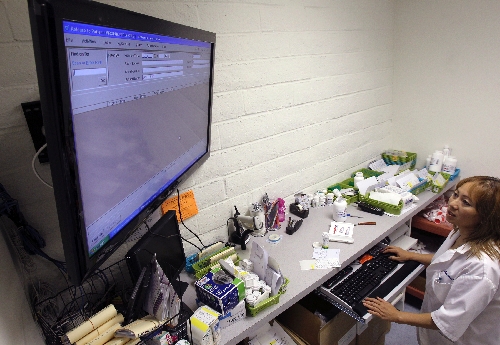 When pharmacist Khanh Pham read in the paper last month that no pharmacies had stepped up to participate in a program that allows unused cancer drugs to be passed along to those in need, she couldn't believe it.
"I was so sad," she said Wednesday as she worked in the Diabetes and Obesity Lifestyle Consultants Pharmacy she owns at the corner of South Rancho Drive and West Charleston Avenue. "I thought everybody should do it. I just hadn't known about it, or I would have immediately jumped at the chance to help people. That's something we should all want to do."
Today, Pham's pharmacy is the first in the state to register as a participant in the voluntary program run by the Nevada State Board of Pharmacy. No longer will it be necessary to throw away unused, unopened drugs that often cost thousands of dollars.
Once the correct paperwork is filled out by providers and patients, the lifesaving drugs can be taken to, and picked up at, Pham's pharmacy.
"I know what it's like to have nothing, to have people look down on you because you're poor," said Pham, who as a teenager fled Vietnam on a small boat in the 1980s. "When the U.S. Navy helped save my life at sea, I promised I would make my life have meaning. I prayed that I would be able to give back, to help the unfortunate."
Two years ago the Nevada Legislature enacted a law that allows cancer patients or their families to donate unused prescriptions to pharmacies that would distribute them to others in need.
That legislation, lawmakers believed, would help many people who could not afford them obtain lifesaving drugs.
A 2006 study by the Commonwealth Fund found 59 percent of uninsured people with chronic conditions either skipped a dose of their medicine or went without it because it was too expensive.
But the Nevada program never got under way.
Despite the fact that similar programs have been done safely across the country, safety issues — largely presented in the form of concerns about how patients or their loved ones care for the unopened drugs — have been given as reasons for the nonparticipation by both commercial and hospital pharmacies in Nevada.
State Sen. Joe Hardy, R-Boulder City, said he thought that economic issues were behind the refusal of pharmacies to become engaged in the program.
Pham, who worked at menial jobs to get through college, said there is no question the program can be done safely.
The fact that the program has not gotten under way frustrated those who worked on and lobbied for the legislation, including Henderson teachers and schoolchildren worried about needy people not getting the cancer treatment they need.
When two Glen Taylor Elementary schoolteachers, Jackie Ayala and Mark Lyons, found out this week that Pham stepped forward, they were ecstatic.
"My birthday is this week, and this is the best present I could ever get," said Ayala, who teaches the gifted and talented at Taylor. "My kids at the school are just going to be thrilled."
In 2007, Ayala shared with her class a story about her father, who died of cancer. After he died, she related how she wanted to help a little boy who had the same condition but couldn't afford the medicine. She told the students she had the unused medication in her medicine chest, but state law made it illegal to donate the drugs.
Ayala's students wanted to take action. With their teacher's help, they began writing letters to elected officials and got their parents interested. Assemblyman Lynn Stewart, R-Henderson, credited the students' two years of letter writing, with the parents' support for the bill, as having a role in getting the law passed.
Lyons, a cancer survivor, and his students also wrote letters.
"My kids are going to be bouncing off the wall," he said. "This shows them that if they get involved, they can make a difference."
Pham, who is active in the Volunteers in Medicine of Southern Nevada, prays that Nevadans will take advantage of the program. "We need to help each other."
To get involved in the program, both those with lifesaving drugs and those who need them should go the pharmacy board's website at www.bop.nv.gov. Click on the Cancer Drug Donation Program button on the left of the home page to get the necessary forms.
"I really hope that now, because of Ms. Pham, we can help some people," Carolyn Cramer, general counsel of the pharmacy board.
Contact reporter Paul Harasim at pharasim@reviewjournal.com or 702-387-2908.