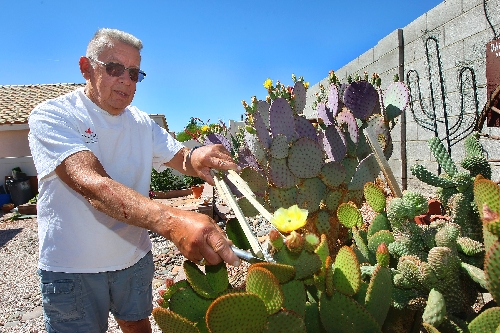 Stephen Letso has asthma, so shortness of breath isn't that unusual. But on an early morning in February, when an inhaler wouldn't control his symptoms, he was afraid he would never catch his breath again.
Wheezing and coughing almost uncontrollably, the 72-year-old retiree managed to call a neighbor .
"My friend dialed 9-1-1 right away," Letso said recently as he sat in his North Las Vegas home. "I was just about out of it."
Within minutes of the emergency call, a MedicWest ambulance arrived. Almost immediately, paramedics realized a regular oxygen mask — which delivers oxygen but requires effort by the patient to breathe it — wouldn't solve Letso's distress.
Turning blue from oxygen deficiency, he simply didn't have the wherewithal to breathe on his own.
At that point in the past, Letso would have been intubated, a tube placed down his throat so the oxygen he desperately needed could be pushed into his airway on the drive to the hospital.
But the paramedics decided to use "continuous positive airway pressure," or CPAP, a less invasive treatment that is new to Southern Nevada and is part of a current University of Nevada School of Medicine study.
A special CPAP mask was put over Letso's face and continuous high-pressure air was delivered through his trachea and down through his lungs as he was taken to MountainView Hospital.
CPAP devices, studies by other ambulance services around the country have shown, are effective therapy for patients with compromised air sacs in the lungs where the exchange of oxygen and carbon dioxide takes place. Oxygen-rich gas is supplied at flow rates high enough to increase airway pressure. And then the patient exhales against a resistance called positive end expiratory. This combination helps reduce the work of breathing.
Soon after the mask was put on him, Letso's breathing improved.
"That may well have saved his life," said Larry Johnson, clinical manager for the MedicWest and American Medical Response ambulance companies that are associated with the study that has University Medical Center as the lead hospital.
KEEPING PATIENTS OFF VENTILATOR
How CPAP may have saved his life isn't measured at the scene — intubation certainly would have gotten Letso breathing — but rather by what happened to him later at the hospital.
Generally when someone is intubated by first responders, that individual must stay on a mechanical ventilator at the hospital, often ending up in intensive care.
And that, says Dr. Bryan Bledsoe, clinical director for emergency medicine at the state's school of medicine in Las Vegas as well as the author of several books on the subject, greatly increases health risks for a patient.
"If we can keep patients off the ventilator, their outcomes will be a lot better," said Bledsoe, a UMC emergency physician and medical director for MedicWest and American Medical Response. "Their risk for dangerous hospital-acquired infections and pneumonia is much higher. And there is also the risk for elderly patients that they become ventilator dependent, never become weaned from the ventilator, and they die that way."
MountainView Hospital doctors found out pneumonia had caused Letso's severe breathing problems .
"Intubation probably would have exacerbated his condition," Johnson said, pointing out that Letso isn't young and strong and would probably have had a difficult time building up the strength to ever get off the ventilator.
On a ventilator, Bledsoe noted, patients are in particularly precarious position, sedated and having to be chemically paralyzed so they can't move. They require constant nursing care. Invasive catheters and other tubes, which can carry infection, are commonplace.
Emergency medical service directors have reported in the Journal of Emergency Medical Services that as many as 50 percent of intubated patients admitted to hospitals ended up being treated for respiratory infections, particularly ventilator-associated pneumonia, and that 54 percent of these patients eventually died from their infections.
According to the Centers for Disease Control, more than 99,000 people in the United States die each year from hospital-acquired infections. And for every person who dies from an infection, another 20 suffer through infections that sometimes leave them in the hospital for months or with a permanent disability.
In fact, about 5 percent of people admitted into the hospital each year (or about 2 million people) become infected with a hospital-acquired infection, costing the health care system between $30 billion and $40 billion.
BENEFICIAL RESULTS
So far the study carried out in Las Vegas has found that of the 106 patients on which the CPAP mask was tried since February, 70 percent benefited, with medical officials reporting that the patients did not have to go on a mechanical ventilator.
"CPAP was highly effective in the treatment of dyspnea (difficult or labored breathing) associated with asthma, chronic obstructive pulmonary disease, congestive heart failure, and pneumonia," states a preliminary report written by Bledsoe and Johnson to the Southern Nevada Health District.
Those conditions generally see a fluid buildup in the lungs. CPAP's continuous positive pressure of air, pushing the fluid back into the soft tissue, allows gas exchange to flow better and simplifies a patient's ability to take a breath.
"Once I had that mask on, I was actually able to take a deep breath," Letso recalled. "It really helped me."
If the preliminary results of the Las Vegas study stay about the same for about 300 patients, it's expected that the health district will require the CPAP on all emergency medical service vehicles in Southern Nevada.
The cost effectiveness of CPAP, which is also used by some people with sleep apnea, is also appealing.
The Journal of Emergency Medical Services published a study that showed that 120 CPAP patients had an average hospital stay of about five days, compared with 10 days for the intubated patient , five days of which were spent in intensive care at a cost of three to four times that of the general ward. That study reported that the use of CPAP resulted in a hospital cost saving of nearly $500,000.
Letso, though he had severe pneumonia complicated by asthma, spent less than six days in the hospital. He had multiple antibiotic and breathing treatments, but he never had to be put on a ventilator in intensive care.
"These CPAP masks only cost $40," Johnson said. "From what I've seen, it's got to be one the best investments emergency medical services can ever make."
Contact reporter Paul Harasim at pharasim@reviewjournal.com or 702-387-2908.