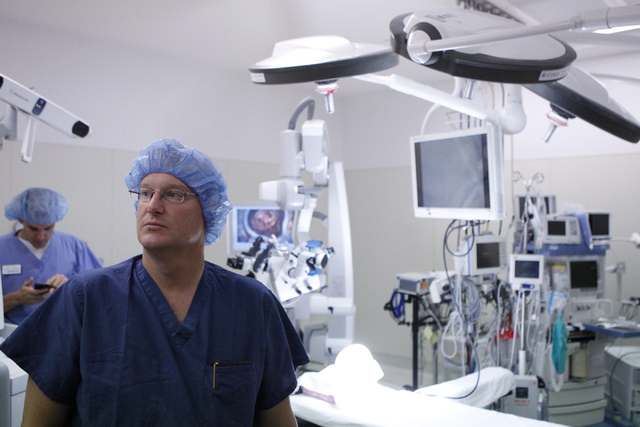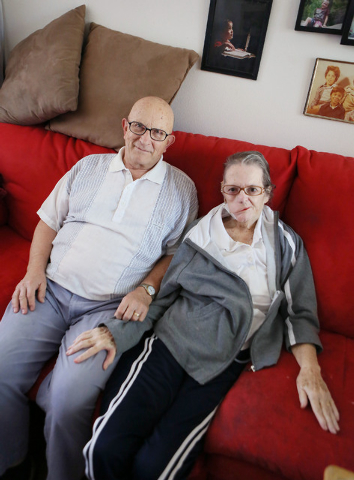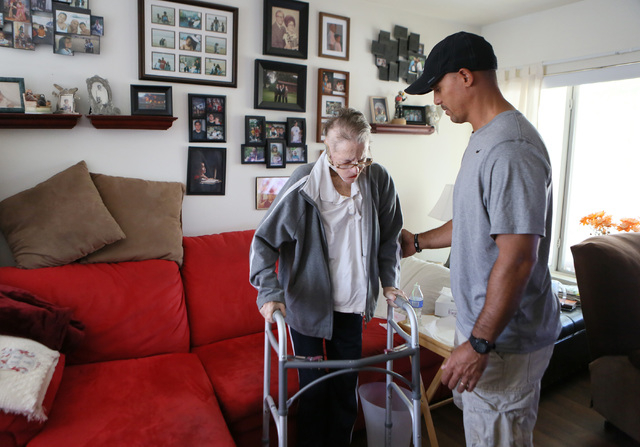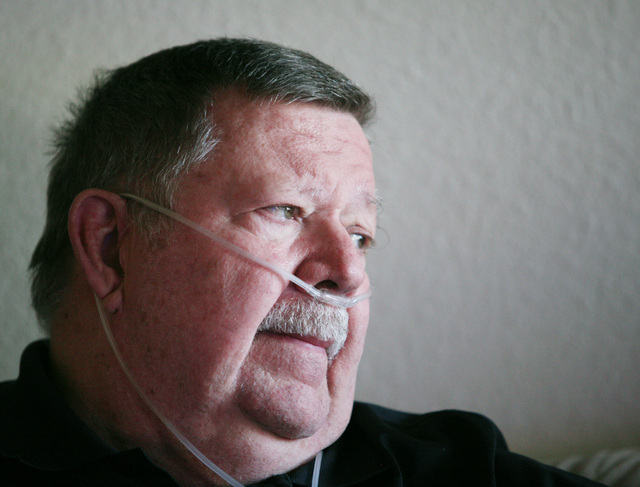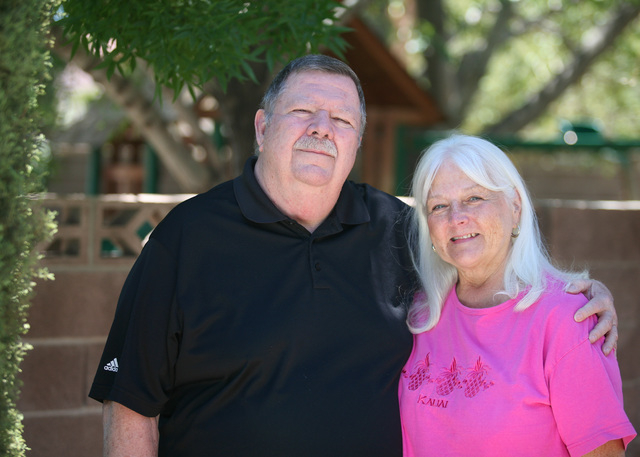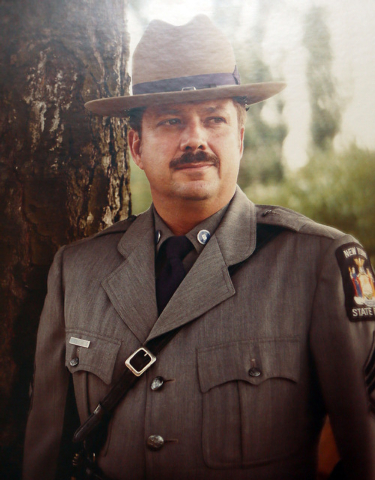 It hadn't rung true to either Shirley Andrews or her family when they sought help more than a year ago.
No matter whether they contacted surgeons in Las Vegas or in Los Angeles about the tiny tumor inside her ear, the answer was always the same: A procedure could be done to remove the malignant growth that had infiltrated her skull, but she would most likely bleed out on the table or maybe suffer a massive stroke.
Hospice or comfort care were her best options, they said.
"We took her to about eight doctors in all — here and at UCLA — over a year and a half and everybody just washed their hands of her," her daughter-in-law Suzie Avecilla says. "We just couldn't believe nothing could be done."
By March, the growth had not only further penetrated her skull, moving through muscle and bone to the surface of the brain, the tumor had grown outside her ear to about the size of a grapefruit. She had difficulty holding her head up. Her facial nerves became paralyzed by the tumor and the right side of her face drooped.
One night in March the tumor began to bleed uncontrollably. (The dead tissue in the growth also had become infected with maggots.)
As it turned out, the bleeding was the best thing that could have happened to her.
Rushed to St. Rose Dominican Hospital, San Martin campus, she was hospitalized after emergency room personnel had difficulty keeping the bleeding under control.
Dr. Bohdan Chopko examined Andrews and immediately knew there was something he could do.
The Las Vegas neurosurgeon, who is also an associate professor of neurosurgery at Stanford University (St. Rose Dominican Hospitals have an affiliation with Stanford Hospital &Clinics), told the Andrews family that the tumor could be removed without fear of her bleeding out.
Avecilla remembers that he told them it was very possible he could give her as much as five more years of quality life.
"After all we had heard, I thought he must be on drugs or a quack," says Avecilla, a Las Vegas businesswoman. "He was so confident. But he laid out a plan, and it all made sense. We had always felt something could be done, and finally here was a doctor explaining to us how it could be done."
For someone who has dealt with such tumors, says Chopko, who removed the mass in April, what had to be done "was pretty straightforward."
He did an angiogram to look at the arteries and veins that should be subject to embolization, where blood vessels are blocked to prevent bleeding during surgery. Once the embolization was done, the surgery took about six hours.
"It was nothing insurmountable," he says. "It was just a standard approach to stop the bleeding … some doctors just see arteries and veins all wrapped up in there and jump to a premature conclusion. Premature conclusions not based on data are very dangerous. As time went on for her, other consultants I'm sure were just overwhelmed by her external appearance."
He injected chemotherapy drugs directly into the tumor.
The cancer Andrews suffers from, Chopko says, most likely is the result of radiation treatment she received six years ago for cancer of a salivary gland.
Because this bout with cancer got such a head start, he's had to do follow-up surgeries to remove more cancer from her head and spine area, inserting a plate at the base of the skull. The facial nerve paralysis that affects her quality of life today, he says, wouldn't be a factor if she had been able to get treatment earlier.
"I wish we could have found Dr. Chopko earlier," says Andrews, who is difficult to understand because of her facial paralysis. She has her arm around her 13-year-old grandson Bryce Avecilla as she sits on the couch of her Las Vegas apartment. "But at least he gave me time to be with my (10) grandkids."
Andrews' husband, 79-year-old Richard Andrews, can't believe how difficult it is to find doctors whose specialties match the problems of patients.
"I'm happy we found Dr. Chopko," he says. "But if we had found him earlier she wouldn't have had to go through so much misery. … There needs to be a better way of finding out which doctors specialize in what in Las Vegas."
Dennis Glans, a 71-year-old former New York state trooper who retired to Las Vegas, is also happy he found Chopko.
For the better part of eight years, he had lived with a benign nerve sheath tumor called a schwannoma between his spine and one of his kidneys. Because it was small and he suffered from chronic obstructive pulmonary disease, commonly called COPD, doctors suggested he just live with it since it wasn't causing him discomfort. Only if it grew larger should he consider an operation, Glans said UCLA doctors told him.
"When you have COPD, they're always worried whether they can get you off a ventilator," Glans says as he sits with his wife on the sofa of their Las Vegas home. "I just got tested regularly to see if it was growing and it didn't grow for years."
And then it did. He started having pains in his abdominal area and back. Occasionally, his entire body went numb.
An Internet search initially led him to surgeons at the Mayo Clinic in Arizona. After testing him, they said an operation may cost him a kidney and his COPD was such a risk that he may never get off a ventilator. They said he should have another test in a year to see if the growth grew even larger.
His pain grew worse.
"After a complete feeling of hopelessness and frustration, I found a plain silver cross and chain lying under my desk at home," Glans says. "I put the cross on and after a few days I decided that I would see if possibly a doctor locally would operate on me. After searching the Internet, I found Dr. Chopko."
In April he met with Chopko, who assured him that with the assistance of two colleagues he could remove the tumor with no problem.
On May 20, Chopko removed a 9-pound benign tumor that was larger than a cantaloupe.
"You can't believe how much better I feel now," Glans says. "I'm so glad I was able to stay in Las Vegas for surgery, but there has to be a better way of finding out which doctors can do what you need here."
The 48-year-old Chopko, who did his residency and fellowship training at the University of California, San Diego Medical Center, is happy he's been able to give Andrews and Glans a better quality of life.
"It's gratifying to me as a professional to help someone in dire need," he says. "That's the essence of why I'm in the career to begin with."
Contact reporter Paul Harasim at pharasim@reviewjournal.com or 702-387-2908.