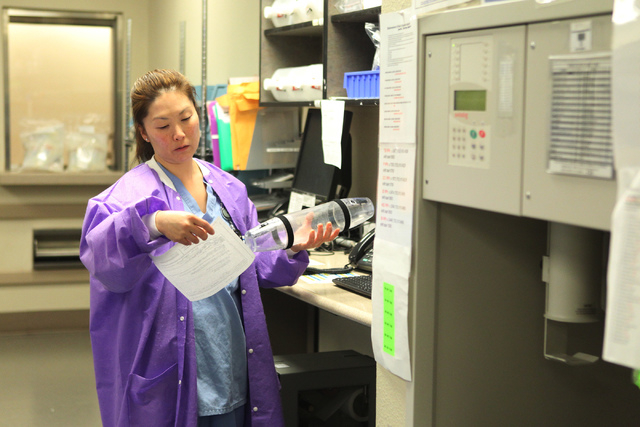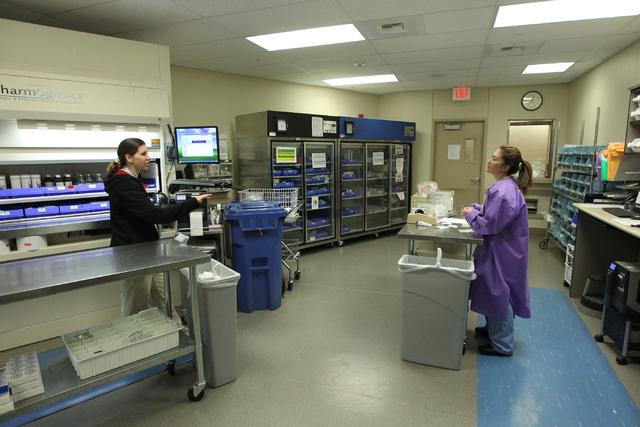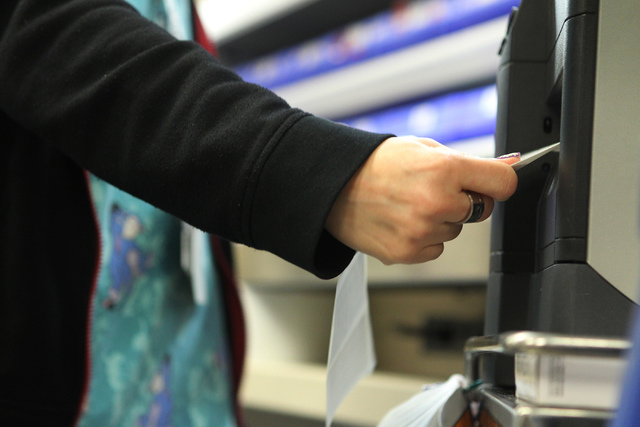 If you've been hospitalized recently, you've probably been asked your name and date of birth more than any other time in your life.
Nurses aren't asking those questions to frustrate patients. They're trying to ensure the right patient receives the right medication in the right dose at the right time by the right route.
Although patient identification is part of that process, technological advances can go even further to promote safety.
Every Southern Nevada acute care hospital rated by a private, nonprofit health care watchdog scored well in using computerized prescribing systems designed to reduce medication errors, the leading cause of harm to patients in the United States.
The Leapfrog Group on Thursday released its report on computerized physician order entry systems, showing a record number of hospitals are using the technology to reduce prescription and administration errors. In 2014, 59 percent of U.S. hospitals entered at least 75 percent of all medication orders electronically and passed the Leapfrog test of system efficiency.
Every Southern Nevada hospital examined by Leapfrog enters at least 75 percent of all medications electronically, and such systems at MountainView, North Vista and University Medical Center, which is Clark County's public hospital, were fully implemented and fully met the standards, including passage of the evaluation.
The hospitals in Boulder City and Mesquite, and the two federal facilities, the O'Callaghan Federal Hospital at Nellis Air Force Base and the VA Medical Center in North Las Vegas, were not included in Leapfrog's review.
The Leapfrog standards include at least 75 percent of medications used in all inpatient units to be ordered through the systems, which also are referred to as computerized provider order entry because not all medications are prescribed by physicians these days.
Leapfrog promotes electronic prescribing as a primary tool for improving patient safety. Computerized physician order entry is a process of electronic entry of instructions for the treatment of patients, and the systems can alert doctors and nurses to patient allergies, potential drug interactions and dosing parameters.
"Those eliminate a lot of transcription, and that helps prevent the errors that could happen each time the order was transcribed," said Pat Reide, director of the associate degree in nursing program at the College of Southern Nevada. "Also, the doctor's order is entered into a computer so there's no handwriting problems or interpretation issues."
However, technology failure rates remain too high, Leapfrog's report shows. Despite increases in testing, performance hasn't improved. In both 2013 and 2014, the rate of potentially harmful medication orders that did not receive an appropriate warning remained at 36 percent. Also, the number of potentially fatal medication orders that weren't flagged remained too high, at 13.9 percent.
The McKesson Corp. system used at UMC is updated daily, UMC pharmaceutical services director Meddie Nazifi said. Doctors can enter a new prescription for a patient on a mobile device at the patient's bedside, and the system can raise a red flag if a harmful interaction or allergic reaction is possible.
When the prescription is filled in the UMC pharmacy, a reconciliation provides an even further analysis before the drug becomes part of the patient's medication administration record. A third check takes place later at the bedside when a nurse administers the medication.
That check usually begins with age and date of birth, and ends with the scanning of bar codes on the patient's wristband and the medication.
At each step of the process, Nazifi said, the doctor's order is checked for potential errors or problems.
Leapfrog communications director Erica Mobley said the computer systems do not continue to work effectively year after year. Leapfrog has an evaluation tool that helps hospitals test whether their systems are alerting physicians to common, serious prescribing errors.
No agency calculates medication error rates because the policies of hospitals and other health care providers differ, according to the Institute for Safe Medication Practices, a nonprofit organization in suburban Philadelphia.
Most medication error measuring systems are voluntary, and experts say only a fraction of incidents is reported.