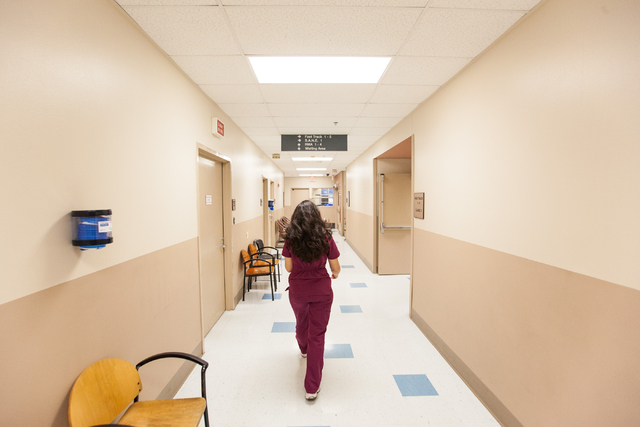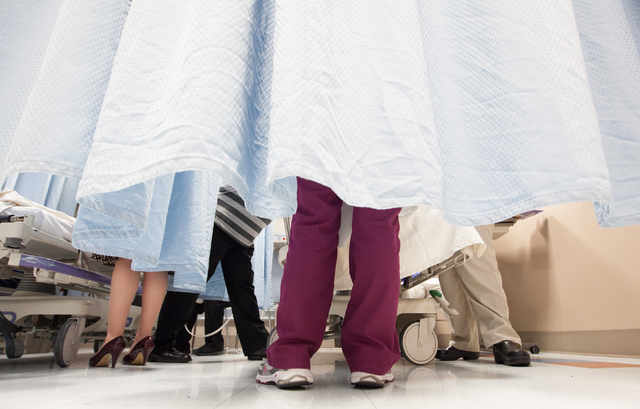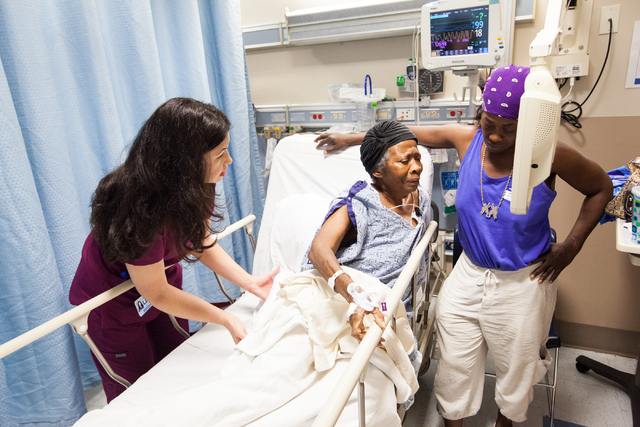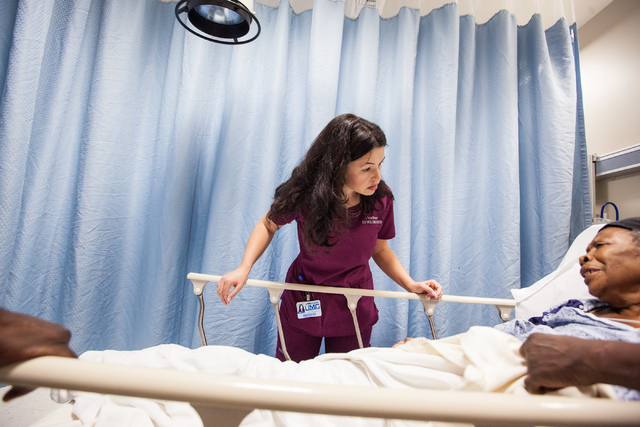 Willie Jackson hurts.
"Oh, oh, " the 73-year-old woman cries as Dr. Devon Moore examines her in the University Medical Center emergency room.
Her daughter, Michelle Jackson, explains that her mother has been complaining of pain in several parts of her body.
Moore asks a nearby nurse to prepare a small dose of morphine for his increasingly agitated patient, who has tears streaming down her face.
As he ends his examination, Moore tells her daughter and son, James Jackson, that their mother is suffering from the kind of rash babies have when they need to be changed. The skin in some folds of her flesh appears raw.
"Is she taking care of herself alone?" Moore says.
Her children reply that she always has. Then her son says that his mother, who he says used to frequently prepare wonderful dinners for the extended family, hasn't really been the same since her husband died several months ago.
If she can't engage in the activities of daily living and there's no family to help her, then she may have to enter a nursing home, Moore quietly tells her children.
Standing near Moore and intently watching this scene play out is Heather Hudson, part of UMC's Emergency Room Pre-Med Volunteers, generally college-age students who have expressed an interest in going into medicine.
"Hello, I'm Heather Hudson, a volunteer here," she tells the patient. "Can I get you a blanket or a pillow?"
The patient nods but then shakes her head, seemingly confused. Hudson helps her sit up in bed.
The volunteer program has a twofold purpose: It gives participants an up close and personal opportunity to see the practice of medicine, which in most cases confirms a volunteer's desire to go to medical school. It also provides patients with someone attentive to nonclinical needs that can be overlooked by busy emergency room personnel.
Minutes later, Moore and Hudson are at the bedside of 39-year-old Guadalupe Rodriguez. She is receiving a blood transfusion because tests showed she was severely anemic. Concerned as to why the woman has lost so much blood, Moore orders another battery of tests. Hudson gets the woman a blanket and talks to her family.
Away from the emergency room, Hudson says what she's found particularly valuable about the program is "honing my skills to talk with people" who are complete strangers. "I go from room to room talking to people and it's helped my confidence in that area a lot."
Now in its third year, the volunteer program began with 10 volunteers. It has just less than 50, many of whom volunteer at least a couple of times a week.
Jennifer Young, UMC patient relations coordinator, says patients appreciate the volunteers' "personal touch," which includes, when medically possible, providing snacks and water and ensuring that patients get their meals on time.
"Many patients just like to be able to talk to someone," Young says, noting that emergency room physician Dr. John McCourt came up with the idea for the program when patients complained about the lack of personal attention. "This has been a real good year for our volunteers. Six of them got into medical school and another is becoming a physician's assistant."
Moore, a graduate of Wayne State University Medical School in Detroit, says he wishes he had the chance "to shadow a doctor and actually help patients" while in undergraduate school.
"To see what's really happening is invaluable," he says as he takes a break between patients. "When you hear stories from nurses and doctors, it's not the same thing. It's not a burden on doctors here at all, no matter how busy we are.
"When the volunteers are offering blankets and pillows and water, patients really appreciate it. The more empathy, the better. This isn't the kind of program where a student just watches. They're really involved. It's actually quite unusual."
No one seems more involved in the UMC program than Hudson.
"She really takes her time with each patient," Young says. "She really has a strong attention to detail to make them comfortable."
Nor does anyone seem more unusual in the program than Hudson.
She's a 38-year-old attorney.
"The idea of helping patients as an emergency physician really motivates me to go to medical school," she says.
She graduated from one of the nation's top law schools, the University of Michigan, in 2006.
But she says she always wanted to be a doctor.
What stopped her up to now, she says, was the experience of a classmate she respected at the University of California, Davis. That student, who she thought was "smarter" than her, did poorly on the medical school entrance exam and did not get into medical school, so she feared she didn't have the necessary brain power.
Not wanting to fail, Hudson didn't take the entrance exam.
After graduating and uncertain about what to do — she had never thought about going to law school — she showed a propensity for marching to the beat of a different drummer, becoming a full-time, college-educated waitress in California.
That experience would serve as a springboard to taking the law school entrance exam.
"I met somebody who thought I was too smart to work as a waitress forever and said the law profession was the way to go," she says. "That person offered to pay for the LSAT exam for me so I studied for it."
She ended up doing very well.
"On the day, though, that I graduated from law school, my brother asked, 'Are you ready now to take the MCAT (the Medical College Admission Test),' " she says, laughing. "He knew I really wanted to be a doctor."
She fought the urge to become a doctor for seven years, working as a real estate lawyer in Las Vegas. But when she heard about the volunteer program in UMC's emergency department, she jumped at it.
Now she's studying for the MCAT that she'll take in the fall. If she does well and gets into medical school, she realizes she'll be around 48 years old when she's done with all her training.
"Being in this volunteer program just reaffirmed my desire to be a doctor, no matter how old I'll be, " Hudson says. "It's so gratifying to see just how thankful people are to have someone care for them. As far as how much time it will take or how old I'll be when I become a doctor, I can't worry about that. As someone once said, 'The time will pass anyway,' so I might as well put that time to my best possible use."