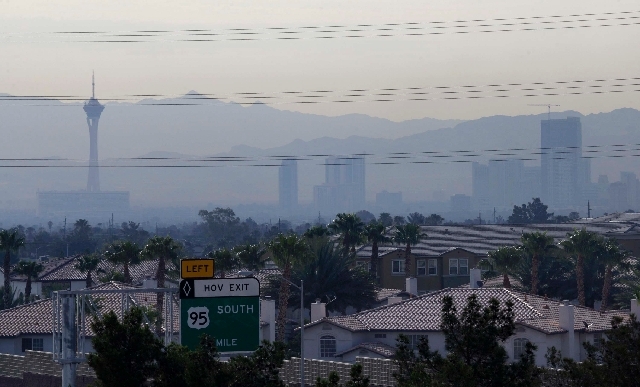 Thank the wind.
Yes, if it weren't for the wind coming out of the south and southwest as the Carpenter 1 Fire belches out enough soot every day to make an old Pittsburgh steel mill seem quaint, streetlights would be burning all day long in a darkened Las Vegas while people developed smoker's hack without ever having a Camel.
"We're keeping our fingers crossed. We hope the winds don't change," said Russell Roberts of the Clark County Department of Air Quality.
"The worst that could happen is that the winds come out of the north and smoke the whole valley out."
As difficult as it may be to believe, given the huge, billowing plumes of smoke from behind the mountains that people have seen for days, "air monitors are not picking up anything abnormal," Roberts said.
"The smoke plume is moving to the northeast, away from Las Vegas," he said.
Still, Roberts noted that his agency — which could issue an air quality "alert," signifying the most danger — recently issued a lesser air quality "advisory," which means some people with compromised health could notice a slight uptick in pollution.
That slight change, according to Dr. Craig Nakamura, a pediatric pulmonologist, has been felt among a few children with asthma.
"Our phones are lighting up a little more from families whose children are particularly sensitive to fine particles in the air," he said.
Dr. Meena Vohra, chief of pediatrics at University Medical Center, said worried parents are usually told to step up the normal routine at home with inhalers and medication "to break up an attack" their children may be having.
If that doesn't work, they are told to take the children to a facility where higher doses of medication and steroids are available.
Nakamura said many people have questions about masks, should the smoke become more thick in Las Vegas. He said surgical and procedure masks do not provide protection from the kind of dangerous small airborne particles produced by fires.
HEPA (high efficiency particulate air) masks are far better filters, he said.
They are able to keep out 99.97 percent of all particles that are just 0.3 micrometers in diameter. They can be found at medical supply stores.
Although Nakamura is not urging families to keep asthmatic children inside at all times, he is saying these children should be closely monitored and should avoid prolonged exposure outdoors.
Is it possible that asthmatics and others at greatest risk from smoke, the very old and very young and those with heart and lung disease, will soon be asked to stay inside as much as possible?
The answer, as Bob Dylan said, is blowin' in the wind.
"This weekend would be the earliest for a real change in the wind, and we're really not expecting it then, but given the vagaries of the weather, I can't say for sure," said Roberts, noting that firefighters don't expect to beat the blaze until July 19.
Even the Las Vegas Paiute Tribe, which is much closer to the fire, isn't suffering terrible air quality at this point.
"We have been very concerned, because we have many homes out that way, but so far our numbers are not exceeding anything real dangerous," said Mark Ruber, director of information technology for the tribe. "We're very lucky the wind is blowing away from us."
The fact that many Southern Nevadans have reported seeing ash in the air is not a health concern, Roberts said.
"It is the fine particles that can't be seen, that can go deep in the lung, that produce the problems," he said.
People with concerns about air quality can call the Clark County Department of Air Quality at 455-5942 or 385-DUST.
Contact reporter Paul Harasim at pharasim@
review journal.com or 702-387-2908.
Related story:
Fire within sight of Kyle Canyon homes