Henderson woman collects lovable trolls
November 6, 2016 - 6:16 am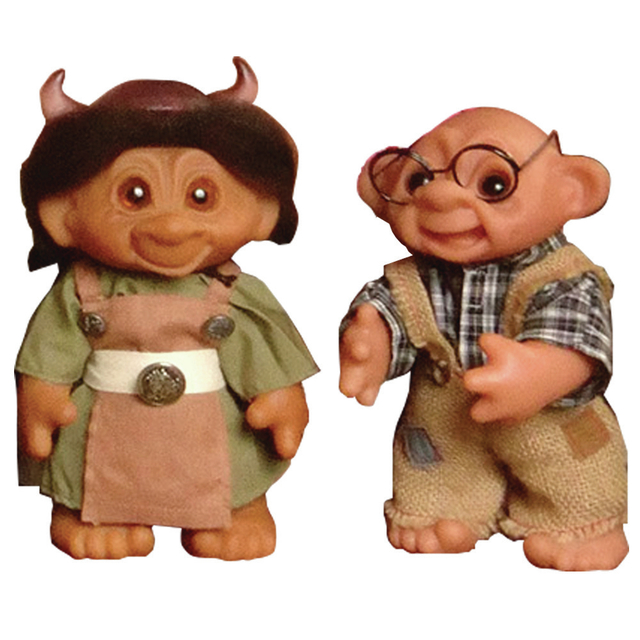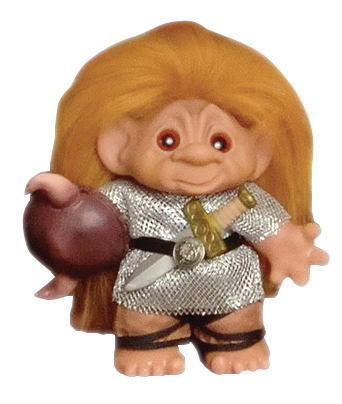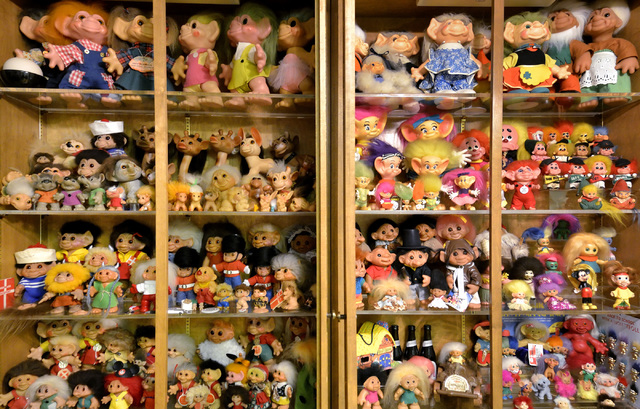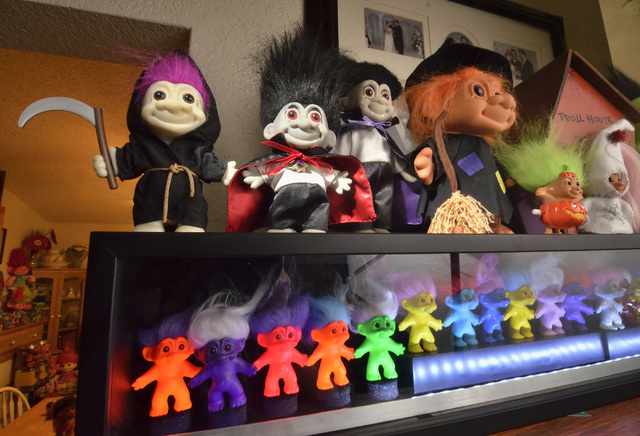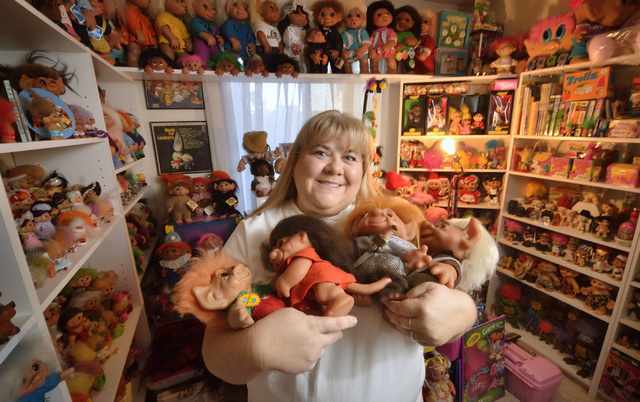 When Cheryl Gafforini was 13, her father found a Troll Doll in the Arizona desert while digging for arrowheads on a family vacation. At the time, she had no idea what the tiny plastic doll with fuzzy orange hair had started. Nor when she traded a heap of stickers with her cousin for a Troll Doll. But after she found one at an antique mall, also on that same Arizona vacation, her Troll-collecting fate was sealed.
"Once you have three things, that's a collection," the Henderson woman says.
In the 30 years since, Gafforini, aided by her husband, James, has amassed a collection of more than 4,000 Troll Dolls in all shapes, sizes and styles. Although she hasn't done an inventory in some time, she estimates that altogether, the collection is worth more than $50,000.
There's the display case by the front door of her home, housing her most prized dolls, and two others in the living room. The display on top of one rotates for the holidays; for Halloween, there was a vampire Troll, one dressed as a witch and a Grim Reaper with a shock of neon purple hair.
Floor-to-ceiling cabinets with glass doors in the dining room display a sizable portion of the collection. Down the hall, behind a door labeled "Trolltopia" in wooden white letters, the Gafforinis have a room devoted to the dolls. From every wall peer Trolls with their distinct scrunched faces, glassy eyes and tufts of colorful hair.
None of this includes the 20-plus boxes of dolls stored throughout the house.
"Of course, my favorites are the original Dams," she says, referring to the dolls manufactured by creator Thomas Dam's company in Denmark. Over the years, a few companies have created and sold Troll Dolls, each with a slightly different appearance.
With this weekend's release of the animated "Trolls" movie, Gafforini has added the various merchandise and tie-ins to the collection, including a plush Troll Doll sold at Build-a-Bear (and a couple of early prototypes of these plush toys, purchased on eBay), picture books and even the MAC cosmetics makeup set.
Although some people have expressed dislike for the new movie's style of Trolls, "my philosophy has always been, 'No Troll left behind,'" Gafforini says.
TROLL DOLLS IN THE INTERNET ERA
Although Gafforini has been an avid collector since that family trip to Arizona, the advent of the internet allowed her collection, and the community around it, to explode. While in the pre-internet days, she would search flea markets, swap meets and antique stores for dolls, online auction sites such as eBay unearthed dolls she never would have seen and collectors she never would have met.
First, collectors knew of each other by their eBay usernames, then came Yahoo Groups and today, Gafforini connects with various Troll Doll collectors via Facebook groups. She is a part of about six; some are for Dam Troll Doll devotees, others for Troll Doll collectors of any kind.
An instructional aide at an elementary school by day, Gafforini spends two to three hours per day on Troll-related activities, including upkeep of her collection and perusal of the Facebook groups and eBay. Her husband also spends time searching both online and in person for new dolls.
"I just like helping her. It's all her," James Gafforini says. "I have lots of hobbies, and I want her to have hobbies."
She recently found one of her dream dolls, a walking tailed Troll, through a Facebook group. A woman posted a classic 1972 Dam Troll with traditional Icelandic sheepskin hair and an orange felt dress whose legs walk forward when the tail is pushed. Gafforini messaged her offering $1,000. She estimates it's the most valuable doll in her collection.
"There's a list of about four (dream Troll Dolls). I mean I have bigger lists, but the big one — she was it," Gafforini says.
STRAIGHT FROM THE SOURCE
Through these groups, Gafforini found out about the 100th birthday celebration for Troll Doll creator Dam in Denmark in April 2015. In his hometown of Gjol, a woodcarving of him would be made.
Myth has it that Dam carved the first Troll Doll out of wood for his daughter in 1959 because he couldn't afford any other gift. Then, when her friends saw it, they wanted them as well.
But Gafforini has it on good authority that the daughter in fact approached her father about creating the dolls together, and that Dam then made the plastic bodies and filled them with sawdust while his daughter and her mother sewed the clothes. (That authority is the daughter herself, now in her 80s).
Either way, the Troll Doll achieved fad status by the early 1960s in the U.S. and experienced a resurgence of sorts in the 1990s.
With only a month and a half notice, Gafforini and her husband booked flights to Copenhagen, Denmark, renting a car there to make the five-hour drive to Gjol.
In June, she returned for a Troll Doll conference, the first of its kind, which drew collectors from around the world.
The trips have been a boon to her collection, each time bringing back about 35 Trolls straight from their homeland.
A mixup on the international rights form allowed a variety of companies to make knock-off Troll Dolls for many years, although Gafforini collects them all. Not only are the dolls — in their traditional human form, but especially the animals — cute companions, they remind her of her father, the man who really started it all.
"They bring happiness," Gafforini says. "My dad found the first one. My dad passed away in '97, and so I think it keeps me connected and thinking of my dad. It was kind of him who started this all for me."
Read more from Sarah Corsa at reviewjournal.com. Contact her at scorsa@reviewjournal.com and follow @sarahcorsa on Twitter.