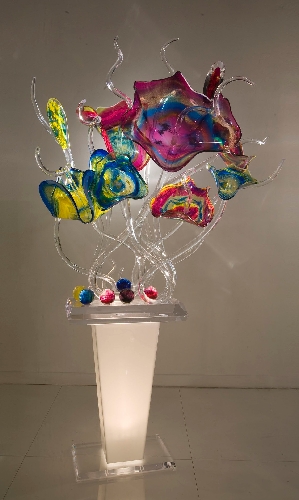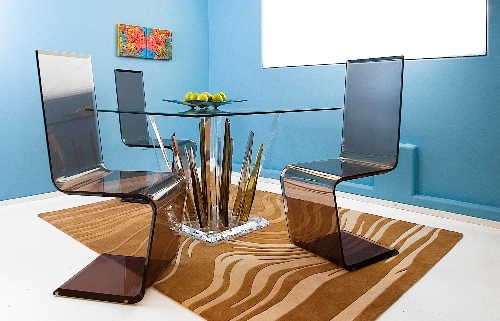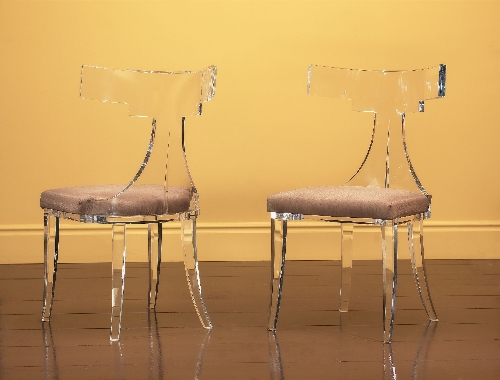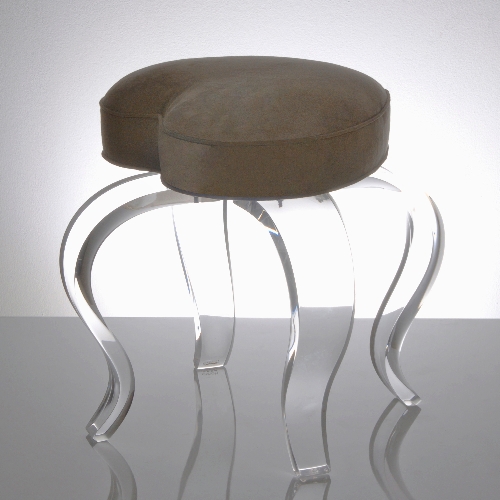 Just as fashion trends fade only to come back in style years later, home furnishings and accessories tend to follow a cyclical pattern.
Nowhere was this more evident than the recent home-furnishings trade show at World Market Center Las Vegas which saw a resurgence in acyrlic/lucite furniture.
Lucite, which dominated the design scene in the 1970s and '80s is making a clear comeback, according to Paul Watson, a licensed architect, interior designer and owner of the interior design firm Architectural Interiors who now serves as director of business development for the Las Vegas Design Center.
"Watch for the sizzling hot acrylic taking shape in tables, chairs, accessories, lighting and more," he said.
Shahrooz Nia, founder and the designer for Acrylicore, which specializes in acrylic creations and has a showroom at the World Market Center, said he believes the recent popularity of acrylic furnishings and accents is due to the beauty of the pieces now available as well as the concerted efforts he and other artists have made to convince consumers to give their works a try. Additionally, he credits the vision of top designers who have used acrylic furnishings in their projects.
One reason why he believes acrylic has gained favor among designers is its translucent appearance.
"It creates an open spacious area in your surroundings," he said. "The transparency of our acrylic coffee table, for example, can show off your beautiful rug and your sofa."
"It's an illusion of invisibility made present by functional art," said Watson, describing HStudio's new Invisible chair.
Watson said he appreciates the simplicity and geometric lines of the chair.
Both Nia and Shlomi Haziza, founder and artist of HStudio, which is located in the design center, said the medium gives them greater artistic freedom in their designs.
"Acrylic is more artistic and I owe that to the nature of this medium, which is transparent. This is a fresh, unique material that looks like crystal, is clear as water and is a very flexible material that can be used to make anything and everything," said Nia, who established his company in 1992.
It also can be colored to match practically any design scheme.
Founded in Los Angeles in 1991, HStudio specializes in creating custom designs. His work includes sculptures, pedestals, furniture, upholstery, lighting, accessories, rugs, waterfalls and wall sculptures.
Haziza, who was an internationally recognized artist by the time he was 15, was intrigued by acrylic's unforgiving, but naturally exciting and expressive properties. He said its ability to refract light gives it a unique dynamic and he spent years "finding new ways to use color, metal powders and sculpting techniques to bring out the inner fire of acrylic and breathe life and emotion into every piece."
When he first began working with acrylic, Haziza made sculptures. The rest was a natural progression, he said. First, he needed pedestals to match his art. Then, larger pieces were more suitable for displaying on a console. Once he worked with the concept of a table, he expanded it to a dining table and chairs. Because the tabletop was clear, he began creating artistic rugs. It evolved into creating modern upholstered furnishings to match his rugs and sculptures.
"For me, sculpture is hard. Upholstery is easy," Haziza said.
Still, he likes to give his furnishings an artistic flair. It could be a tufted sofa with acrylic buttons or acrylic legs or accents, or even lights under a sofa to make it appear as if it were floating.
Nia said the very nature of acrylic furnishings allow them to blend well with other furnishings, especially those with a modern or transitional style.
Caring for them is just as easy. "No need of any special cleaners," he said. "Just use a chamois cloth and water. Absolutely no chemical or ammonia solution should be used."
For additional information, visit www.acrylicore.com or www.haziza.com.