Adding new knobs and pulls is an easy, inexpensive way to update rooms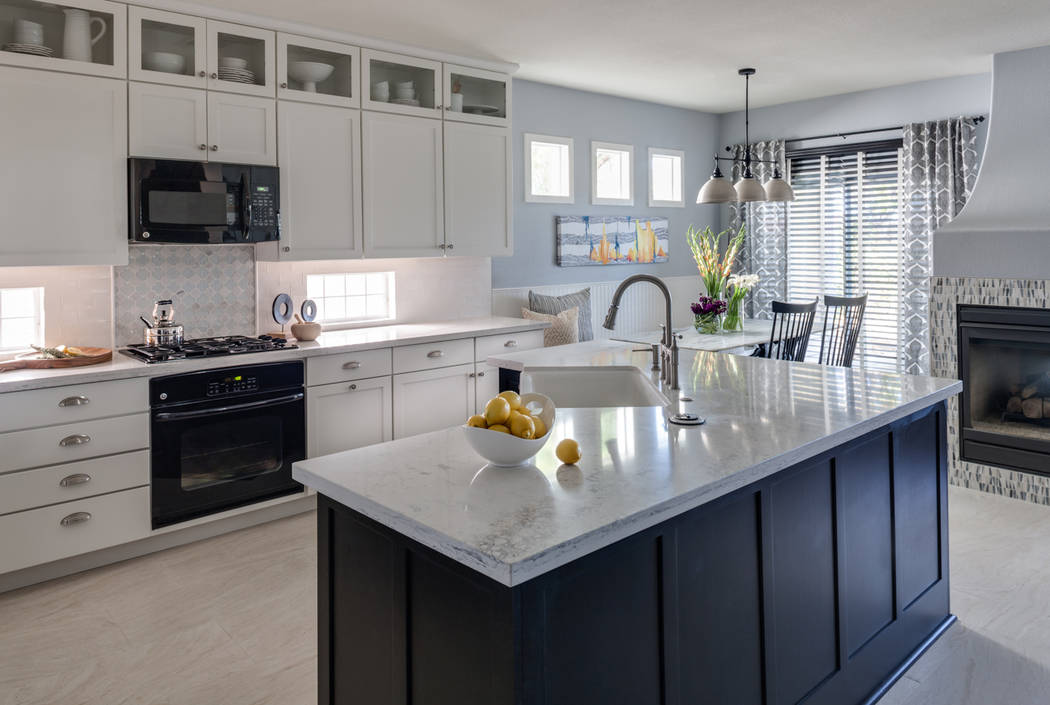 Cabinets and drawers take up a lot of real estate in kitchens, bathrooms, pantries and studies. If they are plain or dull, they can take the feel of the whole room down to drab.
From classic and ornate to sleek, modern and bursting with color, hardware can update the entire look of any room. Knobs and pulls are inexpensive ornamental marvels that are often overlooked as you go about your daily life.
"Hardware is the kind of detail that you notice more than you realize," said William Zhang, creative director for Emtek hardware design company based in City of Industry, California.
Decorative and dreamy or simple and streamlined, choices abound on the market more than ever before.
"Door and cabinet hardware are items that you touch every day, more than most of the items in your entire home," he said. "They should feel good and be able to stand the test of time but also reflect your personal style because they are such a big part of your daily life."
Emtek's product line allows you to carry a design theme or a particular finish throughout your home, from the knobs in your kitchen, to the hinges of your bedroom door, to the towel bar and door lever in your bathroom.
"It's a look that is streamlined and subtle, but often you notice when there is a clashing of design themes in a single room," Zhang said.
Recent trends include mixing a flat black knob with a polished brass rosette or combining different finishes on each side of the same door set.
"Split finishes are starting to gain more momentum," he said. "People are starting to tire of satin or brushed silver finishes and leaning toward gold tones and polished finishes."
Hefty appliance pulls are pulling more weight among consumers.
"The idea of using design to differentiate products by playing with proportions is particularly intriguing to people at the moment," Zhang said.
Interior design trends are beginning to evolve from a midcentury modern aesthetic to more art deco styles.
"We anticipate that we'll start to see that reflected in the designs people are choosing," he said. "More geometrical and complicated shapes, as well as crystal and gold finishes play into those trends well."
In the meantime, modern and transitional designs have not lost their luster with consumers.
"It's a clean and timeless look," he said.
New hardware is an easy and inexpensive way for do-it-yourselfers to make a quick yet significant aesthetic change when they get tired of a room's look.
"It's relatively simple and more economical to replace hardware," Zhang said. "(It's) certainly more affordable than replacing entire doors. You can choose designs that reflect your personal style and that create an impactful, updated look for your entire home."
Consider knobs and pulls as kitchen bling, said Lisa Escobar, owner and designer of Lisa Escobar Design. They can dress up bland cabinets and drab drawers.
"Cabinet hardware is like the jewels of cabinetry," the Las Vegas native said. "They just make the outfit."
Geometric shapes and designs that use a mix of Lucite and metals, particularly brass, are gaining in popularity among her local clients.
"Another material that is becoming highly utilized is beautiful natural gemstones, such as agate quartz," Escobar said. "It can completely modernize your look, depending on the shape. It can give an artsy feel to the cabinet or drawer."
Oil rubbed bronze and stainless steel styles have been the most popular choices for decades, but color is gaining ground. A pop of red or mellow yellow on a monotone cabinet can offer a contemporary feel to an office. Primary colors give a playful feel to an otherwise colorless cabinet in a child's room.
Don't get stuck on a particular shape. Wrought iron in a squiggle design or brass leaves bring a spirited feel to a flat cabinet. The half-moon or cup-shaped drawer pulls from the mid-1900s are making a comeback, and two-screw bar shapes are definitely on trend with designers.
If you are looking for a clean line, stainless steel drawer pulls enhance that style. Understated brushed nickel knobs give a touch of traditional. Painted patterns pair perfectly for farmer-style kitchens, and dark rubbed bronze hardware can complete a classic design. Put your own imprint on boring bathroom cabinets with beautifully beaded knobs, which is a visually appealing alternative to traditional handles and pulls.
A recent client came to Escobar and her team to remodel the dated kitchen of her sprawling Summerlin home.
"She had a particular style and wanted us to add to her aesthetic, which was country industrial," Escobar said.
After overhauling the room to the client's delight, Escobar chose hardware that brought the room together in subtle ways.
"The hardware can also intensify a look, if you are going with a certain look," she said.
The client's specific wishes gave Escobar's team, which includes Debbie Amosa, creative and art assistant, and Austrie Messer, junior designer, a chance to explore some unique styles.
"We selected cup and cabinet pulls in a brushed satin nickel finish to add sophistication to the clean, simple lines of the soft, white shaker-style cabinetry," Escobar said. "The Somerset and Asbury Collections from Top Knobs were the perfect fit to this somewhat modern, yet cozy, kitchen."
They purposefully chose that hardware to complement the existing sink faucet and the dramatic light fixture that hangs over the dining table.
"We especially love the notched detail on the button faced knob," she said. "It's a great contrast because of its traditional theme."
If you are looking to save time and money, replace one-hole hardware with one-hole upgrades so you won't need to drill for two-hole hardware or patch a hole if you downgrade to a one-hole style.
Cabinet hardware can range from $1 to $30 for a single ornate knob. Simple, contemporary designs are often sold in bulk at big box stores for less than $2 per knob.
Whether it's the kitchen, pantry, office or bathroom, incorporating hardware trends into your room can update the look of your home quickly and inexpensively.