Art of macrame is making a comeback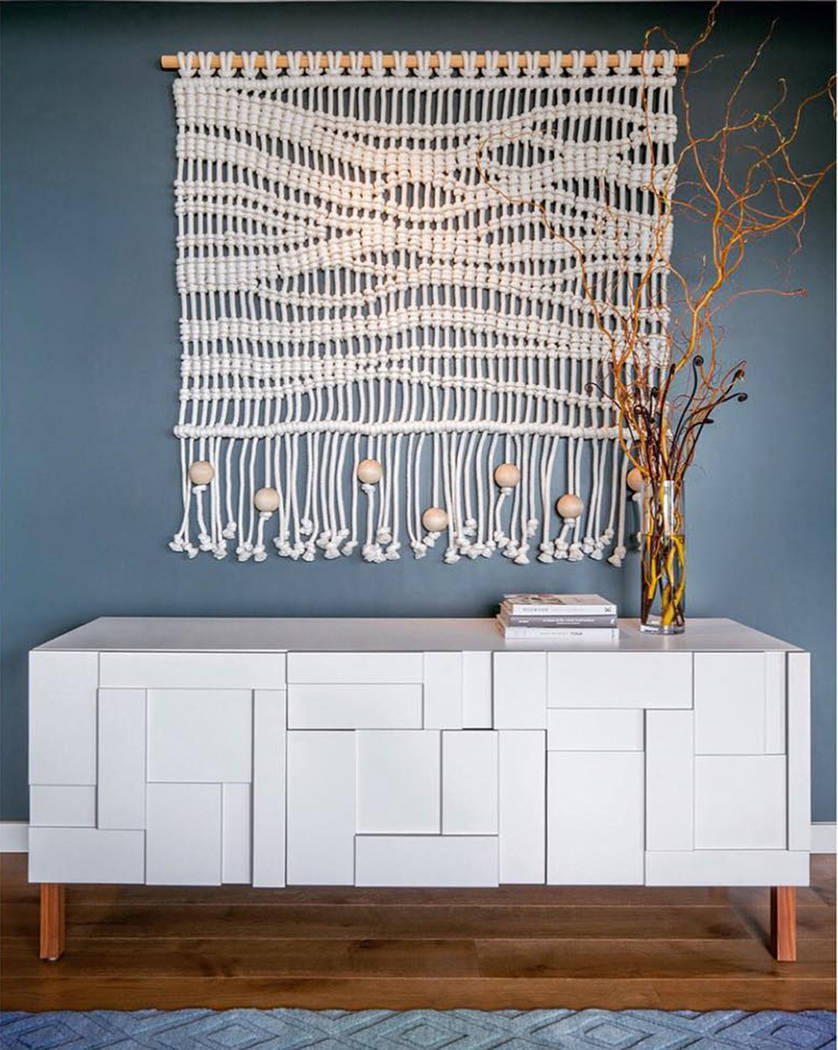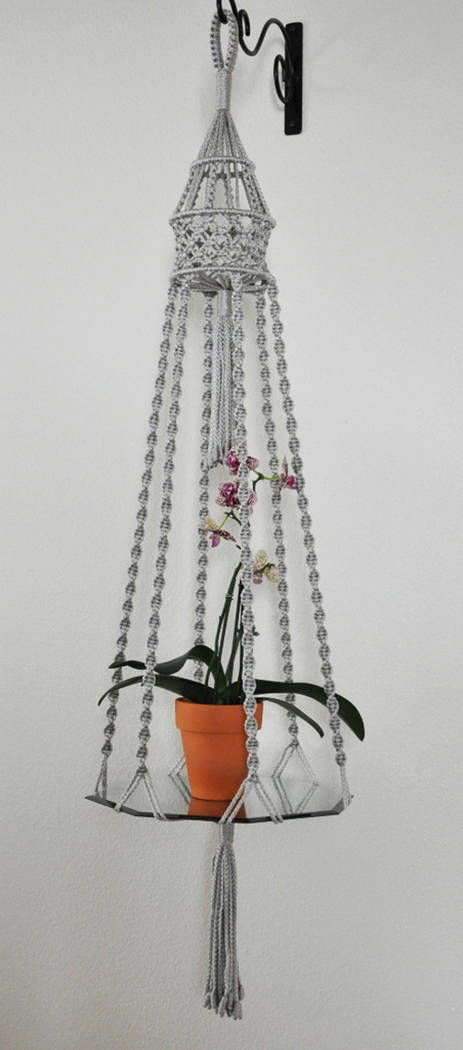 Home decor designers are embracing macrame in bulk. The humble fiber creations are making a sleek and modern comeback from their 1970s roots with artists creating contemporary pieces in unexpected scales, shapes and colors for home decor use.
The 21st-century interpretations of this bohemian style can bring a more relaxed and inspired vibe to your living space.
Macrame's origination was much more provincial than today's massive wall hangings and room dividers. In the 13th century, northern African weavers created covers made of thick, durable knots to protect the hide of horses. The art form flourished in the 1970s with the trend of knotting thick rope or nylon to create lengthy plant hangers and heavy window treatments among other trendy decor items that could anchor a room.
While macrame has never truly gone away, designers are placing pieces made from this art form in prominent places in many living spaces. The interior design world is wild about macrame, with designers like Kelly Wearstler and Sally England using it in their work. The California-based England is known for her tailored knotted wall hangings.
The quest for bespoke macrame items continues to gain in popularity year-over-year, according to Pinterest. The search term is up nearly 25 percent over last year on Google Trends.
Once considered too hippie for contemporary styles, macrame has been reinvented to include more than just mere wall hangings or planters, said Maurine Adrezin, program coordinator for the Las Vegas Fiber Arts Guild. She first began creating macrame decor in the 1970s.
"Most people put pictures on the wall but now they are putting up macrame," she said. "It's everywhere now. A lot of the big stores are selling it, too."
Macrame adds texture, depth and a conversation piece to a space, from hanging macrame chairs to Plexiglas tables covered in a fine mesh of knotted natural fibers.
"It's inspiring to look at," Adrezin said. "It's something handmade. Macrame on a wall is something different and most people don't have it so it is unique to your home It's much more creative than a canvas print or painting."
She is well-known locally for her wall hangings, jewelry, handbags and dolls made of knotted satin ropes and cords. When she first fell into the fiber art, she created a square knot using just one step rather than the typical two-step used in macrame projects.
"Years ago when my children were young I learned how to do a square knot in one step from a sailor, not the two steps that everyone learned," said Adrezin, who offers macrame lessons locally. "I call it my claim to fame."
She has seen an uptick in interest for macrame lessons, from grandmothers to Girl Scout troops.
"I enjoy teaching it to anyone who is interested in learning this technique," she said.
Macrame and weaving were considered rudimentary, bulky and bland for decades, she said. But the art form is making a comeback in many ways, from chunky jewelry to stunning curtains that drape in luxurious folds of fine bumps and loops.
"In life, everything seems to come around full circle," said Adrezin, who once created a stunning focal point for her living room with a macrame hanging from ceiling to floor that included two table surfaces. "It's fascinating to see how macrame is being used now."
Consumers interested in macrame are asking for contemporary, sleek and modest designs over the bulky and dark macrame of the past, said local macrame artist Katie Pyankov, who runs Macrame Market on Etsy with her daughter Zina. She has increased her sales at her online Etsy site by half in the past two years.
"It's coming back but it's more and more of a modern look," she said. "Simplicity is the key to design right now."
Her hand-crafted planters range from natural fibers in earthy tones to vibrant polypropylene cord hangers in magenta, teal and bright blue.
"The trend is leading to the more natural look, colors and textures," Pyankov said. "It's a simpler version than what we have had 30 years ago. It's not as heavy, there are not as many tassels, knots or dark colors to it."
She began working with macrame in the 1980s after her mother brought home some macrame materials. The hobby turned into a lucrative online business when a friend suggested she open a shop on Etsy. She has since sold more than 2,300 macrame creations at her Macrame Market shop.
"I liked that it is a simple way to add something to the design of your interior," Pyankov said. "It's something that adds warmth to a space because it is handmade.
The material options for macrame continue to expand.
"Since I started in 2011, there are more supplies that are available now, more options," she said. "It makes it more interesting."
Pyankov sees the trend growing, with more orders coming in asking for more diverse creations. She has had requests for chandeliers made in a macrame style as well as glass spheres wrapped in distinct cords for tabletop designs.
"It adds warmth and depth and it is something very unique to your home, your space," she said. "It is authentic and unique more than other things you can put in your home to give it character."