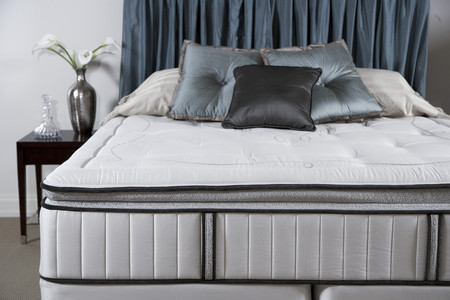 Stearns & Foster wants you to dream of gold, silver and pearls. And, naturally, the easiest way to do this would be to sleep on one of the Trinity, N.C.-based firm's new mattresses.
Stearns & Foster recently debuted its new Heritage series of luxury mattresses, which features the Golden Elegance, Pearl Grandeur and Silver Dream.
Each of the three beds has an individual identification, from the makeup of the mattress to its distinct look, said Mark Delahanty, vice president of marketing for Sealy Corp., Stearns & Foster's parent company.
The heart of each of the high-end mattresses is the company's trademarked IntelliCoil, a two-staged tempered and individually wrapped coil-in-coil design that functions as two coils in one and provides the ultimate in comfort and support, Delahanty said.
The outer coil was designed to cradle the body while the inner coil provides support for proper body alignment, he said.
These coils are then matched with layers of 100 percent natural latex, New Zealand and Dutch wools, and natural horse hair to increase the comfort and create different levels of firmness and plushness. The amount and type of each material varies by mattress.
The top-of-the-line Golden Elegance, for example, incorporates horsetail fibers, which were used for many years in bedding because they are strong and durable. Delahanty said they also are ideal for climate management and wicking away any moisture.
"We're using more complicated materials and bed-building techniques, he said.
But for Stearns & Foster the idea of creating an ideal sleep surface goes beyond what's on the inside of the mattress. Each model offers unique exterior design features as well.
Golden Elegance has inset golden panels with black trim that accents the fabric. Pearl Grandeur has rose-colored trim, while Silver Dream is done in shades of silver and dark gray.
"Each sleep set has its own personality, providing the luxurious detail only found on a Stearns & Foster," Delahanty said. "We've used best-in-class upholstery layers and incorporated the world's finest bedding materials such as silk, white cashmere and merino wool for unsurpassed comfort."
These materials also give the mattresses an extremely soft and luxurious feel, which Delahanty said helps make consumers see their mattress more like a piece of furniture.
All of the upholstery layers are hand tufted with an 8-inch needle by skilled crafters, working two people per mattress, to ensure the they don't shift or bunch when being used.
Delahanty said the company also is using a new computerized mattress quilting technique to give the outermost layer a beautiful embroidered look with one, giant nonrepeating pattern.
The new series follows up last January's successful relaunch of the brand by Sealy.
"Since launching earlier this year, retailer response to the new Stearns & Foster line has been tremendous," said Larry Rogers, Sealy president and chief executive officer.
According to Delahanty, retailers continually asked the company for more luxurious and higher priced mattresses after the Estate line debuted. Suggested retail prices for queen-sized sets in the Heritage series are $2,999 for the Silver Dream, $3,499 for Pearl Grandeur and $3,999 for Golden Elegance.
The mattresses, which were previewed at the most recent home-furnishings trade show at World Market Center Las Vegas, are slated to hit retail floors later this month or by early January.