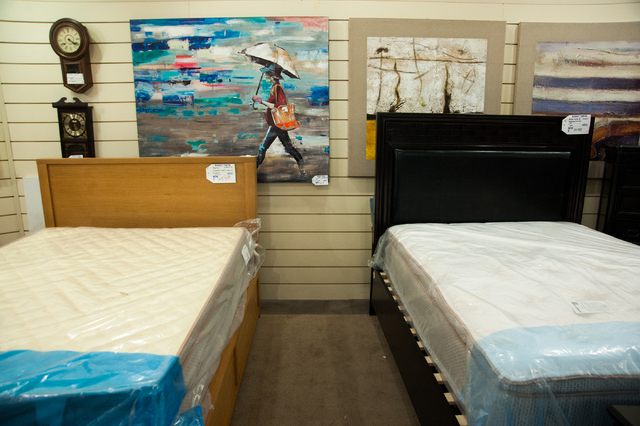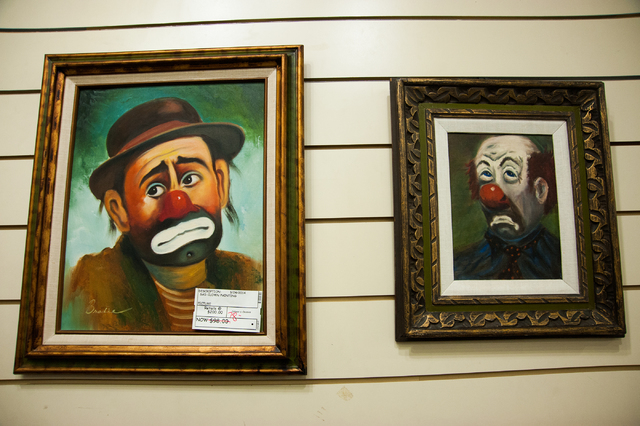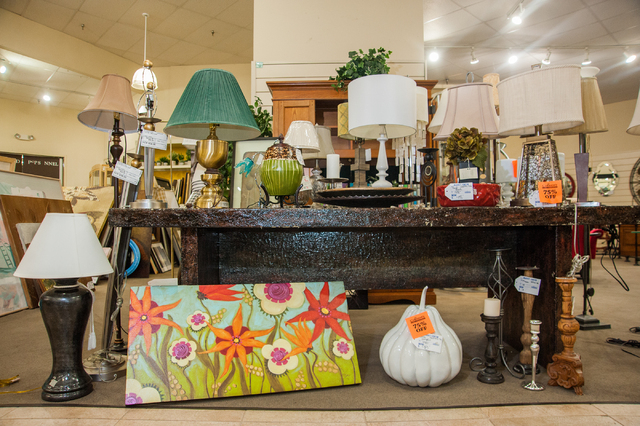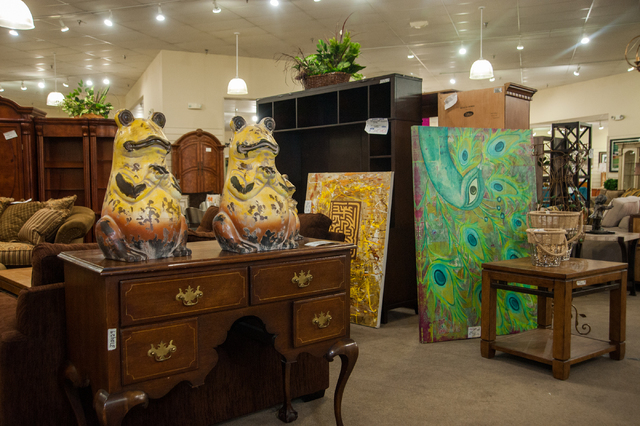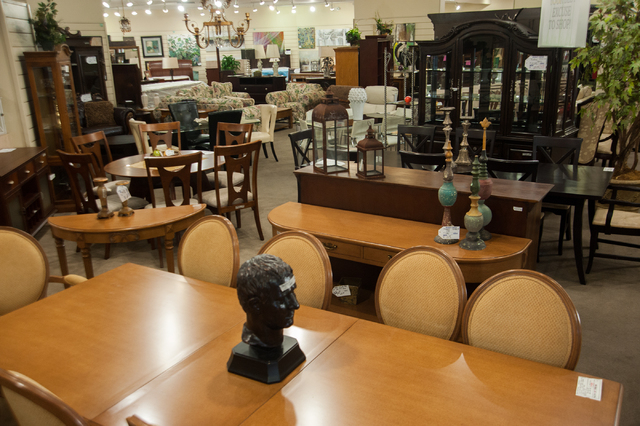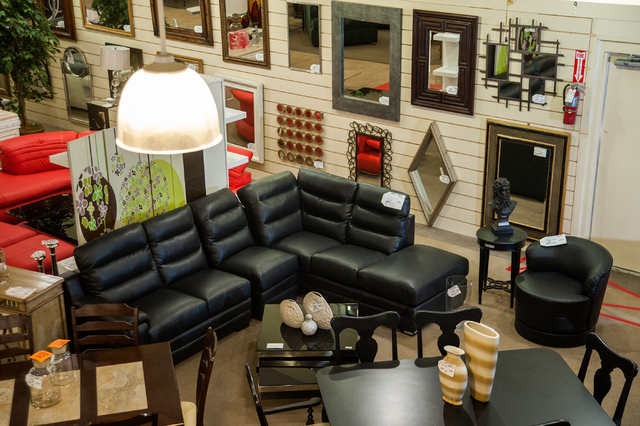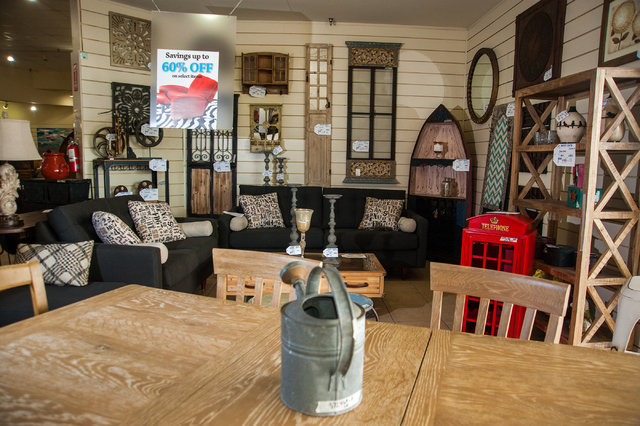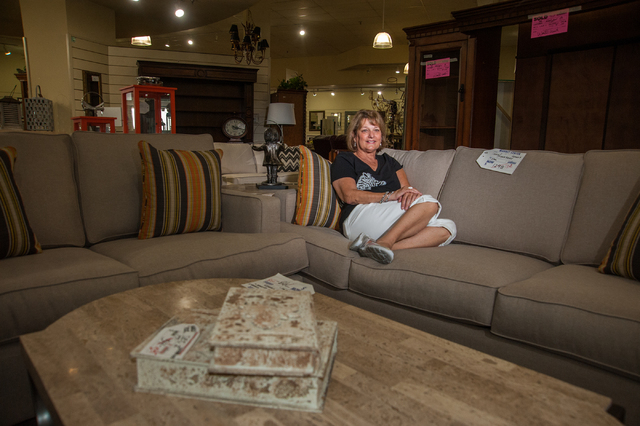 The summer heat means one thing to Teresa Scoline.
"I always change my hangings," said the homemaker who has lived in Las Vegas for more than 15 years.
Scoline is a hunter, a consignment shop hound, she said, who lives for the thrill of a new end table or painting that will change the look of her Summerlin home, and, often, her mood.
"I go to consignment shops at least once a week just to look around and see what is new out there," she said. "If you don't go once a week, you might miss something."
Scoline is one of many locals who frequent area consignment shops to change the look of their homes, season to season, rotating colors and fabrics depending on a whim.
"Changing out your lamps, your wall décor is an easy way to make a change when you feel like it," Scoline said. "When summer comes, I have a lighter décor with less on my walls and (pot) shelves, and in winter I decorate with more paintings and some casual chairs I buy from consignment shops so my guests can feel more comfortable."
As with any hunter, she has her trophies.
"I bought a signed Chihuly glass vase at one of the (local consignment) shops for half the price I saw on eBay," she said. "I just love him, and that piece doesn't go anywhere."
Not all her whims are winners. She recently bought a large captain's bed for her second guest room. The hulking beast, as she called it, filled the tiny room.
"My friends from the East (Coast) stay with me a lot and I thought it had that sort of charm," she said, "But it was too big. So I lived with it for a few months and then put it up for consignment."
Within two months it had sold and she had already replaced the bulky bed for a dainty twin wicker bed set with a trundle and a kicky nightstand from famed designer Nate Berkus' line.
"It's my hobby," Scoline said. "My friends come in from out of town every few months to stay with me and go to the casinos. They were just here at Christmas and it's a whole new house in summer. They take a tour every time to see what I've got that's new."
Consignment shops are a local hot spot for treasure hunters, said Colleen Aiken, owner of Colleen's Classic Consignment, with four stores in the Las Vegas Valley.
"It's not like shopping at a furniture store," Aiken said. "It's something else entirely."
She has regular shoppers who consign with her to change out their old furniture to keep up with design trends, as well as the first-time homebuyer and college students just getting started.
"We are always looking for good bedroom sets and dining, living room sets," Aiken said. "Name brand on a secondary market is our top sellers."
She also regularly collects from local headliners, including Wayne Newton.
"It's always fun to get things from stars around town," she said. "Movie stars and sports characters, we get stuff from them all the time. We pick it up and sell it for them, and people like to come in and see that kind of stuff."
Shoppers like to know the story behind the furniture, if they can.
"I think people salvage one-of-a-kind items that they can't find in a regular furniture store," she said. "People like to have fun and do different things to their homes. They like the vintage items and trying to find that perfect piece that is new to them, although it may have been bought first by someone else new. It's a treasure hunt."
For a fee, Colleen's will pick up your merchandise and assess its value. Aiken's "pricing specialists" then rate the item and come up with a price that is fair to you and the consumer. Most items move off the sales floor within 30 days, she said, and she sends a check for the seller's share of the profits within two to three weeks. They also buy jewelry and other high-end items.
"My value of furniture and quality is outstanding," Aiken said. "Value and price are a big thing with us."
Which is why she has stayed in business so long, she said. She sold retail and consignment in Phoenix before going into the consignment business full time, choosing Las Vegas for its fledgling market at the beginning of the city's boom in the mid-1990s.
"It was just a good time to start a business here," she said. "I moved myself up quickly after that. I started with $35,000. That was 20 years ago and here I am."
Consignment continues to be big business, particularly through difficult economic times, said Cara Eller, manager of the Home Consignment Center in Henderson.
"Right now is the busiest time of the year for us," she said. "We receive items from the World Market Center, some very nice things. They are getting ready to have fall shows and they want to liquidate from their old shows. Our store is full of new items when the World Market liquidates."
Home Consignment Center, which has 16 stores in three states, buys from area hotels as well as a roster of regular customers who trade in last year's look for a new one depending on their moods, and budget.
"We also get a lot of model home furniture at the same time as well as our regular customers who find something new and want to trade in their sofa or dining set for a more modern look," she said. "We are a treasure hunt, that's for sure. It's more about what you'll find."
The Home Consignment Center has been in Southern Nevada for 15 years and is looking to possibly open a second location.
"It's a good market," she said. "We sell everything you need for your home. Beds, and even jewelry, which does really well, and dinnerware."
From plants to pine wood dressers, the finds can be thrilling, customer Linda Shine said.
"I come in at the end of each summer and usually trade out something big," Shine, a casino executive, said. "I traded in my 6-foot dining table for a smaller glass one and a new rug and it just opened up that room."
She got the idea from her other hobby.
"I also go to model homes and look at the décor to get ideas for my house," she said. "It's fun to find some of the items I've seen on my home tours in the stores."
"We get merchandise from all different sources," Eller said. "You never know what beautiful piece you'll find in here for a fraction of the cost the person who originally bought the piece paid for it."
Currently, Home Consignment Center is looking for bedroom sets, art and living room furniture.
"People often come in to change out their wall art, pretty regularly," Eller said. "We'll take anything that is in good or excellent condition. Not too dated, good, clean merchandise. We are looking for anything that would be in the home, but not appliances or mattresses."
To consign an item, just schedule an appointment and someone will come out to take a look at your item, assess its value and come up with a price you and they agree on. Delivery is $65, but the assessment is free, she said. Or you can drop the item off at the Henderson store.
"We take consignments all day long," she said. "People bring merchandise to the store every day. We draw up a contract and split the selling price 50/50."
Prices or values of items have to start at $29 or more. The pricing is based on selling the object quickly, not letting it languish in a corner of the consignment shop with a sticker price that would shock the average buyer.
"We try to take higher end merchandise, things that are desirable and in great shape," she said.
"There is not one thing we sell more than anything else. You never know what people are looking for, or what they will find that strikes them and they take it home. It's all about the customer's changing taste, and their home."