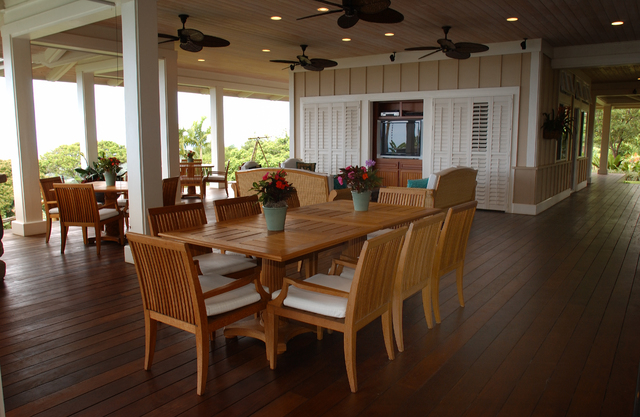 With the holiday season but a distant memory and the last traces of white powder no longer visible on the surrounding mountaintops, garden tools and patio furniture are now ubiquitously displayed in every type of home store heralding the time of year for the outdoor life we enjoy so much here in Las Vegas.
Along with the time-honored teak and wrought iron furniture in virtually every style and a host of new designs and fabrics that are truly beautiful and at great price points, it's the perfect time to begin your outdoor design plans. Basic considerations include the kind of furniture that will best suit your budget and the overall design of your home and its architecture, not to mention your lifestyle.
When thinking about purchasing outdoor furniture there are a number of things to take into account that may help to guarantee the items you buy will actually meet your needs. One of the most fundamental considerations of all is to carefully look at the quality of the materials the furniture is made of and try, if possible, to avoid making your decision on cost alone. This is never a good idea and is especially true when it comes to purchasing outdoor furniture where, above all else, durability and weather resistance of the pieces should be the foremost consideration.
Outdoor furniture needs to hold its own against nature's worst aspects, such as rain and the searing heat and brilliant sun of the Nevada summer. Inferior materials exposed to these types of conditions may only last for one or two seasons at best, causing you to throw good money after bad.
And along with quality considerations, there are also numerous styles and materials from which to choose, including resin weave wicker, aluminum, metal and steel — almost all carefree materials. The better quality metal furniture is available with a paint finish that is very similar to the type that is applied to cars and trucks and is naturally resistant to rust and corrosion from rain and ocean salt spray or even from color fading caused by sun exposure.
Due to largely new production methods, you'll find that there's an ever-increasing presence of modern design in the marketplace today using the aforementioned materials that are now used to shape free-flowing artistic lines and even abstract shapes. It's truly an interesting feeling to sit on an outdoor sofa or chaise that's sculptural in design and yet incredibly comfortable.
Still, there is one material most often associated with outdoor furniture that does stand out and deserves special mention.
Teak, with its characteristic very tight grain that makes it so resistant to water damage and insect infestation, continues to be the premier wood used in manufacturing outdoor furniture. There are, in fact, gardens where teak has been used outside for 100 years or more.
Its wonderful golden brown color can be sustained throughout its life with only a yearly application of an outdoor oil. And if you choose to let it go untreated, then it will simply age and weather to a soft gray color. Yes, teak is more expensive than other wood, but in the long run it just may prove to be the last piece of patio furniture you'll ever have to buy due to its durability and long life, making it a very wise investment.
Another important factor to consider when creating an outdoor area is the architectural style of your home. Ideally, your outdoor room or patio should be an extension of your home's interior as well as its architectural style.
I've seen too many cases where the design theme abruptly changes in style and quality from inside to outdoors. Additionally, the fabric choices for seat cushions and pillows really can go a long way to help create the overall look and design of your outdoor space and its relationship to your home's interior design.
As for outdoor fabrics, bright, bold colors to warm, subdued hues are in vogue these days along with cloverleaf prints and wide stripes found on bold toss pillows, rugs and umbrellas. These colors are often carried across the outdoor area in planters and ottomans. Bright bands of color and patterns along with mixed materials such as concrete tables and teak furniture make for a fun and inviting entertainment space to be used almost year round.
It should be noted that the quality and strength of fabrics and seat cushions as well as the colors and patterns for outdoor furniture has grown exponentially in the past few years and continues to do so. Beginning with the introduction of solution-dyed acrylic fabrics some 20 years ago, materials are now color-fast, soft to the touch and come in a variety of colors and patterns, much the same way as beautiful indoor fabrics.
They now have an increased resistance to sun fading and moisture damage. Also, the fill that's used (if exterior grade foam) won't soak up water and consequently dries very quickly, thus preventing any mold or mildew. Cushions with zippers, by the way, are a great addition allowing for covers that can be easily removed and machine washed.
It seems safe to say that indoor/outdoor living is here to stay because outdoor living areas are now actually thought of as extensions of the home. Making smart choices of furniture and fabrics will give you less worry about the elements ruining your investment and you'll be sitting comfortably for many years to come.
Stephen Leon is a licensed interior designer and president of Soleil Design (www.soleildezine.com); he has been designing and manufacturing custom furniture and cabinetry for more than 25 years. He is past president of the Central California/Nevada Chapter of the American Society of Interior Designers and is a certified professional in green residential design. Questions can be sent to soleildesign@cox.net.