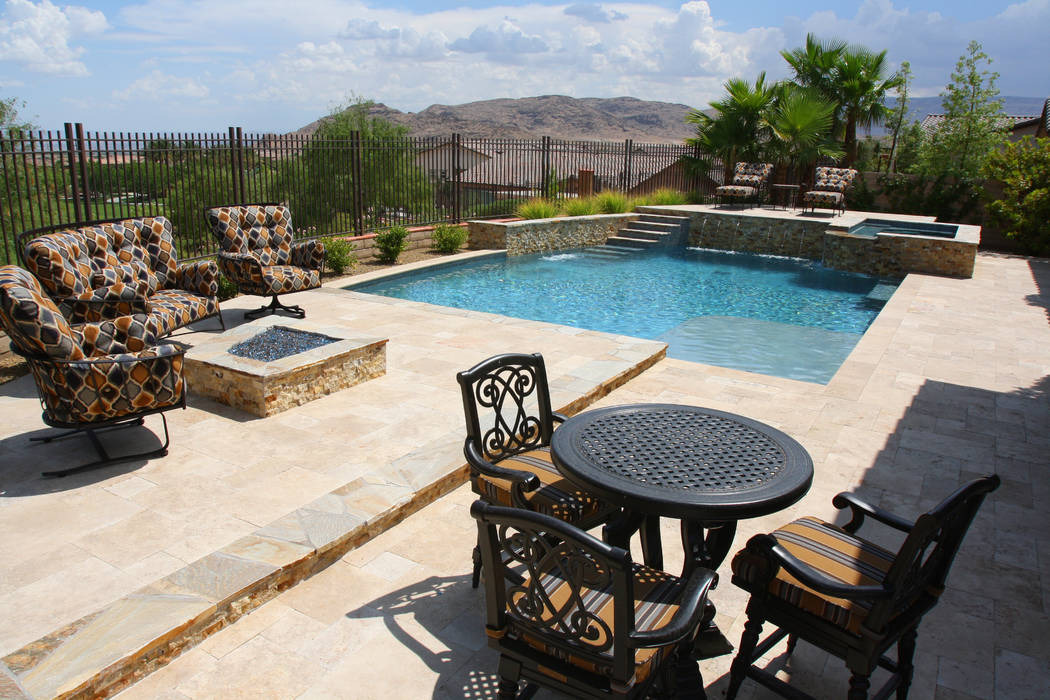 Decking is more than a surface to set a lawn chair on or to roll out the grill for the weekend barbecue. It's the fundamental foundation in the exterior decor. Homeowners should take thoughtful consideration when selecting a product — not just the color and finish of the material but also the function, maintenance and durability.
There are alternatives to pouring a slab of concrete, with pavers becoming the go-to decking material for residential applications. Travertine, natural stone, porcelain and simulated wood are taking the lead in the exterior homescape market.
One of the top U.S. manufacturers of exterior hardscape and paving stone products is Belgard. The company's product line features a wide selection of pavers, including the hottest trend in exterior flooring applications: the porcelain paver.
"At Belgard, we look at all our products not just as decking, flooring or exterior hardscape, but rather as an integral element of the outdoor living experience," said Jeff Bal, Southern California vice president of sales.
"Our products are designed to serve more than a functional purpose to have something on the ground besides dirt or gray concrete," he continued. "We want people to use the products in a way that they look forward to spending time outside. That could be a patio, courtyard, driveway or a pool deck. Any of our products, even our wall products, are designed for families to enjoy their yard."
Indoor activity spaces, whether it's the kitchen, dining area, home theater, game room or office, can be replicated outdoors. Exterior flooring and vertical wall coverings contribute to enhancing the ambiance of a comfortable, full living space outdoors.
"The home exterior shouldn't have to be a high-maintenance, lower-quality experience," Bal said. "Whether it's grilling, entertaining, listening to music or swimming in the pool, the idea is to stimulate the outdoor living experience and really create an extra room."
The trend toward porcelain exterior pavers has been significant over the past two years, tripling Belgard's sales specifically for this line of products.
Benefits of exterior porcelain pavers are their versatility and durability. Pavers can be used in multiple applications, as flooring or as a veneer. Porcelain pavers can be installed on-grade or on-concrete, and their component structure is conducive to any weather environment across the nation.
Homeowners often look to merge the exterior and interior decor to make a seamless transition. However, interior tiles are not recommended for exterior applications. Keep in mind that there are distinguishing factors between an exterior and interior porcelain product.
Belgard's exterior products are 3/4-inch thick, compared to a 3/8-inch interior tile. Additionally, Belgard's porcelain series meets all American Disability Act slip- and skid-resistant requirements, an added value when considering the product around a pool and spa.
Porcelain exterior tiles come in a variety of profiles, styles and colors. Popular sizes are 2 by 2 feet and modular sets for Quarziti and 1-by-4-foot planks in the Sundeck series. Custom sizes are available upon request.
The most sought-after looks are Quarziti — a product that resembles quartzite, limestone and travertine — and the Sundeck and Noon transitional collections with the look of wood or reclaimed wood.
These lines include matching coping stone with a bull nosed edge that is perfect for pool applications.
Another alternative for decking is Trex, a composite product made of 95 percent recycled materials that simulates the look of wood. Used in commercial exterior settings, Trex's eco-friendly, low-maintenance properties also make it popular in residential applications.
If you are concerned with the heat factor of the exterior flooring, Bal strongly recommends staying with a light-colored surface. The lighter colors are more effective at reflecting heat and ultraviolet rays, making the surface cooler to the touch.
Homeowners can expect a higher price point for these materials, but the overall finish will be well worth the investment.
Joseph M. Vassallo is an award-winning pool designer. President of ParagonPools, Vassallo has co-authored five pool design books and is a featured designer on HGTV.com. He can be reached at 702-400-0679 and www.paragonpoolslv.com.