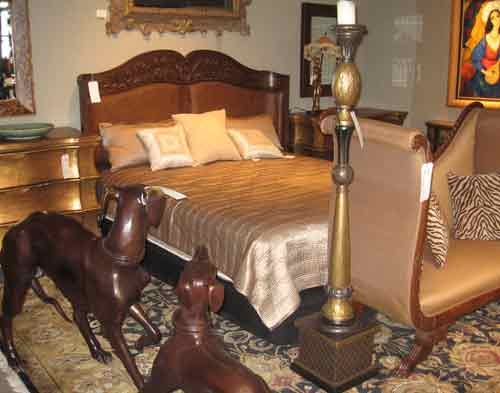 If Joanne Lucia and Carolyn Muse Grant were singing about their favorite things, a la Maria in "The Sound of Music," the list would include fabulous fabrics, luxurious furnishings, beautiful art and Asian-inspired décor. Stepping into the Interiors By Designers Studio in Las Vegas is like taking a page out of their songbook.
The new studio is filled with the designers' favorite pieces from past interior design projects, along with custom art, glass sculptures and furnishings they have found in their travels.
Lucia said the idea for the studio, came from discussions with friends and colleagues about past clients who have changed their look or downsized their homes.
They needed a way to find new homes for their furnishings, accessories and art, while recouping some of the costs.
"There was no avenue for a person in Las Vegas to find high-end merchandise at a value-engineered price," Lucia said.
The studio showcases items that are not normally found in Las Vegas - including at the designer showrooms at the World Market Center Las Vegas - and are primarily only available through an interior designer, said Lucia, who has been an interior designer for 47 years.
"Personally, I do a lot of shopping in San Francisco, Los Angeles and Florida," she said.
In addition to preowned items, the studio features new items that were purchased and never used or that the designers have discovered during their careers. This includes custom pieces.
Instead of looking like a typical consignment shop, the studio is skillfully styled with room vignettes throughout the large open space.
"I wanted the total design package, like what you would find in a home," Lucia said. "I love the 'wow' factor. It's how I've always done my projects."
Muse Grant, who is showroom manager, brought her love of Asian décor into the studio, as well as her connections with local artists. She also is assisting with marketing.
"We created a place where we wanted to be and made it very comfortable for people. It's like sitting inside someone's home. They want to come here and can sit and chat," said Muse Grant, who also writes a monthly column for the Home section.
Currently, the studio is open weekdays between 10 a.m. and 3 p.m. Arrangements can be made for additional hours or to visit by appointment.
Additionally, Muse Grant said they hope to host small catered, private showings or special events at the studio.
They also plan to hold receptions for the artists whose work is on display, similar to what you would expect to find at an art gallery.
The first artist reception is planned for 5:30-7:30 p.m. June 14. This event will honor Jim Decker, photography; Sharon Gainsburg, sculpture; Beti Kristof, painting; and Susan Wincn, art glass. Reservations are requested.
Interiors By Designers Studio is at 7635 S. Dean Martin Drive, suite 201.
For more information, call 236-9483.