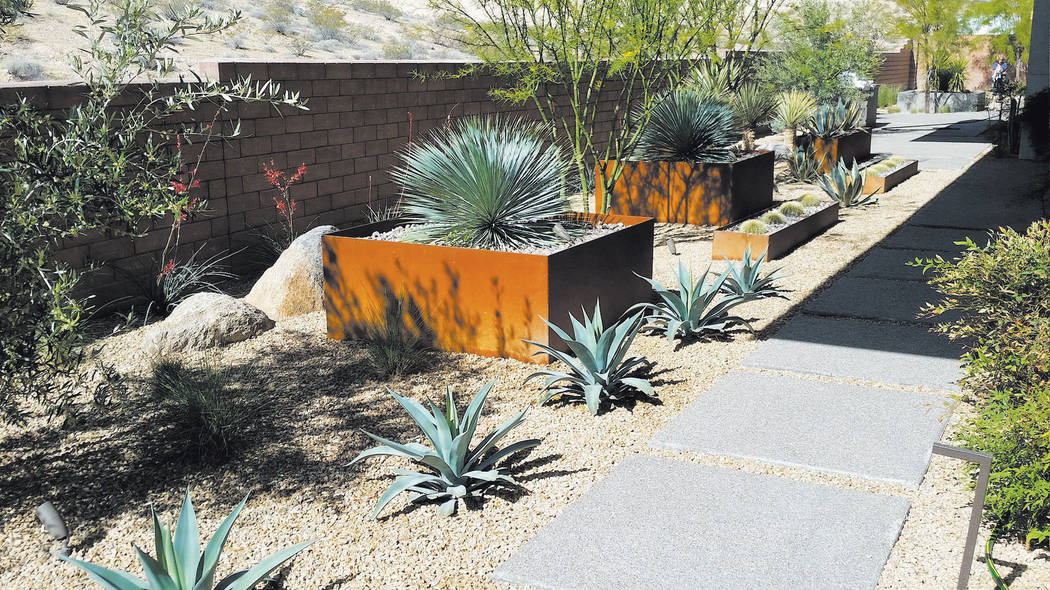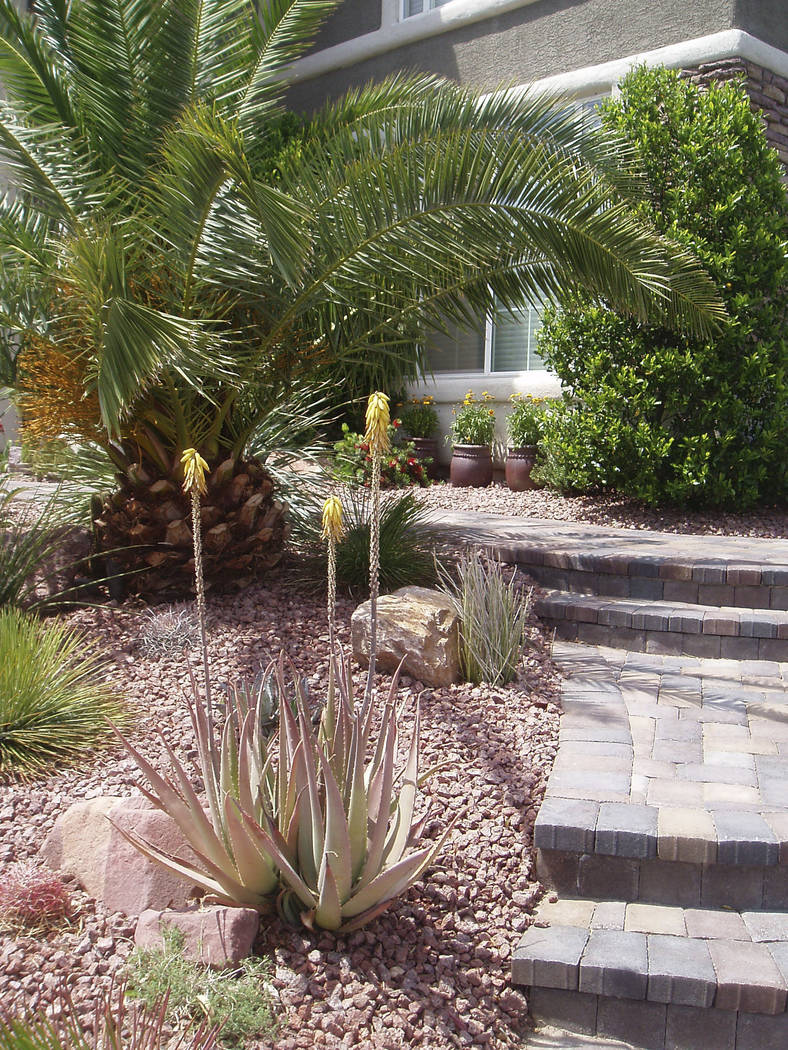 The green, green grass of home is now zeroscape. Or is it xeriscape? Or maybe it's just plain old drought-tolerant landscaping. Any way you describe it, those fabulous green front lawns that were so common throughout Southern Nevada 20 years ago have become landscapes that reduce or eliminate the need for supplemental water.
Zeroscape refers to mostly concrete, stone or gravel in place of a traditional landscape design. It can even mean that no landscaping has been done. Xeriscape is a method of landscape design that minimizes the amount of water by combining native plants and trees, as well as rock or gravel, to create beautiful outdoor spaces.
It should be noted that "xeriscape" is pronounced as if it began with the letter Z. That leads some homeowners to think zero landscaping, but that is not the case.
"Western states use an abundance of water for lawn and garden purposes, and the rise of droughts and water restrictions has many neighborhoods turning brown," said Kathryn Emery, a lifestyle and home improvement consultant based in Laguna Beach, California. "This has caused a greater interest in sustainable gardening, and homeowners are turning to xeriscaping and zeroscaping.
"When water restrictions are implemented, xeriscape plants tend to survive and thrive while more ornamental plants may be unable to adapt," she continued. "And a beautiful garden can be designed that is full of life and color and one that reflects your home's personality. Just remember to select the right plants and accentuate them with natural elements."
A zeroscape or xeriscape yard saves money on utility bills, as well as time and energy. They are great for the environment as they preserve water, there are fewer emissions with power tools maintaining the yard, and fewer chemicals are needed to maintain a flourishing garden.
"The best way to begin is by selecting the right plants and grouping them accordingly," Emery said. "Look for plants native to the area. Succulents are a great choice as they can sustain heat, are drought tolerant and retain water. Three popular succulents that have color and are flowering in Las Vegas are echeverias, Euphorbia (tirucalli) firesticks and Portulacaria (afra).
"When you plant, make sure you group plants according to their water needs and use shade that is naturally occurring in your yard for plants that need it."
The right soil and mulch, when spread throughout the planting areas, retain moisture near the roots of flowers and trees. Mulch is the highest-maintenance element and should be reapplied periodically. Many gardeners prefer redwood mulch as it accentuates the colors of the succulents.
And the best way to water the plants is through drip irrigation, a targeted and efficient watering method that gets the water exactly where it needs to go via slow release.
Hardscaping — or the use of rocks — is vital to zeroscape or xeriscape garden styles. It adds texture, depth and character and comes in a variety of colors, patterns and styles (round, textured, flat). Lava rock comes in a range of black and grays and creates texture.
Consider putting down pavers to create a pathway through the garden and add edgers for a more polished look around the garden.
Locally, gravel is one of the most versatile hardscape materials. It can be used as a pathway, is affordable for outdoor seating areas, is a useful drainage tool and can act as filler around flagstone pavers. With many colors and sizes available, gravel works to enhance the look of many zeroscape or xeriscape garden styles.
One final element to be considered for desert landscaping is lighting.
"Lighting can be a crucial aspect of landscape design," said Emery. "Well-planned exterior lighting not only enhances the beauty of the outdoor spaces after dark but improves the safety and security levels of your property as well."
Convert to water-smart landscaping
The Southern Nevada Water Authority is now rebating customers $3 per square foot of grass removed and replaced with desert landscaping — up to the first 10,000 square feet converted per property, per year. Beyond the first 10,000 feet, the SNWA will provide a rebate of $1.50 per square foot. The maximum award for any property in a fiscal year is $300,000.
Since the program began in 1999, the rebate program has helped the community upgrade more than 185 million square feet of lawn to water-efficient landscaping, saving Clark County billions of gallons of water. To further assist with the creation of desert landscaping, SNWA has developed a list of plants that can be adapted to the desert environment. The list was created in conjunction with local experts, including arborists, horticulturists and urban foresters.
For more information, www.snwa.com.