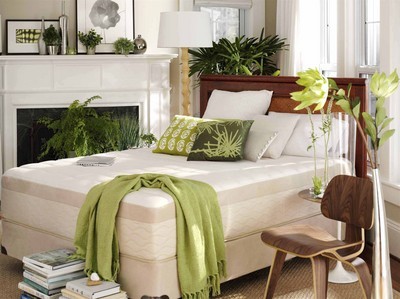 In today's hectic world, getting a good night's sleep is more important than ever. Equally important is the quality of that sleep.
To that end, Sealy has introduced PurEmbrace, a new line of latex mattresses that adapt to the body's shape and provide both comfort and support to help people sleep better.
"Latex is the latest innovation in sleep systems, and Sealy is leading the charge. Featuring our own proprietary Smart Latex, the new Sealy Posturepedic PurEmbrace provides unsurpassed pressure relief combined with the best in Posturepedic support," said Larry Rogers, president and chief executive officer. "This combination virtually eliminates all of the uncomfortable pressure points that cause tossing and turning, providing consumers with a peaceful night's rest — a critical part of maintaining their health and well-being."
Cindy Wenger, vice president of speciality bedding, said the line is targeted primarily at those "strive and thrive" workaholics who consider sleep a reward for all their efforts.
"They want the best and are big believers in technology. They have a BlackBerry. They have a remote control for their house. They use technology to make their homes more efficient so they can enjoy the life they have. They seek a sleep solution that is technologically advanced to get better sleep," she said.
According to Wenger, latex is the ideal material to use for mattresses because it breathes and is moisture resistant, helping to eliminate the possibility of excessive heat buildup, a problem with some latex mattresses. It also is hypoallergenic.
Using the North Carolina-based manufacturer's proprietary technology, Sealy has created a product "inspired by nature and perfected by technology."
Wenger said their Smart Latex provides pressure relief through its ability to adapt to the body as well as offering a consistent surface from side to side. This is accomplished through an inlay system that targets areas most likely to have pressure problems: the shoulders, hips and knees.
The line offers six models, with latex cores that range from 7-9 inches. They vary in their degree of firmness or plushness, as well as offering pillowtops. One model also features memory foam, which conforms to the body and creates a sense a of being cradled by the mattress.
Because latex is a natural material, the line also is environmentally friendly, Wenger said. This allows consumers to do something that's good for the Earth without having to sacrifice their own comfort.
Wenger said Sealy also considered the look and feel of the mattresses, using a contoured weave and wave pattern in a quilted knit for the ticking that is pleasant to the eye and soft to the touch. Also, seams are virtually invisible from the outside.
The PurEmbrace line falls in perfectly with Sealy's new nationwide campaign that promotes the idea that Americans no longer have a full eight hours to devote to sleep each night and instead should seek a "better six."
The tongue-in-cheek campaign focuses on the fact that only a privileged few get to sleep as many hours as they like and that the traditional eight-hour sleep period has dwindled to six hours for most people. With only a limited amount of time to devote to sleep, it should be spent resting peacefully instead of tossing and turning, which Sealy's mattresses are designed to prevent.
PurEmbrace mattresses are available at Macy's stores nationwide and are priced from $2,199 to $4,499 for a queen-size set. A complete national rollout of the line is expected for early fall.