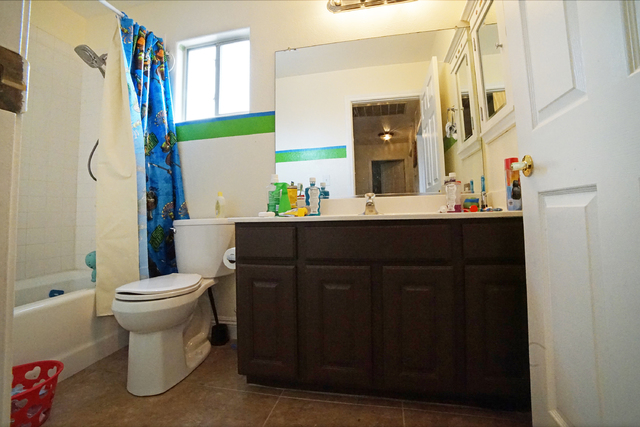 On a hot day this past summer, with only hours left to spare, Whitney Phillips pulled out her phone and made a quick video of her dark, cramped bathroom.
"I don't do selfies, so it was kind of weird to hold up my phone and talk to it," the mother of three young boys said. "But we were running out of time."
Phillips submitted the video to the Ikea Home Tour series, hoping to win a room makeover. As part of the series, Ikea designers are traveling from city to city to help real people tackle everyday furnishing and design issues.
The video did the trick; the Phillipses were one of two local families chosen for a makeover.
"I couldn't believe we actually won," Phillips said. "My husband (Anthony) came home the day I made the video and I told him what I did, but we didn't think we'd really hear anything."
Within a few weeks of sending in the video, Phillips got the call.
"I was so excited because we really needed help with that bathroom," the surgical technician said.
Her three boys, Preston, 8, Gavin, 7, and Nixon, 2, shared an upstairs bathroom that wasn't designed for a growing family. The boys tumbled over each other to brush their teeth above the small oval sink and often crowded into their parents' master bathroom at bath time.
"It was so dark, with the dark wood, and the (cabinets) underneath were useless," Phillips said. "The doors are narrow and it is deep so you can't really fit anything but towels down there and maybe shampoo and stuff, but then it just gets lost."
The video easily demonstrated how a makeover would make the family's life at home a little better, said Whitney Hutchinson, a designer on the Home Tour squad.
"We always start by looking at the function needed in the space," she said. "Before, the bathroom had hard-to-reach storage, a tiny sink that only accommodated one person and an odd layout. You actually had to shut the bathroom door to access the right-hand drawer."
The Home Tour squad found the bathroom struggle an exciting challenge. The team of five — three designers, a director and a video editor — came in and revamped the family's bathroom over a few days earlier this month.
"It was important for us to provide each brother with his own area," Hutchinson said. "Having separate places to keep their things and enough sink space for them to be able to brush their teeth at the same time was crucial."
They replaced the Phillipses' hulking and nonfunctional vanity with the Ikea Godmorgon bath cabinet ($209.25).
"It is slim yet still offers plenty of storage in its two soft-close drawers and can be combined with the Ikea Braviken sink," Hutchinson said.
Phillips' sons are excited about having their own space inside the large, deep drawers of the cabinet. Three stools, tucked neatly underneath the cabinet, give the boys a boost in the morning, but aren't sticking out all day for mom and dad to trip over.
"Nixon loves his new stool and the fact that his brothers have their own and don't try to steal his anymore," she said. "And they all love the dinosaurs that were put in there for decoration."
The white sink ($250) has a long bowl with two chrome-plated Dalksar faucets ($69.99 each) so that the boys can each brush their teeth and wash their faces with ease.
Storage was important for the Phillipses, as they like to buy in bulk when they find a good sale on personal care products. The squad installed a sleek white wall cabinet ($99), only 5½ inches deep, for the extras that don't have a home.
"We knew she needed a lot more storage in this small bathroom," Hutchinson said. "The Godmorgon wall cabinet is narrow enough to fit in any bathroom. Whitney now has two of these wall-mounted cabinets so she will never run out of space, and, as the boys get older, they can put their own extra supplies in there too. It also coordinates with the rest of the Ikea Godmorgon bathroom series."
Not only do they have more functional storage, there's more room to move in the bathroom. They can now open the drawers without having to shut the bathroom door.
"We chose a Scandinavian design with a great neutral pallet that is age appropriate now and won't become outdated as the boys get older," she said.
The Ikea team also had a solution for the shower and bathtub area, which was always a wet mess.
"When three boys all use the same bathtub, you need a lot of storage for toys and soaps," Hutchinson said.
The designers installed the Ikea Stugvik shower baskets ($8.99), one for each boy.
"They are perfect because they are mounted with suction cups, making it easy to add or take away storage as the boys get older," Hutchinson said. "You can also mount the baskets at the perfect height for anyone to get their own shampoo."
As a mom, Phillips enjoys the functionality that the new design provides.
"I love that (the boys) love being in there now," she said. "It's fun for them to brush their teeth because they like to open the drawer and get all their stuff out of their section."
Days after the reveal, they have managed to keep it organized, she said.
"It is also nice having them showering (and) bathing in their own bathroom now, and not taking up ours," she added. "Having all the organization in there makes it easy to take all the toys out of the tub from Nixon's bath and allow the older boys to shower."
Phillips hopes to take the tips she learned from the Ikea squad into other areas of her home. She is eyeing a few kitchen items from the Ikea catalog for her next home project.
"Seeing how they designed the layout of the bathroom made me realize how much more efficient you can make a space by thinking outside the box," Phillips said. "I would have never even thought to bring the cabinet off the wall to create that space for the hand towels. And the idea of taking the door off the medicine cabinet to make it look like built-in shelving, rather than taking the whole thing out, was brilliant."
Bathrooms are one of the squad's most requested rooms to makeover.
"They are so important because they're the place where you start and end your day," Hutchinson said. "Bathrooms that aren't functional or have a lack of storage and organization can cause stress, which can stay with you through your entire day.
"When you're organized and everything has its place, you'll spend less time being stressed while looking for items and more time enjoying your day or getting a good night's sleep. Your bathroom can be a place where every good day starts and ends."
Before arriving in Las Vegas, the squad had been helping homeowners in Salt Lake City. They are moving on to Los Angeles; San Francisco; Portland, Oregon; and Seattle.
"We wanted to do this in Las Vegas because we recently opened our large store here," Hutchinson said.
To see where the tour is headed next, visit hometourseries.com/submit.