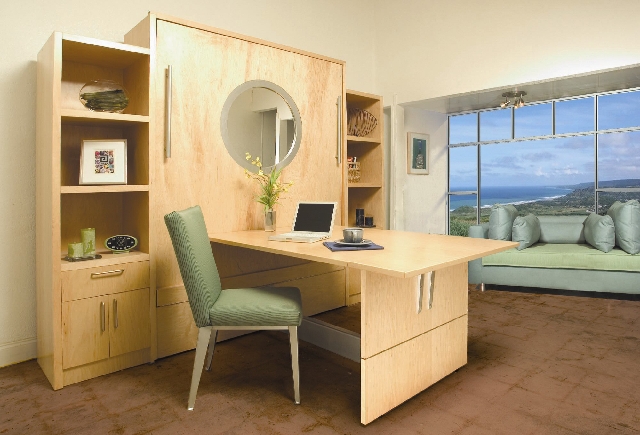 DEAR GAIL: I recently moved into a loft and I'm overwhelmed on how to make it work. I came from a 1,800-square-foot house with a basement to 900 square feet of open space, on one floor with no closets. I do love it because I can walk everywhere and don't have as much to take care of, but I am stumped on what to do. I am renting so I can't make any permanent changes. Thanks. — Lilly
DEAR LILLY: Designing a loft is definitely a bit more challenging than most spaces. The approach is different because you have an open area, but like any small space, every inch counts. So let me give you a couple of ideas about the type of furniture pieces and fun things you can do to help make your space work for you.
If you haven't already, you need to define your space before you can divide it and decorate. Where is the best spot for your living room, bedroom and dining area? Do you like to wake up with the sun, or rather have the windows part of your living room?
When you know the basic areas, do a quick sketch and mark them to help you with the next step, dividing.
Now that you've defined where you want your rooms, it's time to look at what options you have that can be used as room dividers. Furniture is the obvious choice. You also can consider fabric that hangs from the ceiling and becomes a makeshift wall. It provides privacy and a divide that is soft and airy.
With furniture, first and foremost every piece needs to be as functional as possible. It has to serve a purpose. You want to keep things fairly simple and not overclutter your space. Therefore you need to be extra organized. As the saying goes, "A place for everything and everything in its place."
I'm not sure how many new pieces of furniture you're able to purchase, but here are a few that will give you that extra storage that is essential in any small space.
Make sure your coffee table is built for storage. It can be an ottoman, a great looking trunk or a table with a shelf.
Whenever you're going to store anything that can be seen, make sure you're storing the items in attractive containers. This is especially important in a small space, as you don't want to be overwhelmed with too much to look at. You don't want to see clutter. Decorative baskets, bins and boxes work well.
For the back of your bathroom door, I'd add a concealed door storage cabinet. The Grandin Road catalog has one that attaches to the existing door hinges. A brilliant idea for less than $200.
Use a functional room divider instead of a screen. At the January furniture market at World Market Center Las Vegas the new thing was industrial chic; I love it. I found this great vintage metal cabinet with drawers. The cabinet was identical on both sides, so it would be perfect for a functional room divider.
Don't think of your bed as just a bed; let it define and divide a space. Put it to work. Instead of putting your bed against the wall, float it into the room. Construct a large headboard with the wall side facing your open space. This serves two purposes: It gives you a private bedroom and an additional wall for furniture.
Another thought: If you really need a lot of closet space, you can face your bed into the room, creating a closet behind it. I'd personally rather see a beautiful dressed bed than racks of clothes and shoes.
Add a couple of furniture pieces on wheels that will offer greater versatility, such as a table or desk that can be easily moved from one space to another when needed . Let an island double as your table. Use a restaurant-style island that has shelves below for storage. Add a glass or wood top to it for a large table as well as more room for your legs. The legs can easily be cut down to dining-table height.
Don't forget to take advantage of your ceiling height. Use taller pieces of furniture and vertical artwork; it will make your space appear larger. And with the high ceilings you need to use substantial pieces so they don't look like you got them out of a doll house.
Although many say you should line the walls with furniture since you have limited floor space, I disagree. This is a perfect time to angle one or two pieces. You want your eye moving around your space instead of just up and down the walls.
And don't be afraid to use areas rugs. They will help define your living areas. You will want a rug that's bigger than the seating area to clearly show the boundaries of the space, therefore creating a room.
Lilly, I hope a couple of these ideas will help you settle into your new place .
Gail Mayhugh, owner of GMJ Interiors, is a professional interior designer and author of a book on the subject. Questions may be sent by email to: gail@gmjinteriors.com. Or, mail to: 7380 S. Eastern Ave., No. 124-272, Las Vegas, NV 89123. Her Web address is: www.GMJinteriors.com.