Interesting elements add a Las Vegas look to holiday table
November 23, 2015 - 10:50 am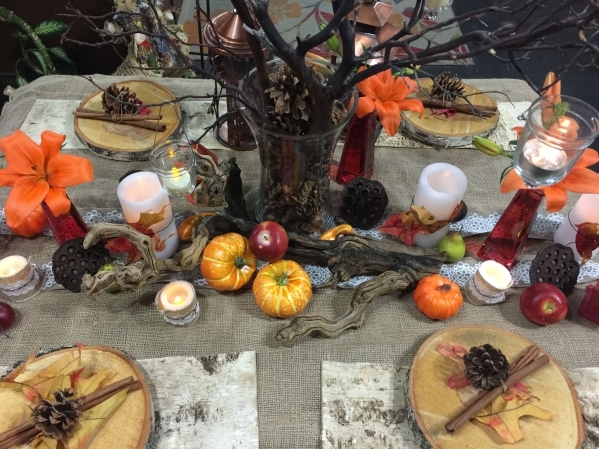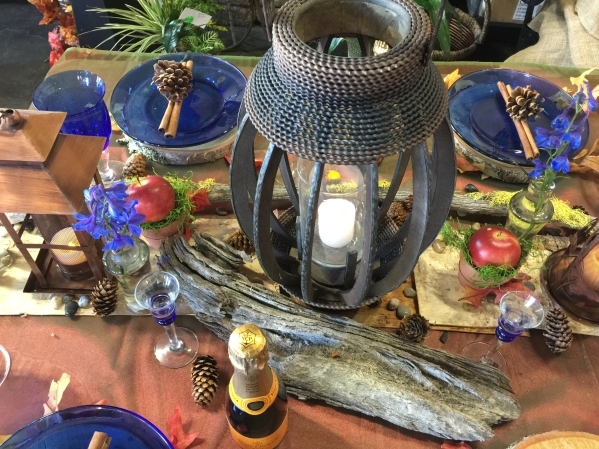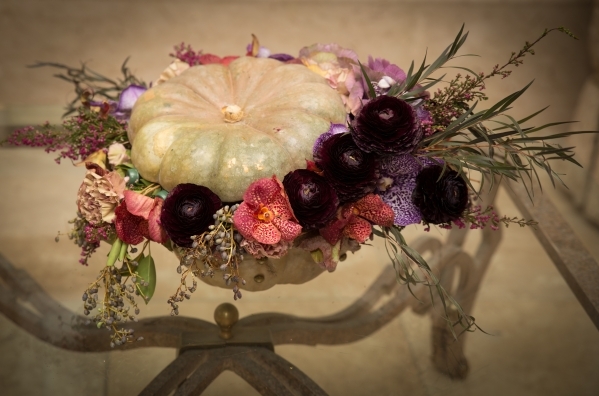 You've completed your list, planned the menu, bought the bird and baked the pies, but have you taken a good look at one of the most overlooked areas of your holiday feast? The table can be a work of art with a small scale landscape imbued with a few expressions that show off your personal touch.
And it can make quite the difference to the big event.
Tablescapes are a way to express our personalities and create an inviting atmosphere for guests, said Tamara DeMeo, owner of A Twisted Tulip Flower Shop.
When trying to create an ambiance for your home or holiday party, tablescapes are a creative way to finally show off family heirlooms, trinkets and collectibles.
"I believe the table sets the atmosphere for the celebration," DeMeo said. "They are a great way to start conversations. It gives you a way to tell your guests the stories about where you may have traveled to find the items or what fabulous store you found them at."
Interesting elements can add a Las Vegas look to your holiday table. Tuck in a few dice amid the juicy leaves and you have a centerpiece that will start a conversation and keep guests busy during the lengthy meal, particularly little hands.
People tend to overlook the large amount of content lying around the house that they can use to make a truly personal tablescape.
"It's amazing what you can put together from elements found around the yard," DeMeo said. "If you are fortunate enough to have trees or bushes that have berries or leaves changing colors you are half way there."
Bare branches make for a striking piece for the table or entryway.
"A few nice branches in a vase can be the starting (or) focal point of your tablescape," she said. "You can take some of your rocks from a desert landscape and put them in the bottom of the vases then spread some of them across a table runner with candles in between for a warm and natural look."
Farmers markets are fantastic places to scour for gourds, oversized vegetables and fruits.
"I think a day trip to Mount Charleston with the family is an amazing way to do a tablescape that involves the whole family," DeMeo said. "Just a few feet off of the road is an abundant supply of natural items that are lying around the forest floor waiting to become a treasure."
Old stumps that can be sawed into an inch or two-inch slices make for natural plate chargers and tree branches can make a stunning base for a large table runner.
"Family members can then have a chance to explain to your guests where they may have found the item or what it took to get it or make it into whatever spectacular creation they come up with," DeMeo said.
A few bits and pieces of things you may have around the house can really dress up a candle or vase.
"I like using pieces of ribbon or wrapping paper that I have laying around and tie them around candles or a vase with a bit of twine to change the look completely," she said. "Also pieces of jewelry or earrings that have lost their pair can be dazzling tied onto a wine glass or incorporated into your creation."
If you are just venturing into tablescapes, she recommends choosing a focal point and adding color and texture.
"I think a combination of natural items mixed with your favorite treasures makes for the most memorable tablescape," DeMeo said.
Taking the time to set a tablescape can make the holiday more memorable and get you seriously in the mood for all the season can bring.
"Tablescapes are an art form, and a great way to flaunt the decorative holiday season," said Hileah Cleveland, owner of Sun City-Summerlin Florist.
The rich colors and scents of the holidays lend themselves well to creating a gorgeous and inexpensive focal piece to show off to all your guests and set the mood for your meal, without using up any extra energy you may have after all the cooking.
"There is just something about the ambient glow of candles, warm colors of lush flowers and a table full of food that enriches the whole house," said Cleveland, who creates hundreds of tablescapes each holiday season, from small centerpieces to sprawling arrangements.
To make your tablescape stand out, she suggests constructing areas of peaks and valleys.
"You can accomplish this look by using contrasting sized candles between your flower arrangements, different sized vessels, like bud vase, or by simply using varying sizes of cylinders filled with colored ornaments," she said. "Just remember this tip: Highs and lows enhance your tablescape's balance and flow."
Thanksgiving is also a wonderful time of the year to bring elements of nature to the table, she said, such as pine cones, cinnamon sticks, autumn leaves, gourds and seasonal fruits.
"You not only add various textures in an inexpensive way, you create an inviting ambiance for your visitors," she said.
Size, just as with presents, can mean a lot to a gorgeous and inexpensive tablescape.
"The larger the flower mass, the fewer flowers you need, such as sunflowers or garden roses," Cleveland said. "Flowers like freesia, chrysanthemum and alstromeria come in a variety of beautiful colors, are long lasting and won't break the bank to design an impressive flower display. Your local florist can help find the best blossoming assortment for you."