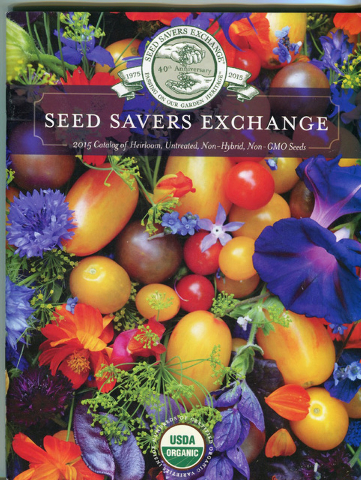 They started the exchange the year I headed out in my VW to hippie life in the wilds of the Sierra Nevada. That was the first back-to-the-land movement when we all sought a natural lifestyle beyond suburban origins.
Some really smart folks got a big idea for rediscovering and recovering garden varieties that had been passed down in families or communities and keeping them in cultivation. If we could somehow contact other gardeners and farmers in towns and villages around the world, we could request their own unique strains directly. There had to be a central clearinghouse where everyone could come together to announce what they had to offer so others could make contacts and exchange their seeds.
It was first called the True Seed Exchange in 1975 and is still a nonprofit with 501(c)3 status supported by membership dues. This was an international effort that proved no small challenge due to the difficulty of typesetting and printing the yearbook before the computer streamlined the process.
Moreover, the language barriers that divided agricultural communities around the world needed translations. There were no pictures due to the cost of color separation and offset printing, but nevertheless this gathering of the tribes grew and grew.
It's been 40 years, and the Internet transformed what became Seed Savers Exchange into a much more efficient and user-friendly operation. There is now a website to augment the annual yearbook of SSE member offerings, which allows instant access with the ability to search and contact the members listing each variety for exchange. You can log on right now and start wandering the world's seed offerings at https://exchange.seedsavers.org.
While you can browse, you can't participate in the Exchange unless you join, which entitles you to the annual printed Seed Savers Yearbook, The Heritage Farm Companion (SSE's member publication) and other member benefits. Affordable terms are on the site that opens the doors to sharing seed with village farmers from nearly every continent. The ease of posting digital photography has brought an eyeful to the Exchange, making it much easier for novices to peruse the varieties beyond reading sometimes expansive descriptions about where they come from.
Here's a great example:
"Mako akokosrade (pepper) Capsicum chinense. Plants produce abundant quantities of pointed, wrinkled, dark yellow peppers. By far, the most aromatic pepper variety I've encountered anywhere, with an intense habanero aroma, with strong notes of melon and even a little mango. Ghanaians use this to add extra aroma to peppery dishes. 'Mako akokosrade' means 'yellow pepper' in the Twi language. The original seeds were collected on 2011.08.29, at a roadside market in Nkrakum village, outside Koforidua, East Akyim District, Eastern Region, Ghana."
This African pepper is just one example of a food plant integrated into the cuisine of Ghana. Its unique flavor may indeed define some dishes. For immigrants from this region or for those who simply love African cuisine, growing the pepper can be the pivotal ingredient for authentic flavor. The Exchange is a virtual treasure trove for the foodie-gardener who is looking for specific plants, an unusual experiment or familiar varieties with regional variation.
The Exchange's mission is to preserve open pollinated seed varieties. Some were developed by farmers and gardeners and others came into the market early on. These heirlooms include U.S. historic commercial varieties selected for uniformity, sharing a pre-1950 history of being offered in American seed catalogs.
To make their best offerings widely available to gardeners, the Exchange grows seed at Heritage Farm in rural Iowa, so you can buy from one seller without joining the group where you buy from many. Shop this catalog online or request a copy at www.seedsavers.org or by phone at 563-382-5990.
Join the 40th anniversary celebration by supporting this amazing organization's success. You'll become part of a single global community where cities and villages come together in peace without boundaries.
Maureen Gilmer is an author, horticulturist and landscape designer. Learn more at www.MoPlants.com. Contact her at mogilmer@yahoo.com or P.O. Box 891, Morongo Valley, CA 92256.