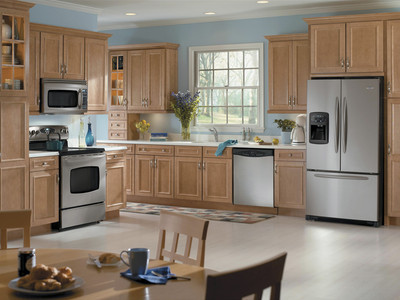 I'm getting ready to sit down to watch the game; the TV is on, chips are in the bowl, the dog is outside and there are no distractions. Now, I just need to get the beer and salsa from the fridge.
Why is the floor wet here? Should I blame the dog?
Uh oh, the refrigerator isn't working. The beer is warm and it's Saturday afternoon. The wife and kids are visiting her sister for two weeks and I don't know the first thing about selecting a new refrigerator.
My neighbor's advice is to make sure all of the beer will fit. His wife just gives me the look. And their kid reminds me to make room for lots of ice cream.
I head out to the appliance department of a local home-improvement store and find 27 different brands, each of which is unique in its own way and has features so similar yet slightly different from all of the others.
The doors alone are overwhelming. There are single doors, dual doors, side-by-side doors and maybe even trap doors. Then there are top freezers, bottom freezers, side freezers and no freezers, as well as frost-free, no frost and frostless options. Every color in the rainbow and every metal known to man appears to be available, as well as sizes from a desktop to a small bedroom.
I move on to a big box store which has a very limited supply of refrigerators. But, there is no information, no full-sized color brochures and no smiling, helpful salespeople.
Next I move on to the national chain which carries furniture, appliances, clothing, housewares, etc. … Talk about salesmen; I expect them to get out the rope and tie me to a chair. They keep asking me about what I want in a refrigerator? If I knew what I wanted this would be easy.
So I will make a list to help me get started. We have children so we need room for drinks, snacks and, of course, ice cream. We shop at bulk stores a lot so the doors should open wide and it should fit in the spot where the other one died.
"The first thing to look for is Energy Star-qualified appliances," said Audrey Reed-Granger, director of marketing and public relations for Amana. "The last 15 to 20 years have seen amazing strides in energy conservation. The refrigerators of today are saving 50 percent or more in energy."
And, having a list of needed or wanted features is desirable.
"The next thing to do is to let the appliance salesperson know who you are. (Let them know) whether your family is all adults or if there are small children in the household. Does your family drink a lot of juices and soft drinks? Do you buy a lot of foods in bulk which require freezer space? In other words tell them what you will be using the refrigerator for."
She said the French door style refrigerator with the freezer on the bottom has become the most purchased style lately and that it has several great new features, such as a beverage chiller in the door that actually keeps the milk 4 degrees Fahrenheit cooler than the rest of the unit.
One of the reasons behind the popularity of the French door style is the lack of a center barrier, allowing for a wide open view of the interior, as well as its ability to accommodate large trays and party platters, she said.
The bottom freezer provides easy access and isn't just a big box that you throw stuff into. Reed-Granger said it is a well-organized section with bins and shelves that can be moved and manipulated to provide almost any configuration.
A through-the-door ice and water dispenser allows family members to get ice for their drinks or chilled water without having to open the door.
And, according to Reed-Granger, Amana offers a service allowing consumers to subscribe to the company so it will ship filter replacements at the recommended service intervals.
Maytag's new Ice2O model also offers the benefits of a French door refrigerator with a bottom freezer along with the convenience of an in-door ice and water dispenser.
"The Maytag Ice2O combines the best of the side-by-side and bottom freezer configurations in one unit, with all the dependability consumers have come to expect from the Maytag brand," said Maha El Kharabotly, category manager for Maytag refrigeration.
Flexible shelving and a wide deli drawer are other features. The freezer's heavy-duty drawer glides are capable of holding as much as 120 pounds, and the unit is built with commercial-grade components. It also has hidden hinges and is counter depth, giving it a built-in look.
For those who want their refrigerators to do more than just chill food, GE has the perfect solution, said Kim Freeman, a spokesperson for the appliance manufacturer.
"The GE Profile, a bottom freezer refrigerator with LCD media center, is the perfect example of combining style and innovation. Family photos, recipe substitutions, nutrition information and measurement conversions can all be accessed easily thanks to a 7-inch LCD touch screen," she said.
Still, keeping the food fresh or frozen is a priority, and the refrigerator offers a Climate Keeper food preservation system that runs on two evaporators that help maintain separate climates in both the fresh-food compartment and the freezer. The 25.8-cubic-foot capacity provides plenty of room for storing fresh fruits, vegetables, meats, seafood, cheese and more.
"With the ClimateKeeper food preservation system as well as energy-efficient LED lighting, the LCD screen is just icing on the cake," Freeman said.
I wonder if it has cable access?