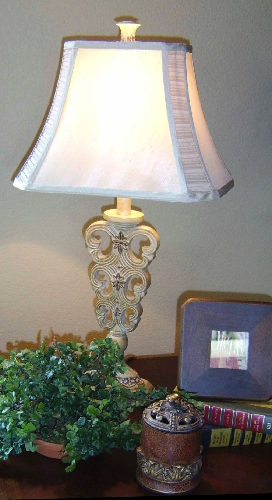 DEAR GAIL: We have an older home and want to do a little something in each room and the entry of our house to freshen it up. We're not looking to purchase any new furniture but would be open to ways to change what we have, as well as what other things we can do. We've put aside $1,500 and, of course, want to make it go as far as it can. Thanks for your help. — Roger and Ann
DEAR ROGER AND ANN: Fifteen-hundred dollars gives you a little to work with, so that's good. I'm assuming you're looking at the main rooms in your home, versus extra bedrooms, so I'll focus my suggestions there.
In my opinion, the three main things that can update a home are: lighting, faucets and hardware.
Do you have an outdated brass entry, kitchen or dining room chandelier? You can buy a new one for between $100 and $250 or even paint the one you have. The color depends upon your décor. Don't be afraid to go for color if your style is contemporary. If color scares you, black always works. A red chandelier could look great in a country kitchen. Remember it's just paint and anything is better than the brass fixture the builder put in.
If you have the old Hollywood light bars in your bathrooms, I'd spend money there and get rid of them. There are a lot of light bars for less than $200. If your light is OK, you can change it up with paint or new glass shades.
A fun trick to try, which won't cost a penny, is to flip the light. If your shades currently go down, flip them so they go up or vice versa. I do this a lot. Just because they show it on display with the shades down doesn't mean it can't be installed the other way. This works with 95 percent of bath light bars.
So are you still living with acrylic-handle faucets in your bathrooms? Even if you have an older sink and counter that are in good condition, just updating your faucet will make all the difference in the world. You can purchase a simple new faucet for less than $50. You don't have to change out the shower and tub fixtures if you're staying within the same finish. So if your shower is chrome, it's OK to use a brushed or stained nickel. If you have brass in the shower and go with a nickel, I would change both out at the same time.
The same goes for your kitchen faucet; spend the money and update to a newer style. If your sink has seen better days, you can find ones for less than $150.
Now onto hardware. The first impression makes all the difference so look into new front door hardware, which you can find for less than $75. While at the front door, give it a fresh coat of paint or, if it's wood and our lovely heat has gotten to it, refinish it. I'd also take a look at your porch light. Stand at your door and look at your porch as if it's the first time you've seen it.
Changing out your interior door handles will be expensive and eat up most of your budget. So if they look good, just give them a good polish.
I've mentioned many times how hardware can really update older cabinets, but it can get pricey in a kitchen depending upon the number of cabinets you have. So spend some time online searching out good deals; they are out there.
Now for a couple of decorative ideas. New table lamps can make a big difference in updating the look of a room. Gone are the oversized lamps with the bell shades that are wider than the tables they sit on. You can get nice new table lamps for less than $50 at any of the home stores. If your bases are nice, look for a new shade, which you also can find easily for less than $50.
Next, what items do you have that you can paint? Outdated drapery rods can be transformed with simple spray paint. Have a nice rod but simple finials? Change them out. There are a lot of great finials for less than $100 a pair.
Another easy item to paint is wall shelves. Give your wood shelves a punch of color. What color? Look at the colors that you have in your fabrics and artwork.
What about painting your kitchen chairs? Or even just the backs. How about the legs on the table? I personally love two-tone furniture.
And finally don't be afraid to add some color on the walls. Paint a room or two or at least add some accent walls.
Gail Mayhugh, owner of GMJ Interiors, is a professional interior designer and author of a book on the subject. Questions may be sent by email to: gail@gmjinteriors.com. Or, mail to: 7380 S. Eastern Ave., No. 124-272, Las Vegas, NV 89123. Her Web address is: www.GMJinteriors.com.