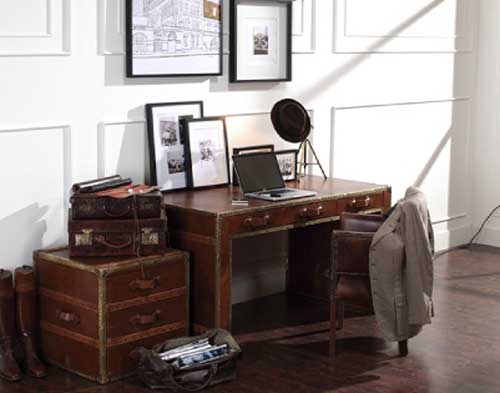 The look of Esquire has leapt off the pages of the venerable magazine and can now be found in your own home.
Inspired by the lifestyle of the modern, discerning Esquire man, the new collection blends traditional and modern motifs, and has a decidedly masculine feel.
"After telling men how to dress for these many years, we're now doing the same thing for the house or apartment," said Glen Ellen Brown, vice president of Hearst Brand Development, the division of the magazine's publisher overseeing design and production of the collection.
Including both home furnishings and decorative accessories, the Esquire Home Collection debuted this summer at the Las Vegas Market and is being distributed by Four Hands, which has a showroom in the Las Vegas Design Center.
Brown said the high-end, luxurious furniture is definitely aimed at the Esquire man.
"The Esquire man is man at his best — a guy who wants to live well and not just superficially. There's substance behind it. He's well-read and well-versed in fashion, art, great eats and drinks and places to be," she said.
According to Brown, style and quality were important factors in creating the collection.
"Attention to detail was part of it — translating his wants and needs. Basically, here is a guy who has his professional look and lifestyle together. What we did was see how men's fabrics translate into lifestyle living."
In addition to incorporating the same types of fabrics used to create men's suits and outerwear, the collection focuses on details such as stitching and upholstery tacks.
"It's all thought of in the mindset of fashion. It's well-tailored furniture," Brown said.
This falls hand-in-hand with a recent study by the publication revealed that 96 percent of readers feel that a great sofa is like a great suit — well-tailored and comfortable.
For example, both the Triple Old Fashioned tufted sofa, which blends leather and linen, and the Triple Whisky Collins leather sofa have antique brass stud detailing. The Boilermaker is an upholstered ottoman in charcoal wool with black leather tufting and trim. And the Martini and Tall Martini chairs have arms that resemble belts, complete with polished buckles.
To help retain that masculine feel, Brown said the furnishings are also sized appropriately, designed for "that guy who wants a chair to kick back in comfortably while having his drink" and named after classic cocktails.
"More and more men are having a say in what goes into their homes ," Brown said. "Part of that, as the magazine, was quantifying the want for things that are male and look male. We want to be there for them."
"So much of today's research is focused on the woman: her purchasing power and purchasing ways, even if she is buying for a man, the industry focuses on her. The Hearst Brand Development team targeted the main consumers of the collection — their magazine subscribers, the men," said Matthew Briggs, chief executive officer of Four Hands.
Briggs said their research showed that the line will appeal to men 35 and older, 62 percent of which are married or living with a significant other, 53 percent have a household income of at least $100,000, 53 percent live in a suburban area, 64 percent own their own home and 14 percent own a second home.
But that doesn't mean the furnishings won't appeal to women as well. Like the magazine, which has a 34 percent female readership, the collection can easily be incorporated into homes, Brown said.
Most of the pieces are very versatile and can be used in the home office, living room or den, she added.
Briggs said he is especially fond of the Manhattan bar trunk, which has been oriented vertically and filled with shelves while the black mirror steel exterior has been accented with black leather trim and nails. It also sits on casters.
"The Manhattan Bar trunk catches my eye. It is updating a classic piece with contemporary styling over genuine leather. A bar that expands and contracts for entertaining in a smaller loft is perfect for size and investment," he said.
Rounding out the collection are area rugs constructed by hand using 100 percent Turkish wool and hemp, lighting, barware, desk accessories.
Suggested retail prices for the Esquire Home Collection are trunks beginning at $795, sofas starting at $2,500, chairs and bar stools beginning at $995 and office pieces starting at $1,195. Esquire Rugs will start at $50 per square foot, accessories at $50 and lighting at $200.