Modern Revival: Fresh spin on interior makes home feel new
January 27, 2011 - 2:05 am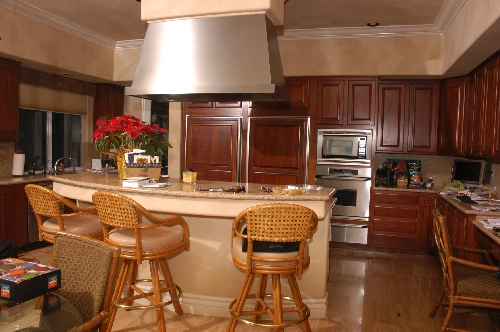 It's the season of "re" — remodel, redecorate, repurpose, repaint, refloor, rewallpaper, etc.
In the midst of all the uncertainty in the home market, many homeowners are choosing to reinvent their current homes instead of buying new ones, say local interior designers.
"The economic downturn has affected everyone in one way or the other. With real estate values plummeting, the idea of selling to build 'new' seems to be more and more of a 'postponed action.' But all is not lost. Home remodeling has never been bigger and more in demand. With just the right approach, one can refresh and revive his or her current home on several levels," said Leslie Parraguirre, president of Colours Inc., a Las Vegas interior design firm.
"We believe that with today's economy and restricted budgets, clients want 'the look' but also don't want their house to look dated in a few short years," said Peggy Scinta of P. Scinta Designs of Las Vegas. "Helping them stay current by mixing the new with the old, purchasing some timeless, classic pieces and creating a more traditional, accumulated-over-time design foundation helps to not only stretch their decorating dollars, but it also helps clients keep from getting bored with their space. Often times, a few years out, new paint and other subtle changes can refresh their room again while preserving their 'investment' pieces for years to come."
Scinta said she advises her clients to select neutral shades for their major purchases and then add colorful accents such as pillows and accessories to stay current with the trends.
Both Parraguirre and Scinta believe that it's best to remodel and redecorate the home's most visible and used places first, such as the kitchen, bathrooms and family areas.
"The areas that tend to be remodeled first are the kitchen and family common areas," Parraguirre said. "It's as easy as painting new color tones on the walls."
"The top priorities are still bathrooms and kitchens," Scinta agreed. "We are seeing trends by clients who are staying put in their homes and are looking to update by creating little sanctuaries for entertainment, rest and rejuvenation."
Updates in the kitchen, include recoloring or refinishing cabinetry. Scinta said about 90 percent of the homes she sees have oak or maple cabinets. However, darker colors are more in vogue. As long as the cabinets are in good shape, all that needs to be done is changing their color and, in some cases, replacing traditional hinges with the European, hidden style and adding hardware. For those who want to do more, crown molding can be added or replaced with a larger, more ornate style.
Parraguirre has seen a greater number of clients making changes that are also green and long lasting, selecting sustainable materials along with commercial-grade products that have extended lifetimes.
When it comes to a remodeling or redecorating project, the first step is to make a list of what you hope to accomplish, according to Parraguirre. "Secondly, and most importantly, they must establish a budget."
Scinta said working with an interior designer also is a crucial component of the project. While it may seem counterintuitive to spend money on a designer's fee, the expertise prevents costly mistakes.
"A good designer brings value to the table," she said. "We can take a budget and use it as wisely as possible."
Scinta said interior designers have sources and trusted contractors to ensure that a project is completed the way it was designed as well as in the proper order. For example, a designer can tell you whether you should install new floor or baseboards first, and where painting should fit into the equation. If done in the wrong order, you could spend more time and money making repairs.